An emergent tradition at SUNY New Paltz continued on Friday, Nov. 9, at the fifth annual Veterans Day Dining In Ceremony, as campus administrators, notable alumni, and leaders in the regional veteran and military community gathered to pay tribute to the growing numbers of military service members, veterans and dependents who study, work and live at the College.
"Today, we're here at SUNY New Paltz to recognize our Army, Navy, Marines, Coast Guard and Air Force veterans who have sacrificed both in war and in peace to protect America and our American way of life," said Jason Gilliland, coordinator of veteran and military services and a service member and veteran of more than 20 years. "We honor our brave men and women who proudly served this great nation, for they are the fabric from which our flag is woven."
The evening included keynote remarks from two current New Paltz students and two alumni; musical performances by renowned lyricist, Army Master Sgt. Mary Kay Messenger; recognition for veteran members of the campus community who served in American conflicts dating back to World War II; and a moving tribute to Dorothy "Dot" Padin, who has served veteran and military students at the College for many years.
"As a member of the armed forces and a veteran myself, my hope tonight is that, as we honor our own collective service, we also take the time to consider the many people whose personal sacrifice and commitment to us made it all possible," said Jason Nordlund '05 (Communication Media) '12g (Business Administration), a New Paltz alumnus and Air National Guard member. "Dot has done so much in standing shoulder-to-shoulder with the more than 1,200 military-affiliated students she has assisted in her capacity as certifying official over the past 18 years."
Steven Brody '73 (Psychology), a New Paltz alumnus, surgeon and U.S. Army veteran, offered some perspective about how far SUNY New Paltz has come in serving military-affiliated students, of whom there are currently more than 400 enrolled.
"The designation of New Paltz as a Military Friendly school is a great credit to this institution," Brody said, referring to the College's four consecutive years earning the well-known accolade from Victory Media. "The joining of military service and higher education is an unbeatable combination. To the veterans who are here as students, I say: the rewards of all this service and effort will be there for you to claim, and you have earned them."
Daniel Oles '19 (Digital Media Production), a Brooklyn, N.Y.-born transfer student currently serving in the U.S. Marine Corps, spoke about the meaning of military service and camaraderie.
"Being a veteran puts you in a very special group: a community that strives to help each other in all aspects of life, and a community with pride and determination," Oles said. "It's also a community where things like race, religion or creed mean nothing, because we all wore the uniform, and that forms a bond that lasts a lifetime. That's what we celebrate here today."
Another student speaker, Dominique Torrez '22 (Theatre Arts), provided the perspective of the significant number of dependent students at SUNY New Paltz, many of whom, like her, grew up as "military brats," moving between bases throughout their childhoods.
"Being a military dependent will certainly push you to the limits of your patience and strain you as a human," Torrez said. "But I wouldn't trade that for anything, because it can also be fun, adventurous, rewarding, and an excellent tool for growth and learning. I've become the collection of my experiences, many of which most people will never have, and I've met people from many walks of life, who have shaped me into the person I am today."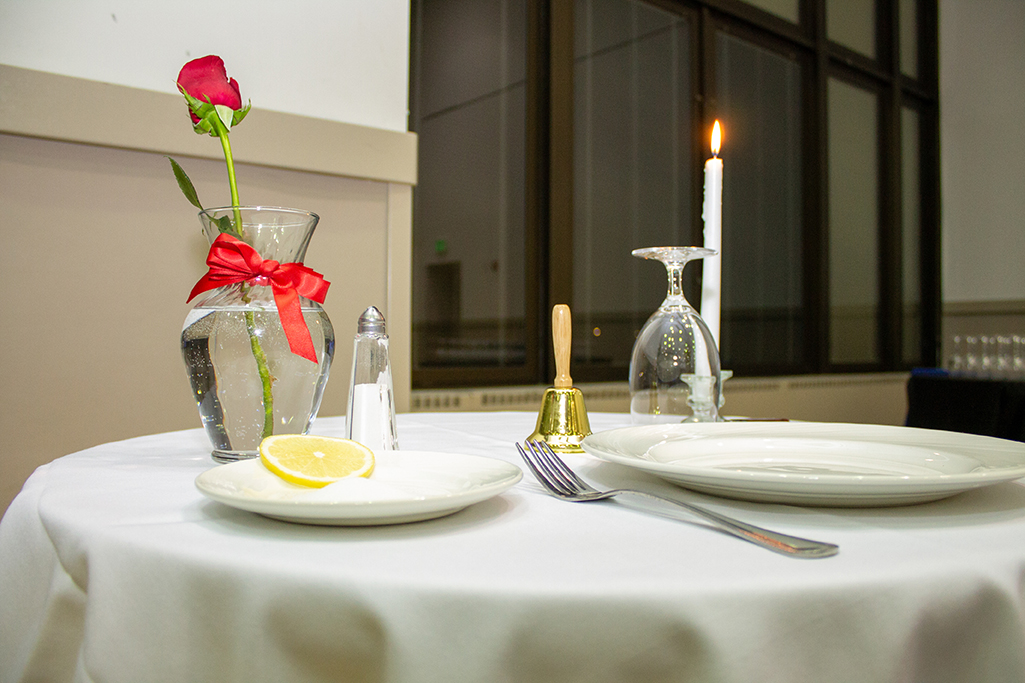 Notable guests at this year's Veterans Day Dining In included New Paltz alumnus Colonel Joseph Davidson '90 (Political Science), Deputy Commandant at the U.S. Military Academy, and Howard Cohen, New Paltz professor emeritus and World War II veteran.
Visit us online to learn more about SUNY New Paltz's military and veteran community.