Monica Farrell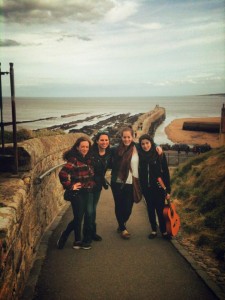 Did you know you wanted to study political science when you came to New Paltz?
I had no idea. I was an English major, and I liked the classes and the professors, but I was always interested in politics and international relations. I took "American Government and Politics" with Professor Nancy Kassop, and felt like it was what I was meant to do. She is such an amazing professor. I learned so much from her, and she swung me in the right direction. I decided to change my major, and it was the best decision I've ever made.
Check out Monica's thesis, "United Nations Peacekeeping Operations and the Prevention of Recurring Conflict"
What area of political science are you most interested in?
I'm mainly interested in international relations, such as humanitarian affairs and human rights. I want to get involved with the U.S. Foreign Service and hopefully work and earn my master's degree abroad. My study abroad experience at the University of Dundee in Scotland really opened my eyes to the entire world. I chose to go there because they have the best undergraduate politics program in the U.K. My professors studied with Amartya Sen, one of the breakthrough people in human rights. Getting an international education in human rights was great.
(Professor Nancy Kassop) swung me in the right direction. I decided to change my major, and it was the best decision I've ever made.
How did you become involved in the SUNY Global Engagement Program?
I had Professor Ilgu Ozler for "Middle Eastern Politics and Institutions." I was always very fond of her. She mentioned the Global Engagement Program, and I knew I wanted to do an internship in New York City, but I never thought I'd be able to incorporate it into my education here. The Foreign Policy Association was the perfect fit for me. I couldn't have asked for a better experience. I organized a lot of conferences and lectures and presentations. We had speakers like UN Deputy Secretary-General Jan Eliasson. I organized a lecture with UN High Representative of Disarmament Affairs Angela Kane, who gave a talk about Syria and her experience there, which fueled my interest in humanitarian affairs. I got to work on grant writing, fundraising, and a publication called Great Decisions, which focuses on topics of interest to American foreign policy.
What would you say is the biggest human rights challenge our world is facing right now?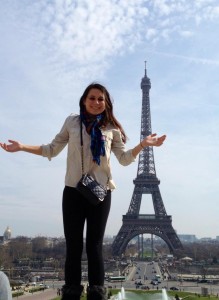 I think one of the biggest issues moving forward is the turmoil in the Middle East. There is so much we haven't heard on the news. I wrote a paper with Professor Ozler last year called "The CNN Effect on Mass Media and Humanitarian Aid." I looked at the amount of aid the U.S. and the U.K. give countries in a fiscal year, and found that countries that received more media attention received more money in aid. I learned so much, and I got to present the paper at a political science conference in Oneonta and then another one at the University of Illinois.
What made you want to attend New Paltz?
It's so friendly, especially working in the Welcome Center. I love talking to students, prospective students, and their families. When I came to visit, the students working in Admissions were so happy to point out places on campus. I also don't think I've ever been in a class with more than 40 people. My classes for the Honors Program and the Global Engagement Program only had 12 people. You get such a different experience when you're leading the class and having a good discussion than you would in a giant lecture hall crammed with 100 students.