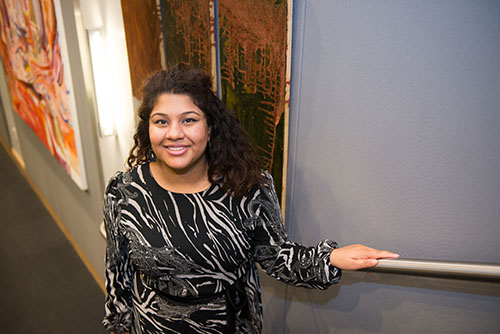 Denera Ragoonanan
Major: International Relations
Minor: Economics
Hometown: Queens, NY
Clubs/Organizations:
— Model European Union
— International Student Union
— Honors Program Student Advisory Board
— SUNY Global Engagement Program
Activities:
— Central Asian & Middle Eastern Hydropolitical Study
— Organizer, Freedom of Speech Panel
Study Abroad: Civil Society & Liberalism- Ankara/Istanbul Research, Bogazici University Summer Exchange Program
Awards/Scholarships:
— Presidential Scholarship
— Honors Experiential Scholarship
Anticipated Graduation Date: May 2016
What compelled you to organize a Freedom of Speech panel on campus last year?
The panel was a reaction to the violent events that occurred in Belgium and France (the shooting deaths of 11 employees of satirical magazine Charlie Hebdo). The panel was meant to show that there are ways for speech and religion to coexist. I wanted to use the perspectives of different fields to demonstrate the practical uses and importance of both speech and religion/non-religion within society.
What has been your favorite course at New Paltz? Who are your favorite professors?
My favorite course was the United Nations (UN) Semester course with Stephen Pampinella. I was able to explore what I loved – the mechanism of the international political world – through weekly briefings at the UN, country missions, and other international agencies and organizations. My favorite professors at New Paltz are my Arabic professor, Esraa Essa, and Dr. (Patricia) Sullivan. They both go beyond their obligations to ensure my success and have become my personal mentors.
How did you discover New Paltz?
I was looking for a school that had a rigorous yet affordable international relations program. I decided on New Paltz because of its small, comfortable size and its ability to tap into opportunities in both New York City and Albany.
How is New Paltz preparing you for your future endeavors?
My plan for the future is to attend law school and work within the international political and legal community, with a regional focus of the Middle East or central Asia. The intense political curriculum at New Paltz has helped me in developing a background for law school. Also, New Paltz gave me the opportunity to travel halfway across the world to work on a hands-on research project, which allowed me to develop skills for the post-graduation world of politics.