Tamara Litt '15

Hometown: Manhattan, N.Y.
Major: Childhood Education (English concentration)
Minor: Jewish Studies
Anticipated Graduation: May 2015
Clubs/Organizations/Activities:
— Kappa Delta Phi National Affiliated Sorority
— Gamma Sigma Alpha (Greek honors' society)
— Shabbat chair/Executive board member, Hillel at SUNY New Paltz
— Former executive board member, DuBois Hall Government
— Future Teachers of America
— Barista, Café New Paltz
— Former New Paltz Blogger
— Study Abroad Blogger
— Study Abroad: Milan, Italy (Spring 2015)
— Student Ambassador, Admissions Assistant
— National Residence Hall Honorary, Phi Psi Chapter
How did you end up at SUNY New Paltz?
I was really surprised this is where I ended up. Originally, I wanted to leave New York. It wasn't my intention to go here, and it's something I talk about sometimes when I'm conducting campus tours. I got into some other good schools, and this was the SUNY I liked the best. I was mystified with how much I fell in love with this place, to the point where I give tours and talk about my own experience.
I really love the town. It's one of the most adorable little college towns there is. Especially coming from New York City, I get asked a lot on tours how I made such a big transition, and the town was a big pull for me. I don't drive, so it's nice to be in a walkable community.
I like the size of the school – it wasn't too small where you know everyone, but not too big where you're just another face in the crowd. I like being able to walk from class to class and see people I'm friendly with, but there is always someone new to meet.
I can be different here.
New Paltz is one of the most accepting places in the world.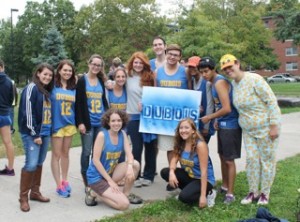 How does the small community feel translate into the classroom for you?
I speak in class a lot – I'm a big participation person. For me, it's all about feeling comfortable to say whatever I'm thinking, even if it's controversial; to disagree with someone or start a debate and not worry about where it will lead. I really like working with my peers and following them through this journey.
Because classes are small, you get to know your professors so well. When I love a professor, I'll continue taking classes with them. I've had education professors who have been so incredibly warm and welcoming – the kind of teacher I want to be. I've taken classes where the subject matter is not really my forte, but the professors make it so approachable, and my classmates make it such an open environment, that it's so much easier and more enjoyable to learn. I've found new passions I wasn't aware of before.
Which professors have you connected with?
One professor who stands out the most to me is Dr. Caroline Hopenwasser. She takes such pleasure in education, specifically literacy, and she helped make my field work experience so much more enjoyable. She really cares about her students and has been such an incredible mentor. She used to be a kindergarten teacher, and I think it's very evident.
I was mystified with how much I fell in love with this place.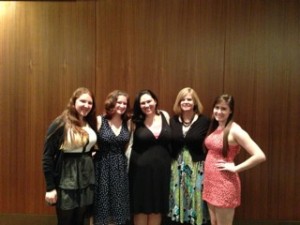 Why is it important for you to be involved in clubs and organizations?
As fantastic as it is to have your studies – and those are important to me – having friends who are eclectically all over the place, like I am, helps shape your college career so much. I'm a big believer in finding your own happiness in college, and New Paltz gave me specific tools that made everything easier for me. I never thought of becoming a tour guide, but then I joined C.R.E.W., (Campus Recruitment Event Workers), and it was so cool to share my story and tell other people why they should come here. These interests support my education, and being surrounded by people who really love me makes me really happy. I can be different here. New Paltz is one of the most accepting places in the world, and I regret not getting involved sooner. I'm so grateful for my time here at New Paltz because of these experiences.