The SUNY New Paltz Foundation and the Sojourner Truth Library are pleased to announce a $525,000 bequest that forwards the acquisition of knowledge at the Library and student success.
The legacy gift is from the late Dr. Arthur Delaney '53 (Adolescence Education/Social Studies), a retired library media coordinator and longtime friend of New Paltz. He passed away on February 15, 2021, at the age of 89.
"We're honored and proud to receive this gift that will support the meaningful work of the Sojourner Truth Library," said Erica Marks, vice president for development & alumni relations and executive director of the SUNY New Paltz Foundation. "We are deeply moved by Arthur's commitment to SUNY New Paltz and our students."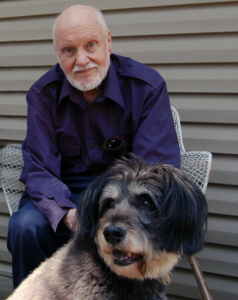 Delaney once described the SUNY New Paltz campus library as the "capstone" of his life often spent in libraries. Having secured a profession from that interest, he said, "Most of my learning came from libraries, they gave me access to the world, in a time when that access was much narrower than now. Libraries are my second home and New Paltz is my family."
The Dr. Arthur Delaney Fund will underwrite and expand programs that engage students and enhance learning through research and collaborations with one another and librarians. The Delaney Fund will also support professional growth to meet the information needs of students and faculty while creating a more accessible and responsive Library.
A proud alumnus, Delaney graduated from New Paltz in 1953 and went on to become a sergeant in the U.S. Army Signal Corps from 1953-1956. He earned a master's degree and a Ph.D. from Columbia University, as well as a Master of Library Science from Long Island University. His career spanned several years teaching in the public schools of Long Island and 26 years working in libraries before he retired. He was married to Virginia Wagner Delaney for more than 30 years.
Delaney's commitment to SUNY New Paltz is a testament to his professional and educational values. His various memberships included: the National Council for Geographical Education (Fellow), New Hyde Park Teacher's Association (President, 1962), Garden City Teachers Association (Executive Secretary 1978-87), Kappa Delta Pi (educational honor society), Phi Eta Sigma (American freshman honor society), Phi Delta Kappa (professional organization for educators, and Beta Phi Mu (international honor society for library and information science).
The University thanks Dr. Delaney for remembering his New Paltz family through his legacy planning as a member of the SUNY New Paltz Tower Society.
Visit this link for more information on the Sojourner Truth Library.