Four SUNY New Paltz students received Chancellor's Awards for Student Excellence at a SUNY-wide award ceremony on Monday, April 24, in Albany, New York.
The Chancellor's Award honors those who have contributed outstanding achievements in academics, athletics, leadership, service, campus involvement and/or the arts. It is the highest honor bestowed upon a student by the state university system.
"There is a place at SUNY for every New Yorker, and each of the students recognized today is an example of our extraordinary student body and their rich and diverse 'SUNY stories,'" said SUNY Chancellor B. King, Jr. "Student success is at the core of everything we do, and I am honored to celebrate students from 63 SUNY campuses who are receiving this year's Chancellor's Awards for Student Excellence. Every student can find their community at SUNY, and I congratulate each of the CASE winners for making the most out of their college experience."
Please join us in congratulating these outstanding SUNY New Paltz students:
Danae Evans '23 (Physics; Astronomy) of Wurtsboro, New York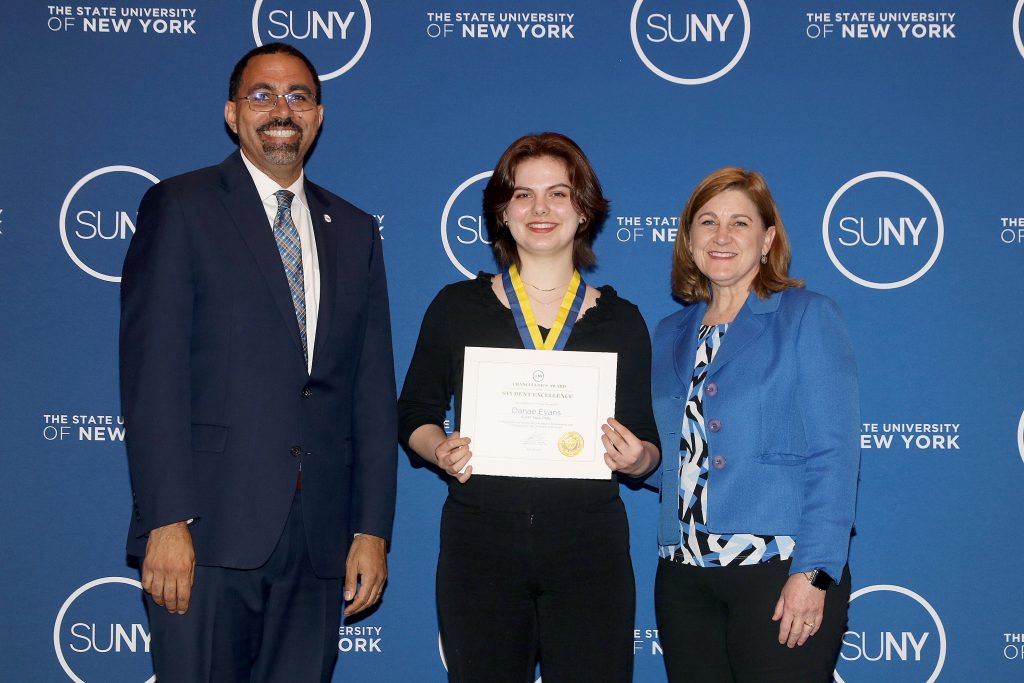 A dual major in Physics & Astronomy who transferred to New Paltz from SUNY Ulster in 2021, Danae Evans is an Honors student who has distinguished herself as an undergraduate researcher and active campus community member. In applied mathematics research with Associate Professor Anca Radulescu, and experimental physics research with Associate Professor Catherine Herne, Evans has worked on projects ranging from light's interaction with calcite crystals, to mathematical functions involving complex quadratic notes. As a volunteer with the University's Science & Technology Entry Program (STEP), she helps teach and inspire local students from underrepresented demographics. On campus, she is involved with multiple clubs and organizations, including as president of the Cosmic Club and secretary for the Society of Physics Students. Finally, she is a member of the non-profit Medical Global Brigades working with a group of fellow students designing a new sanitation system for Tierra Morena, a rural village in Honduras.
Katie Gudzik '22 (Theatre Arts) of Mount Sinai, New York
Katie Gudzik is an Honors Program member and performing artist minoring in both Music and Deaf Studies. Her talents and commitments as an artist, academic, campus citizen, and leader were exemplified in her Honors Program thesis, a staged reading of "A Year with Frog & Toad" which she directed, produced and interpreted in American Sign Language (and which opened to a capacity crowd at McKenna Theatre in November). Gudzik embodies the Theatre Arts Department's commitment to sustainable practices – she endeavored to make the production a zero-waste project, and also serves as team lead for our campus chapter of Beyond Plastics, working to educate the campus community about practical steps to decrease single-use plastics/disposables in dining services.
Britney Huston '23 (Digital Media Production) of Jamaica, New York
A transfer from SUNY Alfred State who immediately established herself as a vital leader upon arrival at New Paltz, Britney Huston is a Digital Media Production major and member of the University's Scholars' Mentorship Program and Honors Programs. She has served as a resident assistant, the co-president of the Caribbean Student Association and leader within the African Women's Alliance. Additionally, Britney has led volunteer efforts with the Let's Get Ready organization serving as a success coach and currently doing service work with DIFFvelopment, a non-profit focusing on empowering the Black community through Black education. This spring, Huston shared insights with the campus community as a participant in the student-faculty collaboration forum on Day 1 of President Wheeler's Inauguration.
Summer Mohrmann '23 (English) of New Paltz, New York
An English major and transfer from SUNY Ulster, Summer Mohrmann is achieving exceptional results as a student in the Five-Year BA/MA program, taking both undergraduate and graduate courses on the way to earning two degrees in five years. She has applied analytical and critical thinking skills to literary research projects, including a study of the utility of narrative in trauma therapy (for which she received an Academic Year Undergraduate Research Experience grant). She is enthusiastic about her area of study and about expanding the reach of the arts in our community: a creative writer herself, Mohrmann co-founded and co-hosts a monthly open mic event at Greenkill Arts Center in Kingston, and also founded the local Masters of Margarita monthly book club. She is additionally a member of the Phi Theta Kappa, the international collegiate honors society, and of Sigma Tau Delta, the national English honors society.
About the Chancellor's Awards for Student Excellence
The Chancellor's Award for Student Excellence was created in 1997 to recognize students who have best demonstrated, and have been recognized for, the integration of academic excellence with accomplishments in the areas of leadership, athletics, community service, creative and performing arts, campus involvement, or career achievement.
Each year, SUNY campus presidents establish selection committees to review the accomplishments of exemplary students. Nominees are then forwarded to the Chancellor's Office for a second round of review. Finalists are then recommended to the Chancellor to become recipients of the award. Each recipient receives a framed certificate and medallion, which is traditionally worn at commencement.