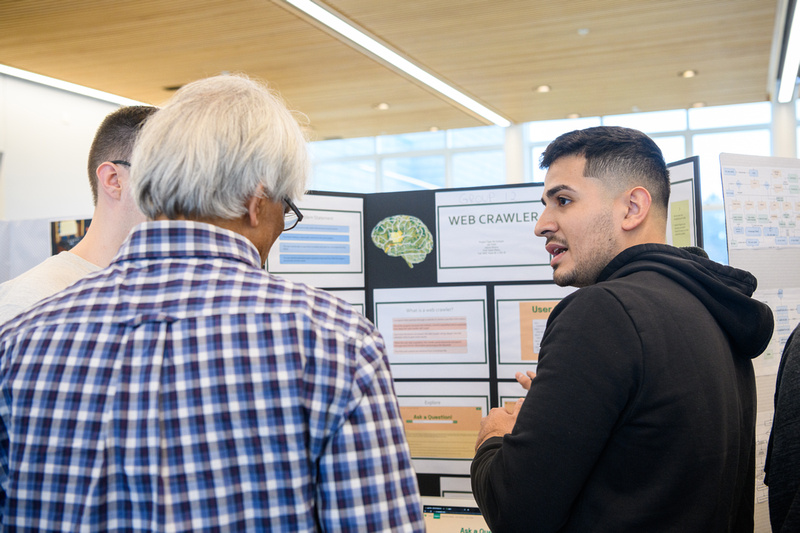 From a search engine that may be a potential rival to Google to a student database for school districts, SUNY New Paltz's students in computer science showcased projects at the fall 2022 capstone presentation on Dec. 7.
The end-of-semester event showcases how graduating seniors worked to create more efficient ways of organizing data in school projects and off-campus internships.
For students, this capstone presentation provided a simulation of what the real world of computer science may look for them.
With experts in the field serving as a panel of judges, students were given the opportunity to see what it looks like to have a prototype for a website or database presented before it becomes widely used.
"Now's your chance to see what a future prototype for you or a company could be," said Associate Professor of Computer Science Hanh Pham, who organized the competition and served as one of the judges.
Seniors Joe Trotti '22 and Alexis Rivera '22 pitched their search engine prototype Web Crawler as an alternative to the industry's titan.
"The way Google also works is if you are a web developer and you pay a decent amount, you usually get your links up top," said Rivera. "With Web Crawler, we give you the websites you want. Whether you want unbiased information or you want something leaning towards one side, you see all the information come together."
Students also shared the soft skills they acquired from participating in these projects. Those who took part in internships learned the importance of work-life balance.
"We were completing these internships during full semesters, so we learned how to balance school work with the responsibilities of the internship and everything in between," said Nicholas Finelli '22, who interned for a K-12 educational Data Warehouse company for two-and-a-half years alongside his twin brother Antonio Finelli '22.
Benjamin Saks '22 (Computer Science) earned the top prize for demonstrating the work for his internship at General Electric, where he worked for six months remotely for its Hungary branch.
"My task was to make software that is able to retrieve the different files on generators and wind turbine machines so they could be more easily accessible and employees would be able to leverage that data to improve upon current processes," he said.
Saks recently received a job offer from Amazon, where he expects to work starting in January.
Eric Dearien '22 and Matthew Pisano '22 were also recognized for their internships in internationally recognized electric power protection company Schweitzer Engineering Laboratories, Inc. and Kingston, New York-based Cyber Guardian Consulting Group, respectively.
The School of Science and Engineering thanks the fall 2022 Computer Science Presentation judges:
Michael Parish, solutions developer at Aeon Nexus Corporation
SUNY New Paltz Department of Computer Science Chair Chirakkal Easwaran
Associate Professor of Computer Science Hanh Pham
Assistant Professor of Computer Science Ashley Suchy
Computer Science Lecturer Kaitlin Hoffmann
 Learn more about New Paltz's Department of Computer Science on their webpage.