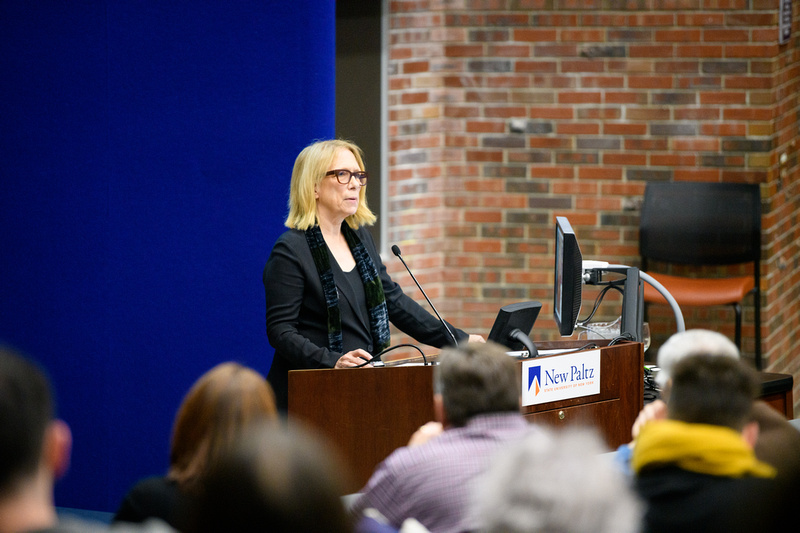 Award-winning cartoonist and writer for The New Yorker Liza Donnelly gave a rousing talk on the unifying power of editorial cartoons during SUNY New Paltz's 14th annual fall Distinguished Speaker Series on Oct. 18.
"We need to find a way to connect with one another and humor is a great way to do it," Donnelly said. "Humor through art should be used to share with others, not to hurt others."
More than 130 attendees gathered in person to watch her talk, which was followed by a Q&A expanding further on how political cartoons can overcome divisive times. Many more viewed the livestream from remote locations.

Throughout her presentation, Donnelly detailed the history of cartooning by reflecting on some of the most profound social and political cartoons of all time. While cartoons ultimately have a unifying power, they have also been a divisive force over the decades, pitting groups against one another through offensive imagery and captions.
"We enjoy freedom of speech and freedom of drawing, and you should enjoy it," she said, "but I'm of the mind that as humans, we have a certain amount of responsibility to use humor for punching up, not punching down."
Recent events offer a large source of material for Donnelly, who has drawn about the #MeToo movement and attacks on U.S. democracy. While covering periods of unrest, she has seen how triumph can emerge just as swiftly as tragedy. Following George Floyd's death, Donnelly noticed a wider array of diverse voices in the cartooning space.
"We're hearing all kinds of voices and seeing all kinds of ways to express oneself," she said. You're getting to see different people's lives and different perspectives."
Donnelly, a Hudson Valley resident, is a contributor to The New York Times, Washington Post, Medium, CNN, and CBS News, and a longtime champion of female cartoonists.
As an author, she has published 18 books for adults and children. Her latest book, "Very Funny Ladies, The New Yorker's Women Cartoonists, 1925-2021," which she signed copies of after the event, celebrates the history of women in cartooning.
"Women have been barred from being funny," she said. "Through writing this book, I learned that women having been sharing their lives with us through cartoons for nearly 100 years."
[Read more here about Liza Donnelly's work]
Donnelly herself fostered a love of cartooning in childhood, upon realizing the impact it had on people.
"Once I learned to draw at a very young age, I soon discovered that drawing cartoons could make people smile," she said.
About the SUNY New Paltz Distinguished Speaker Series
The SUNY New Paltz Distinguished Speaker Series connects the College's alumni, community members, faculty, staff, students and their families with well-known authors, policy makers, scientists, media experts, business leaders and other luminaries.
The Distinguished Speaker Series is made possible by the SUNY New Paltz Foundation. The fall 2022 program is presented with support from Campus Auxiliary Services, Central Hudson, Liberty Coca-Cola Beverages, M&T Bank, Orange County Chamber of Commerce, Heritage Financial Credit Union, Sodexo, and Ulster Savings Bank.