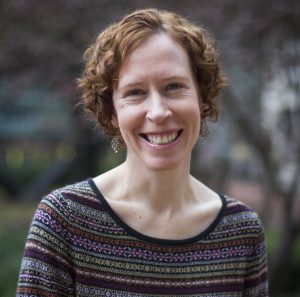 The Department of Digital Media & Journalism at SUNY New Paltz is pleased to welcome Sarah Carr to the campus community as the fall 2022 James H. Ottaway Sr. Visiting Professor of Journalism.
Carr is an independent journalist who has covered education for two decades, for publications including The Washington Post, The Hechinger Report, the Atlantic, Slate, ProPublica, The New York Times, and the Boston Globe Magazine, among others.
As the Ottaway Visiting Professor, she will teach "The Kids' Story," an undergraduate journalism seminar that will scrutinize American inequality—in the education, health care and immigration systems—through the lens of children and teenagers. Students will learn how to incorporate the experiences of young people, particularly those from historically marginalized groups, in their reporting.
Carr will also share her experience and expertise with the broader community at two public events this fall:
She will be introduced to the campus community with a Q&A with SUNY New Paltz President Darrell P. Wheeler on Thursday, Sept. 22, at 6 p.m. in Science Hall Auditorium.
Carr will also deliver a public speech on Tuesday, Nov. 1, at 7 p.m. in the Coykendall Science Building Auditorium.
About Sarah Carr
Carr is an award-winning journalist who spent the 2021-22 academic year as an O'Brien Fellow in Public Service Journalism.
Previously, she led The Great Divide, an award-winning investigative education team at the Boston Globe, and The Teacher Project, an education reporting fellowship at Columbia Graduate School of Journalism. At Columbia, Carr oversaw partnerships with more than 30 local and national media outlets and created "What My Students Taught Me," an education podcast distributed in collaboration with the Atlantic, Chicago Public Radio and others.
Selected recent pieces include:
Want your child to receive reading help in public school? It might cost $7,500 (USA Today and the Hechinger Report, 2022)
Parents pay a small fortune for child care. So why are so many providers struggling? (Boston Globe Magazine and the Hechinger Report, 2021)
For schoolchildren struggling to read, COVID-19 has been a wrecking ball (Boston Globe Magazine, 2021)
Carr is also the author of "Hope Against Hope" (Bloomsbury, 2013), which tells the story of the post-Katrina New Orleans schools through the experiences of a student, a teacher, and a family.
About the James H. Ottaway Sr. Visiting Professorship
The James H. Ottaway Sr. Visiting Professorship, SUNY New Paltz's only endowed professorship, is named for the founder of Ottaway Newspapers Inc., who was a leader of the American Press Institute and a lifelong supporter of high quality journalism in the Hudson Valley and across the globe.
The Ottaway Visiting Professorship was established in 2000 through the generosity of James H. Ottaway Jr. '18 HON and Mary Ottaway '70g (Elementary Education).
Numerous well-known journalists have preceded Carr as Ottaway professors, including Pulitzer Prize winners, foreign correspondents, book authors, editors, investigative reporters and experts in finance, science and consumer journalism.
More information about the Ottaway Visiting Professorship, including biographies of previous professors, can be found at https://www.newpaltz.edu/ottaway/.