The SUNY New Paltz community marked an important annual tradition with the fall 2022 Convocation ceremony, welcoming more than 1,700 new first-year and transfer students to the institution ahead of the first day of classes.
"Today, our college community gathers to salute our newest cohort of students," said President Darrell P. Wheeler. "I am also new to campus, as my work as president began last month, and I know well that the initial days of a college experience can bring a mix of emotions: excitement, nervousness, happiness, and everything in between. I hope you are excited to be here, as we are all thrilled to welcome you into this phenomenal campus community."
The festivities began out on the Parker Quad, with students, faculty, staff, alumni and, of course, Hugo the Hawk, waiving pennants and making some noise before things kicked off.
As this semester's incoming class – one of the most academically prepared in SUNY New Paltz history – entered the Athletic & Wellness Center for the ceremony, student leaders, faculty and alumni greeted them with enthusiastic cheers. President Wheeler, presiding over Convocation exercises for the first time in his new role, led the procession.
Allyson Sheneman '24 (Astronomy; Biology) gave the student address, encouraging her new peers to make the most of the different opportunities available to them on campus.
"I look back at my time, now halfway through, with nothing but pride at the little universe I cultivated for myself here," she said. "I could not be more excited for each and every one of you to cultivate your own New Paltz universes."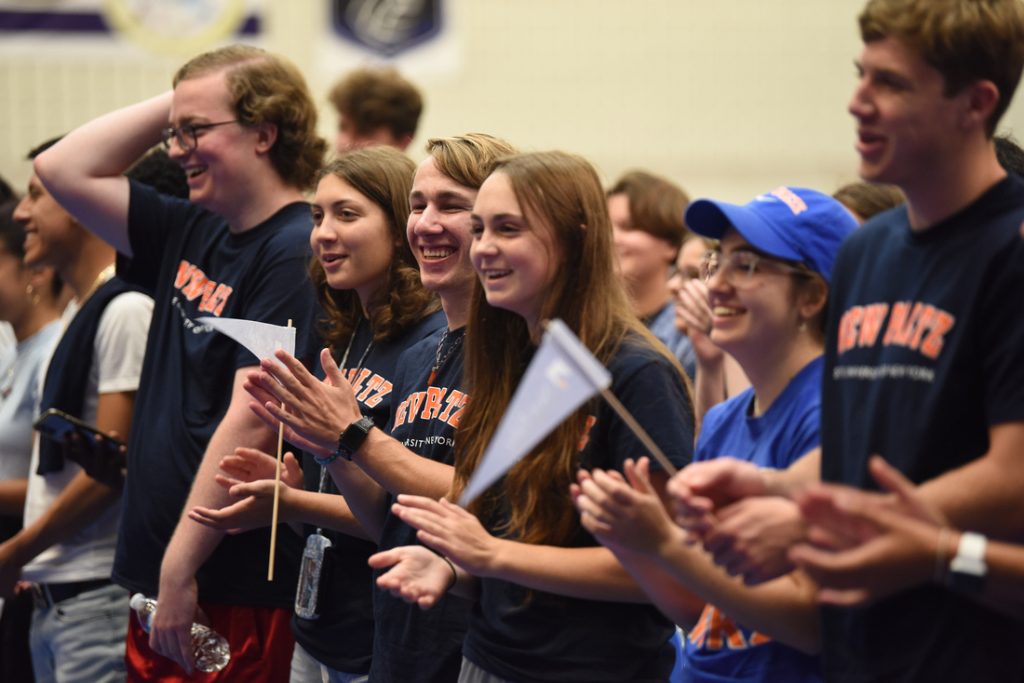 Serving as Faculty Grand Marshal for this year's Convocation ceremony was Glenn Geher, professor of psychology and founding director of the College's Evolutionary Studies Program, who carried the ceremonial mace & chain of office and offered a few words of wisdom for the gathered attendees.
"You have landed in a great place," Geher said. "From SUNY New Paltz, there truly are no limits to your success. Our students regularly go far, getting advanced degrees at some of the top universities in the world, and obtaining careers at some of the most important corporations and government agencies in the world. Stay the course, work hard, and you will go far – I have no doubt."
In concluding the ceremony, President Wheeler offered some final thoughts to the incoming class about the opportunities ahead of them.
"You are here to do something special: To make sure that in the future, when you ask if you're happy with the world around you, all of your hands are raised up," he said. "You are the people who can make that happen. The future lies with you."
With the ceremony over, the gathered participants – New Paltz Hawks from across the generations – headed outside to spend a few more hours together outside at the annual post-Convocation BBQ.
More information about the SUNY New Paltz Convocation tradition can be found here.