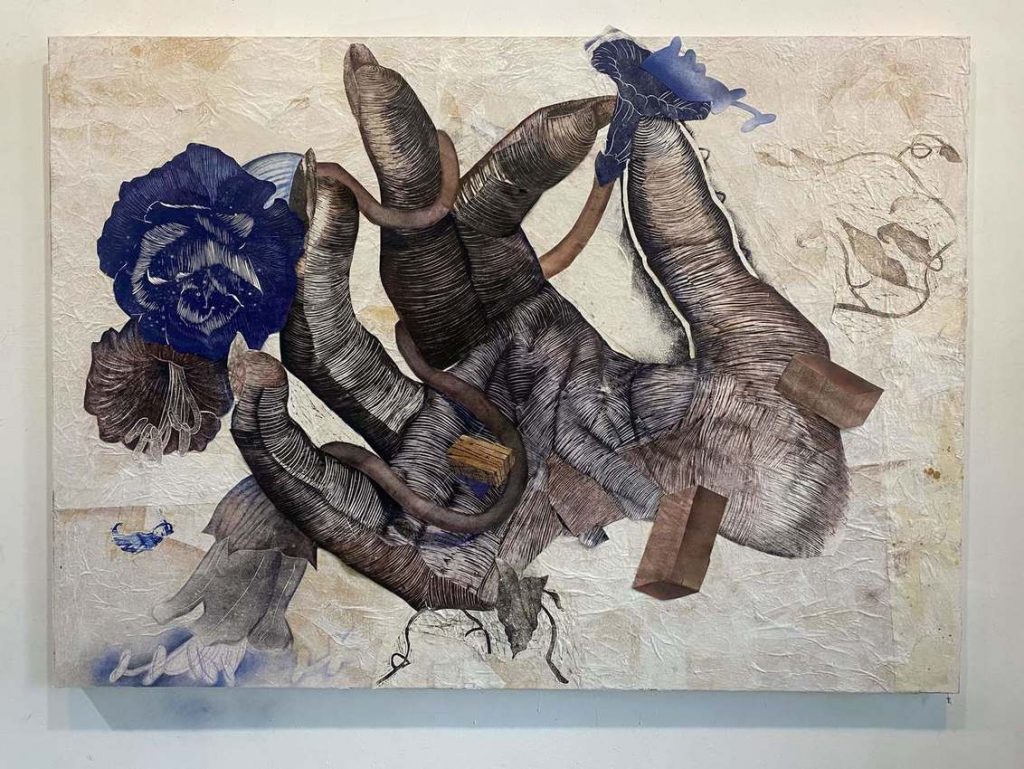 The Samuel Dorsky Museum of Art at SUNY New Paltz is delighted to present "Somewhere in Advance of Nowhere: Freedom Dreams in Contemporary Art," an exhibition featuring 17 artists and two artist collectives seeking to bridge the gaps between imagined utopias and the reality of our world.
The exhibition is curated by nico wheadon and will be on view from Feb. 5 – April 10, 2022, in The Dorsky's Alice and Horace Chandler Gallery and North Gallery.
"I hold a deep respect for artists as dreamers, risk-takers and social innovators that drive culture forward—their capacity to both spark and mobilize the collective imagination is infinite," said wheadon. "Today, artists' skills of observation, interpretation and transmutation are essential to the urgent tasks of envisioning more equitable societies and moving culture beyond the confines of its own institutionalization. As a fellow risk-taker invested in dreaming and building beyond the facts of our cultural ecosystem, I owe a debt of gratitude to the fearless artists in this exhibition whose liberated visions not only ensure that people of color exist in the future but that we also thrive in it, because it's been designed and built on our own terms."Use this link for more information on "Somewhere in Advance of Nowhere: Freedom Dreams in Contemporary Art.
"Somewhere in Advance of Nowhere: Freedom Dreams in Contemporary Art" lauds the vital role of artists in dismantling broken systems, envisioning new shared realities, and building future alternatives. Drawing inspiration from Robin D.G. Kelley's seminal book, "Freedom Dreams: The Black Radical Imagination," the exhibition takes up his provocation that "without new visions, we don't know what to build, only what to knock down."
Across the exhibition, the radical imagination takes many forms. Historical archives are refigured into dynamic sites of conscience through which to combat historical erasure and build contemporary representation. Migration is studied not solely as an index of colonial oppression but also as a practice of sustainability and strategy for surviving a precarious future. Joy and leisure are recast as modes of resistance and rights owed us all, and not just luxuries or pastimes of the rich. And meditation and restoration are asserted as vital practices accessible to each of us as we set about the arduous task of getting free.
While "Somewhere in Advance of Nowhere" focuses on freedom dreaming in contemporary art, the diversity of approaches adopted by its artists speaks to the importance of reading art in the context of the social, cultural, and political forces that shape it. The exhibition focuses on art, not as a static object to be consumed but rather as a revolutionary process that—as Kelly asserts—"can and must transform us."
Artists in the Exhibition
Derrick Adams
The Black School & Bryan Lee Jr. Phoebe Boswell Jesse Chun Abigail DeVille Zachary Fabri Ja'Tovia Gary Golden Kordae Henry Iyapo Repository Jarrett Key Yashua Klos Miguel Luciano Cannupa Hanska Luger Zora J Murff Jordan Nassar Christie Neptune Wanda Raimundi Ortiz Xaviera Simmons
nico wheadon is an independent arts consultant, curator, professor and writer based in New Haven, Connecticut. She, alongside her partner Malik D. Lewis, is also founder and principal of bldg fund, LLC, an innovation platform for BIPOC artists, entrepreneurs and neighbors founded in 2020. An advocate for Black and womxn artists in all endeavors, she uses her myriad platforms to expand the canon of contemporary art whilst cultivating an engaged community of professional practice. Learn more about wheadon's work online.
The Dorsky will offer a number of online exhibition-related programs and events to the public throughout the spring. For the latest information about public programs please visit http://www.newpaltz.edu/museum or call (845) 257-3844.
At The Dorsky, safety comes first. Visitors who are 17 years or older must show a photo ID and proof of full vaccination or a negative COVID-19 test taken within 72 hours of the event. Proof of full vaccination may include a CDC vaccination card or a valid New York State Excelsior Pass. Children between the ages of 5 and 17 must show proof of full vaccination or a negative COVID-19 test taken within 72 hours of the event. Children under the age of 5 are exempt from the vaccination requirement, as the CDC has not approved vaccination for this age group. Children this age must be accompanied by an adult at all times and must follow the indoor masking policy.
Visitors are also required to wear masks and maintain a distance of six feet between households or groups at all times. Galleries have a maximum visitor capacity to allow for safe social distancing. Hand-sanitizing stations are available for visitors upon entering the Museum, and we are conducting frequent cleaning. Please sanitize your hands upon entry and if you are feeling unwell please stay home. Please limit the number of personal belongings and bags you bring to the Museum as we will not be offering coat or bag storage. Thank you for helping us keep the community safe.
About The Dorsky Museum
Through its collections, exhibitions and public programs, the Samuel Dorsky Museum of Art supports and enriches the academic programs at the College and serves as a center for Hudson Valley arts and culture. With more than 9,000 square feet of exhibition space distributed over six galleries, The Dorsky Museum is one of the largest museums in the SUNY system. Since its official dedication in 2001, The Dorsky has presented more than 100 exhibitions, including commissions, collection-based projects, and in-depth studies of contemporary artists including Robert Morris, Alice Neel, Judy Pfaff, Carolee Schneemann and Ushio Shinohara.
Funding for The Dorsky's exhibitions and programs is provided by the Friends of the Samuel Dorsky Museum of Art and SUNY New Paltz.
Museum Hours
Wednesday–Sunday, 11 a.m. – 5 p.m. Closed Mondays, Tuesdays, holidays and intersessions.
For more information about The Dorsky Museum and its programs, visit http://www.newpaltz.edu/museum or call (845) 257-3844.