From library robots to an encryption of a famous World War II code, SUNY New Paltz students from the Department of Computer Science brought their best work for their senior projects. 
During a walkthrough presentation that brought out students and faculty alike, the computer science seniors demonstrated work conducted this fall under the guidance of Associate Professor Hanh Pham. 
Seniors Brian Prais '22 (Computer Science) and Wesley Cartagena '22 (Computer Science) centered their project on a robot they hope can lend a hand with stray books at the Sojourner Truth Library.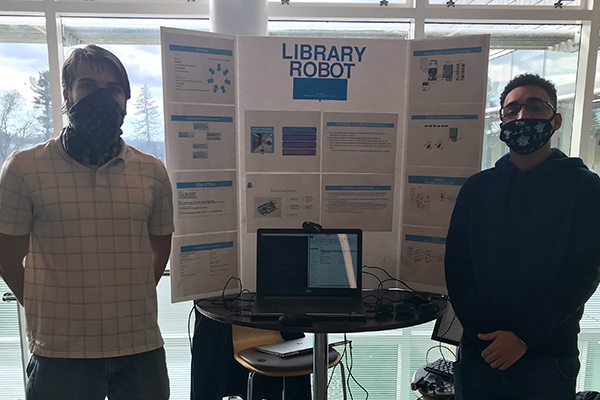 The robot will be programmed to take a picture of a misplaced book's spine, which will be then sent to a library server that will use an algorithm to find where the book should be. 
"Currently, the library's staff has to walk around and look at every single book in the library just to find out if the book is in the right place or not!" Pham said. "This takes much longer time and effort compared with having a robot doing it for us." 
Another project put together by William Borges '22 (Computer Science), Alvin Cao '22 (Computer Science) and Richard Peralta '22 (Computer Science) focused on decryption of the famed World War II Enigma code. 
Their project was a passion for Borges, who had an interest in cryptography starting as a freshman. 
"I showed the professors here at Open House the most basic cipher, and someone cracked it," he said. 
The students interned with the Benjamin Center under Senior Research Associate Joshua Simons for this project. Simons has worked with computer science students on senior projects in the past, and said that he enjoyed this experience. 
"The project itself was an experiment to see how difficult it would be to decipher these codes," said Simons. 
Other projects included web development and system analysis for different companies, with students applying classroom learning in real-world professional scenarios. In one such case, Reshma Luke '22 (Computer Science) completed an internship with CVS Health as an IT contractor, working to simplify technological solutions at store locations so employees do not have to rely on their internal HelpDesk.  
"I basically made some code for the system," she said. "It's a really good company, and I definitely learned a lot about collaboration." 
The senior project is a cornerstone of the Computer Science experience at SUNY New Paltz. Learn more on their department webpage.