SUNY New Paltz was selected as a 2021 Progress, Accomplishment, Thriving, Hope (PATH) Scholarship recipient, a program that provides grants to higher education institutions to support students facing economic hardship.
The College received $15,000 which will help cover items such as housing costs, tuition expenses and food for students in need.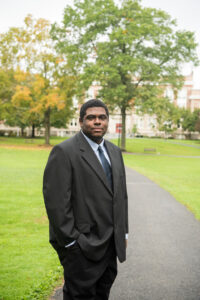 "Our students continue to be impacted by COVID and other issues," said Vice President for Enrollment Jeff Gant. "These funds will enable them to focus on their coursework and continue on their learning journey at the College."
The scholarship was awarded to 10 New Paltz students, each earning $1,500.
"Thanks to this generous support, I will certainly be able to graduate on time and with a decreased financial burden," said scholarship recipient Payton Malloy Ellison '22 (Journalism). "SUNY New Paltz has helped me reach my potential, and this scholarship will continue to help me do so."
The PATH Scholarship is provided by the Ellucian Foundation, established in 2020 by Ellucian, the leading technology solutions provider for higher education. In its first year, the PATH Scholarships provided 25 eligible higher education institutions with $500,000 in grants, delivering scholarship awards to a total of 680 students.
"Now more than ever students need access to quality programs and opportunities like those made possible by gifts such as Ellucian's PATH Scholarship," said Vice President for Development & Alumni Relations Erica Marks.