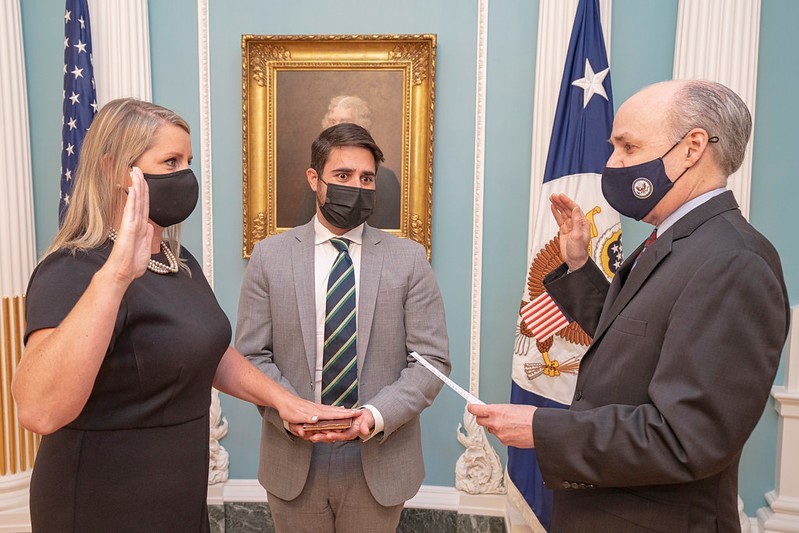 The SUNY Global Engagement Program invites one and all to attend a discussion of foreign policy with Elizabeth Allen, assistant secretary of the Bureau of Global Public Affairs at the U.S. Department of State, on Wednesday, Nov. 17, at 6 p.m.
The SUNY New Paltz community is invited to attend the lecture on Zoom using this link. It is also taking place in person at the SUNY Global Center in New York City. A reception will follow the in-person event.
Allen, a SUNY alumna, was sworn in as the Assistant Secretary of the Bureau of Global Public Affairs on Sept. 13, 2021. She previously worked at the White House as Deputy Communications Director and Deputy Assistant to President Barack Obama, culminating eight years of service in the Obama Administration, where she held a number of roles, including White House Director of Message Planning and Deputy Director of Communications to then-Vice President Joe Biden.
This event is part of SUNY New Paltz's commitment to global citizenship via the SUNY-wide Global Engagement Program, which provides students with opportunities to immerse themselves in global affairs through internship opportunities and other academic enrichment programs.
SUNY Global conducts strategic planning, policy development, coordination of system-wide global initiatives. It is headquartered at the SUNY Global Center in the heart of Manhattan with additional offices in Albany, Moscow, St. Petersburg, Ankara and Mexico City.