SUNY New Paltz moved up to claim the No. 6 ranking among all public universities in the North region, and earned recognition on 11 other specialized lists, in the 2022 edition of U.S. News & World Report's college rankings.
New Paltz moved from No. 45 last year to No. 31 this year among all (public and private) non-doctoral colleges in the Northeast.
"The high caliber and diversity of our educational offerings and the great value of a New Paltz education are strongly affirmed by these latest U.S. News and World Report rankings," said President Donald P. Christian. "It is rewarding to see the College's values and spirit, the collective work of faculty and staff, and the dedication and accomplishments of our diverse student body recognized so clearly."
For the first time ever, the College earned recognition in the Most Innovative Schools category (No. 19 in the Northeast). This list is generated by polling higher education leaders from across the country, who identify colleges and universities that make the most innovative improvements toward curriculum, faculty, students, campus life, technology and facilities. New Paltz was one of only two SUNYs to appear on this list.
Other lists that featured SUNY New Paltz included Best Value Schools, Best Colleges for Veterans, Best Undergraduate Teaching and Top Performers on Social Mobility – all categories where New Paltz has been honored for many years.
Full U.S. News & World Report Rankings Breakdown
The U.S. News & World Report evaluated 1,582 colleges and universities this year, based on publicly available data on indicators like first-year student retention and graduation rates, and reputational factors measured by peer-assessment survey.
This comprehensive methodology allows the publication to create highly specified lists across a range of sub-categories.
Here's the full breakdown of SUNY New Paltz's honors on these focused lists:
Best Colleges for Veterans (No. 9 in the Northeast): This list includes high-performing institutions that serve a significant number of students who are veterans or active military members. New Paltz has consistently appeared as one of the top SUNY institutions on this list, a testament the outstanding support delivered by the Office of Veteran & Military Services to the hundreds of military-affiliated students it serves each year.
Top Performers in Social Mobility (No. 35 in the Northeast): Colleges that help students climb the socioeconomic ladder with high graduation rates and successful outcomes for recipients of federal Pell Grants, which are generally awarded to students and families with great financial need.
Best Value Schools (No. 57 in the Northeast): U.S. News calculates this list by comparing schools' places in academic rankings against the cost of tuition and other financial aid-related factors.
Best Undergraduate Teaching (No. 18 in the Northeast): This list polls top college administrators on which colleges have the strongest commitment to teaching undergraduates.
SUNY New Paltz was ranked among the Best Undergraduate Business Programs and the Best Undergraduate Engineering Programs, remaining one of the only colleges in the SUNY system to earn this double distinction. Both these lists are based on peer surveys sent to large and diverse groups of higher education professionals.
The College is also featured on three U.S. News & World Report rankings of the nation's best graduate programs: Best Business Schools (MBA), Best Fine Arts Programs (MFA), and Speech-Language Pathology.
For more information on methodology and to see the full rankings, visit the U.S. News & World Report online.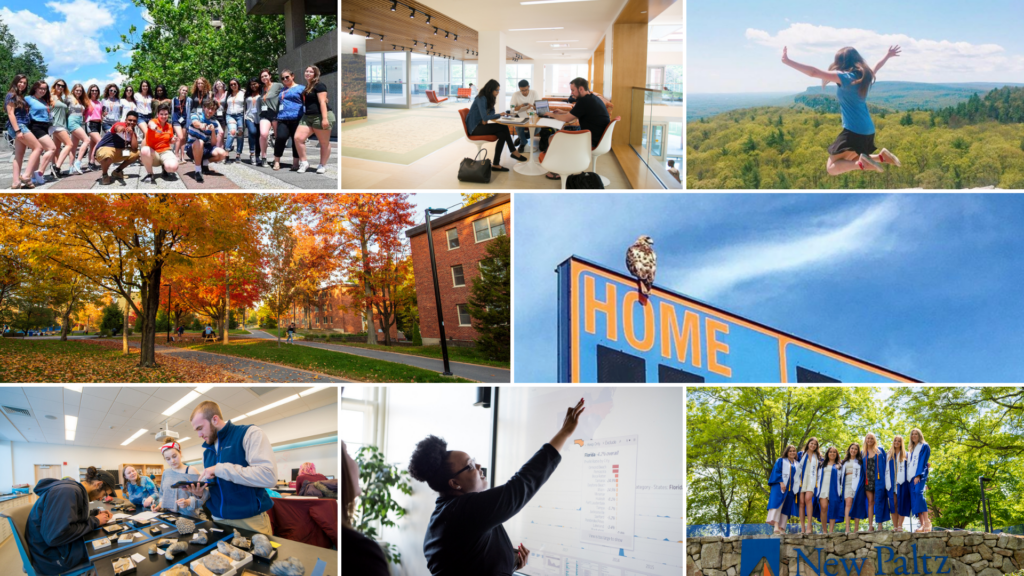 SUNY New Paltz in College and University Rankings

SUNY New Paltz is consistently ranked among the nation's top public colleges by a variety of highly regarded publications. Recently, the College was named a Top 10 Military Friendly® School; the Social Mobility Index placed New Paltz in the top 3% nationwide in its measurement of students' success climbing the socioeconomic ladder; and Kiplinger's Personal Finance named SUNY New Paltz the No. 3 Best College Value in the SUNY system.
Use this link to read more SUNY New Paltz rankings news.