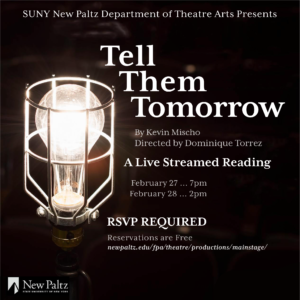 The Department of Theatre Arts continues its spring 2021 production lineup with virtual readings of "Tell Them Tomorrow" on Saturday, Feb. 27, and Sunday, Feb. 28.
"Tell Them Tomorrow" is a story of the end of a college relationship. The fallout sparks moments of introspection for the protagonist, Lead, who faces multiple versions of themself along the way to discovering who they are and who they want to be.
The play is written by Kevin Mischo '21 (Theatre Arts) and directed by Dominique Torrez '21 (Theatre Arts), making this the first fully student-produced show of the 2020-21 Theatre Arts season.
Mischo and Torrez are both leaders in the program. Mischo is a dramaturg who has worked on multiple productions and moderated talkback panels while at the College. In addition to directing work, Torrez was among a number of students who responded in the early days of the COVID-19 pandemic by co-founding the Virtual Theatre Collaboration.
How the virtual performance works
Performances of "Tell Them Tomorrow" will be given on:
Saturday, Feb. 27, at 7 p.m., and
Sunday, Feb. 28, at 2 p.m.
Guests are required to RSVP in advance to join the virtual audience for this live-streamed production from SUNY New Paltz's Department of Theatre Arts.
After RSVPing, ticket holders will receive a confirmation email with a link to the live stream. The link will be active about 15 minutes before showtime. Simply click or copy the link into your browser to view the performance.
There will be a talkback session after the Saturday, Feb. 27, show, to allow audience members to engage directly with the cast and crew.
Reservations are offered on a "pay what you can" scale and are limited to four tickets per person.
Hundreds of community members registered for tickets in support of the department's productions during the fall 2020 semester. The Department of Theatre Arts thanks the community for supporting our students' education and creativity during these unprecedented times.
Please use this link to read more about how our work is continuing in the midst of the COVID-19 pandemic.