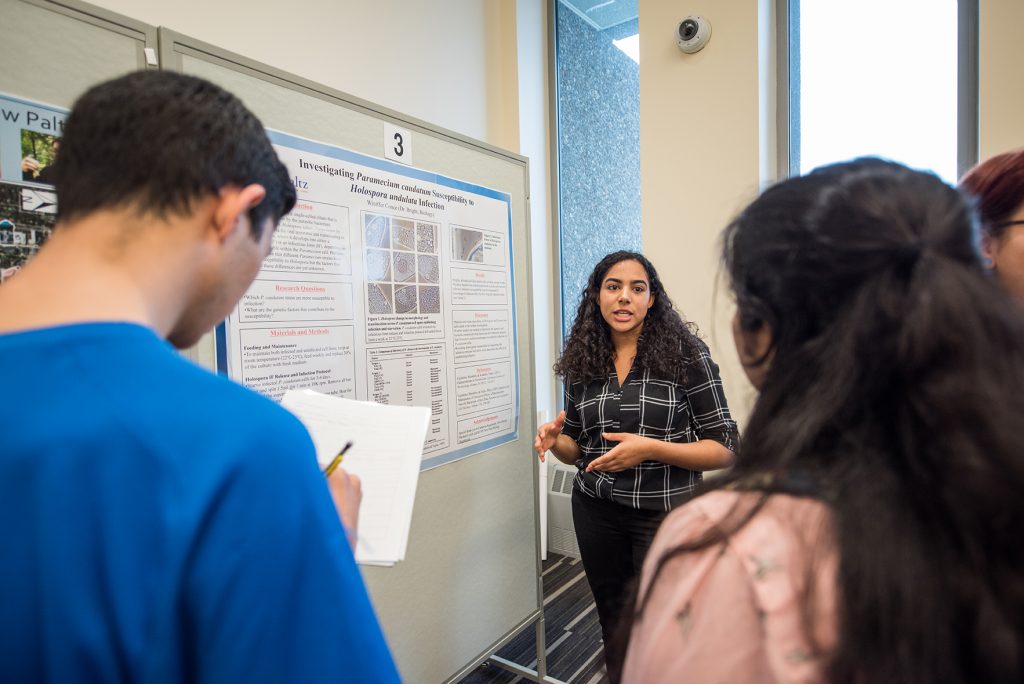 The Research, Scholarship & Creative Activities program is delighted to announce the winners of the spring 2021 Academic Year Undergraduate Research Experience awards.
These awards are provided through generous support from the Division of Academic Affairs, supporting undergraduate students collaborating with faculty mentors to conduct original research in any academic discipline. Applied learning experiences such as these extend students' learning and intellectual development beyond what is possible in the classroom.
Opportunities to apply for the summer 2021 and fall 2021 undergraduate research experience grants will be announced in the coming months.
This semester's Academic Year Undergraduate Research Experience awardees represent 11 academic programs and all five schools at SUNY New Paltz. Please join us in congratulating them!
---
Spring 2021 AYURE Award Winners
Sophia Acquisto (Early Childhood and Childhood Education / History concentration)
Faculty Mentor: Chrissy O'Grady (Sojourner Truth Library)
Project Title: Researching the Hudson Valley's Historically Significant Places for the Creation of an Educational History App
Ashleigh Arrington (Chemistry & Mathematics)
Faculty Mentor: Miles Wilklow-Marnell (Chemistry)
Project Title: Iridium Catalyzed Upgrading of Ethanol
Matthew Buddensick (Finance & Business Analytics), Jake Varghese (Business Analytics), & Tevin Green (Business Management)
Faculty Mentor (Department): Ai Ren (School of Business)
Project Title: An empirical analysis on avoidable Medicare payments and Medicare payment variations
Caitlyn Castro (Music) & Danielle Gardner (Music)
Faculty Mentors: Christiana Fortune-Reader & Phyllis Chen (Music)
Project Title: Resonant Echoes: an exploration of sound and light focuses on the integration of sound within the community by using field recordings, mechanical music boxes, visuals and acoustic instruments
Kieran Cavanagh (Mathematics)
Faculty Mentor: Hyunchul Park (Mathematics)
Project Title: Measure and integral; An introduction to real analysis
Mario Cora (Mechanical Engineering)
Faculty Mentor: Rachmadian Wulandana (Mechanical Engineering)
Project Title: Understanding the effects of upstream flow obstacle on the drag and lift characteristics and overall performance of polygonal vortex-induced bladeless turbines
Max Hartman (Physics)
Faculty Mentor: Catherine Herne (Physics & Astronomy)
Project Title: Bacterial Attachment Force Measurement
Elizabeth Heh (Music)
Faculty Mentor: Alex Peh (Music)
Project Title: Guzheng: A Traditional Music and Theater Performance
Natalie Margaret Houle (Theatre Arts / Design and Technology concentration)
Faculty Mentor: Sun Hee Kil (Theatre Arts)
Project Title: Learning Current Sound Design Drafting Standards – Integrating USITT/TSDCA Sound Documentation Standards in Vectorworks & OmniGraffle
Jeffrey Kitchen (Chemistry)
Faculty Mentor: Megan Ferguson (Chemistry)
Project Title: Quantification of PAHs in Soils Near Historic Kingston Lime Kilns
Joshua Lococo (Theatre Arts / Performance concentration)
Faculty Mentor: Martine Kei Green-Rogers (Theatre Arts)
Project Title: Playwriting/Dramaturgical workshop and research process to develop new play based on the Faustian legend.
Angelina Montez (Communication)
Faculty Mentor:  Kathleen P. Hunt (Communication)
Project Title: Understanding the Communicative Conditions of Meatpacking Labor Exploitation amid the COVID-19 Pandemic
Cameron Nzeutem (Astronomy & Physics)
Faculty Mentor: Catherine Herne (Physics & Astronomy)
Project Title: Torque Mapping through Polarimetry
Karin Vislocka (Cellular & Molecular Biology)
Faculty Mentor: Lydia Bright (Biology)
Project Title: Tracking changes in the expression of infection-related genes in Paramecium caudatum