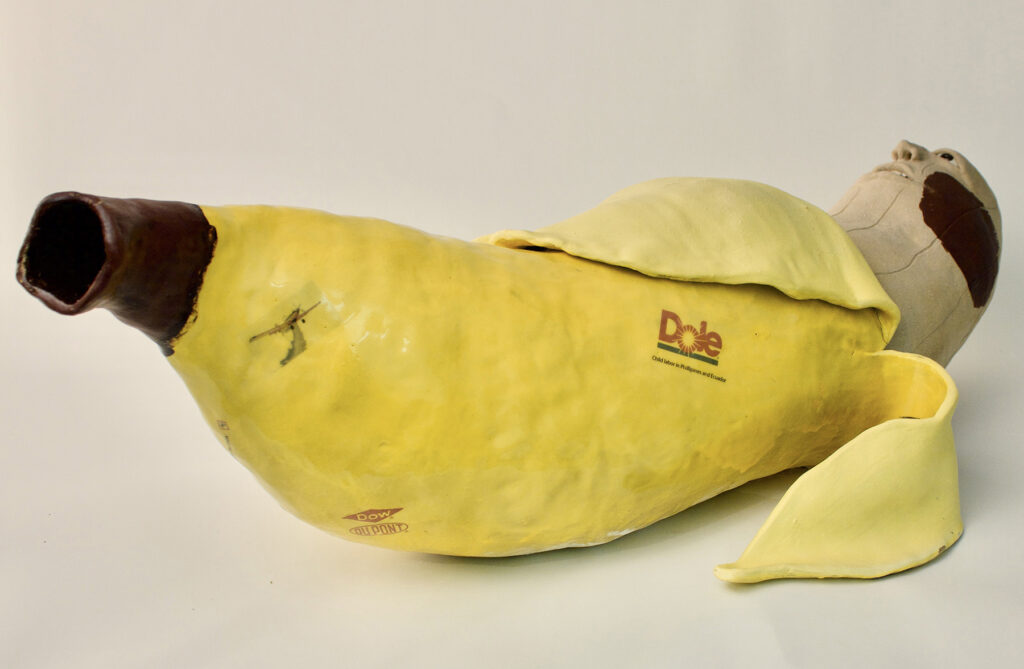 The Samuel Dorsky Museum of Art at SUNY New Paltz presents "Breaking Through," an exhibition of works by 2020 alumni of the MFA program, opening Saturday, Nov. 7, and on view through Nov. 15. The exhibition is curated by Eileen Jeng Lynch.
"Breaking Through" offers various perspectives on the world, calling attention to disparities that exist while exploring what could be through dystopian and utopian lenses.
The 14 featured artists use a range of mediums, including ceramics, metal work, painting, photography, printmaking, sculpture and video, to examine cultural, social and political issues at a divisive moment.
Some works in this collection reexamine histories that have long gone untold, creating new narratives and bringing to the forefront indigenous knowledge; others document and depict scenes of daily lives, highlighting differences in belief systems; more abstracted pieces serve as metaphors for porous boundaries, physical vulnerabilities and environmental tragedies; contemporary jewelry and other metal works address concerns about surveillance, privacy, and censorship; detritus is reused and transformed.
The exhibition comes together at the end of an uncertain year when, due to the COVID-19 pandemic, students have had to rethink and adapt their projects, striving to gain new points of view by imagining and inhabiting fantastical and hidden worlds. These artists are breaking through and creating exciting possibilities.
"Breaking Through" will be on display from Nov. 7 – 15, 2020 in the Alice and Horace Chandler Gallery and the North Gallery at the Samuel Dorsky Museum of Art. Visit the Dorsky Museum online to learn more.
About the MFA at SUNY New Paltz
The College's nationally accredited MFA program combines the best aspects of a vigorous studio practice within the context of a comprehensive liberal arts education. Our proximity to New York City, affordable tuition, numerous scholarship and assistantship opportunities, and nationally recognized programs attract a broad variety of competitive, skilled graduate students from around the world.
Contact Department of Art Graduate Coordinator Matthew Friday at fridaym@newpaltz.edu for more information.
About The Dorsky Museum
Through its collections, exhibitions and public programs, the Samuel Dorsky Museum of Art supports and enriches the academic programs at the College and serves as a center for Hudson Valley arts and culture. With more than 9,000 square feet of exhibition space distributed over six galleries, The Dorsky Museum is one of the largest museums in the SUNY system. Since its official dedication in 2001, The Dorsky has presented more than 100 exhibitions, including commissions, collection-based projects, and in-depth studies of contemporary artists including Robert Morris, Alice Neel, Judy Pfaff, Carolee Schneemann and Ushio Shinohara.
Museum Hours: Wednesday–Sunday, 11 a.m. – 5 p.m. Closed Mondays, Tuesdays, holidays and intersessions.
For more information about The Dorsky Museum and its programs, visit http://www.newpaltz.edu/museum or call (845) 257-3844.