SUNY New Paltz presents annual awards during Alumni Reunion to recognize dedicated alumni and faculty.
This fall, honorees will receive recognition virtually on Oct. 16 at 6 p.m., as part of the Alumni Reunion schedule of events. Follow this link to learn more.
Heritage Awards – Awarded to those whose devotion to the ideals of the College serve as extraordinary examples to the entire New Paltz community
Honoree Emeritus Distinguished Professor of History Gerald Sorin joined the SUNY New Paltz faculty in 1965 as a specialist in American society and politics, with particular interest in the abolitionists and abolitionism. More than 50 years later, he has become an internationally recognized authority on American Jewish history and one of the most decorated members of the New Paltz faculty.
In 1989 he founded and continues to direct the Louis and Mildred Resnick Institute for the Study of Modern Jewish Life. And in 1994 he was awarded the State University's highest rank of Distinguished University Professor.
A Fulbright scholar and two-time National Jewish Book Award winner, Sorin serves as a great source of continued mentorship for students and alumni. He has been a long-time donor to the SUNY New Paltz Foundation and most recently, with his wife Myra, established the Gerald and Myra Sorin Endowed Scholarship Fund to recruit the best and brightest new students to the College.
Honorees Renee Padmore-Baccus '91 (Black Studies; Psychology) and Dion Baccus '92 (Business) have lived a life deeply rooted in service to others. Throughout their professional careers, volunteer organizations and relationship with SUNY New Paltz, they work to improve their communities and the world around them.
Renee Padmore-Baccus and Dion Baccus are proud to have established a not-for-profit organization. For more than 15 years, their foundation has supported education, service and mentorship in addition to providing scholarships for economically disadvantaged students, including a scholarship named after their friend and New Paltz alumna, Shona Bailey. Bailey's young life was tragically taken while she was a junior at the College.
Padmore-Baccus is a first-generation U.S. citizen, born and raised in Brooklyn, New York. She earned her early education at private and public institutions and met her future husband Dion while a student at SUNY New Paltz. She completed her graduate degree in Community Public Health at Adelphi University in Long Island, New York. Always actively engaged in community affairs, Padmore-Baccus sought employment in health and human resources services at a renowned health care facility, where she has worked for 15 years. She has served on the Alumni Council since 2015.
Baccus is an experienced business professional concentrating in finance, project management and business analysis. He was employed at JP Morgan Chase for 12 years before roles at Xerox, ASRC Federal and NTT Data Federal Inc. He now works as a business IT contractor in Washington, D.C.
Born and raised in Harlem, New York, Baccus attended NYC public schools before matriculating at SUNY New Paltz in fall 1987. Once at New Paltz, he immersed himself in campus life and filled many roles in his undergraduate years. Baccus earned his master's in finance from Long Island University in 2001.
The two now reside in Maryland. They regularly attend alumni and student events in the Washington D.C. area and both have been involved with the First World Reunion planning committee since its inception in 1995.
Alumni Professional Achievement Award – Recognizes alumni who have achieved distinction in a chosen profession or outstanding lifetime achievement
Honoree Leslie Gordon '93 (Sociology) is president and CEO for Food Bank for New York City, one of the nations' largest food banks distributing nearly 100 million pounds of food a year to New York city residents. For more than a decade, Gordon has led efforts to feed our neighbors in need in New York City and surrounding communities. Most recently she served as president and CEO of Feeding Westchester, Westchester County's largest anti-hunger organization.
Additionally, Gordon was executive director of Best Buddies Pennsylvania, an international organization launched by Anthony Kennedy Shriver to create social opportunities for people with intellectual disabilities. Gordon also served under General Colin Powell as National Director of America's Promise – The Alliance for Youth helping FORTUNE 500 companies develop corporate wide social responsibility programs to bring fundamental resources to young people.
Gordon was named one of the Top 40 most fascinating women in Westchester and Fairfield counties by WAG Magazine.  She served as the keynote speaker at SUNY New Paltz's Women's Leadership Summit in 2019.
Friends of the Alumni Association Award – Recognizes individuals (non-alumni) who have made exceptional contributions in the engagement of alumni in the life of the College
Glenn Geher is professor of psychology as well as founding director of Evolutionary Studies at the SUNY New Paltz.
Geher has been a long-time supporter of the Alumni Association where he cultivates strong relationships with his students and maintains them long after they have graduated. Geher was the only person to nominate three of the College's first 40 Under Forty alumni honorees in 2017.
As former Chair of the Psychology Department, Geher planned psychology alumni events during Reunion. He participates in routine outreach to alumni through the Psychology Department newsletter. Each year he leads the alumni hike at Reunion and has helped evolve it to include current students.
Distinguished Alumni Service Award – Recognizes alumni volunteers who have made exceptional contributions in support of the activities of the SUNY New Paltz Alumni Association  
This year, the Distinguished Alumni Service Award is being given to 11 alumni who went above and beyond when the Office of Development & Alumni Relations had to cancel all in-person programming in response to the global COVID-19 pandemic.
By offering to participate in a helpful virtual video series highlighting their individual expertise, these inspiring alumni did not hesitate to share their unique knowledge via Zoom, Webex and other online platforms in lieu of the College's in-person alumni gatherings.
Spring 2020 Virtual Alumni Program Presenters 
Bradley Diuguid '07 (English)
Virtual Presentation: Zoom Essentials
Diuguid is a professor of theater and education at SUNY Sullivan and program manager at the Hudson Valley Writing Project.
Missy Graff-Ballone '13g (Metal)
Virtual Presentation: Alleviating Tech Neck While Working from Home
Ballone is the Founder of Wellness for Makers! Her mission is to motivate and empower creatives through education, mindful-living, and movement!
Gorgette Green–Hodnett '91 (Black Studies)
Virtual Presentation: At Home Living and Learning
Gorgette is an instructional resource teacher, teacher empowerment thought leader and host of" Real Talk, Real Time" with Chandra and Gorgette, a virtual event series about educators.
Jennifer Haefele, RDN  '12 (Anthropology; Communication Media; French)
Virtual Presentation: Intuitive Eating & Nutrition: A Conversation
Haefele is a registered dietitian nutritionist who specializes in nutrition for eating disorder recovery and intuitive eating.
Lester Mayers '19 (Theatre)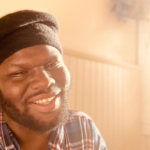 Virtual Presentation: Writing Through Trauma: SUNY NP Alumni Creative Writing Zoom Session
Mayers is a published writer, poet, director, commencement speaker and Black vernacular master preserver. He is a current MFA candidate at the Jack Kerouac School of Disembodied Poetics, Naropa University, Boulder, Colorado.
Destiny Moore '13 (Psychology)
Virtual Presentation: Journaling Through Anxiety
Moore is a New York State licensed social worker, college access and success professional and founder of Loved by Destiny (LBD), a wellness resource & blog for "beautiful souls" looking to thrive.
Kelly A. Murphy '13 (Anthropology)
Virtual Presentation: Balancing Stress with Seeds of Ayurveda: SUNY NP Healing Session
Murphy is an ayurvedic health counselor, yoga teacher and light worker guiding and inspiring clients to nurture a lifestyle of health, peace and balance within and with the world around them.
Lana Pasqual '11 (Communication Disorders) and Nia Thomas '11 (Black Studies, Communication Disorders)
Virtual Presentation: Education, Equity + Excellence during COVID-19: A Workshop and Q&A
Pasqual is a special education teacher in New York City, where she dedicates her time to creating space that empowers underrepresented people—students and colleagues.
Thomas is a school-based bilingual speech-language pathologist, educator and storyteller.
Juan-Carlos Piñeiro '07 (Psychology)
Virtual Presentation: Mindfulness Now: SUNY NP Alumni Mindful Zoom Session
Piñeiro is an educator, performing artist, motivational speaker, certified yoga teacher and mindfulness/personal development coach.
Jason Valentino '07 (Marketing)
Virtual Session: Financial planning that's as unique as you are: A SUNY NP Alumni Q&A Zoom Sessions 1, 2 and 3
Jason is a certified financial planning specialist with Gravatt Financial and Northwestern Mutual. He holds his series 6, 63 and 65 investment licenses, as well as his life, accident and health license.