Professor of Metal Myra Mimlitsch-Gray has been named a 2020 recipient of the New York State Council on the Arts/New York Foundation for the Arts (NYSCA/NYFA) Artist Fellowship, one of the most prestigious and competitive award programs available to New York artists.
Mimlitsch-Gray is one of 85 artists (from nearly 4,000 applicants) to receive an award this year. Her fellowship in Craft/Sculpture comes with a $7,000 unrestricted cash grant to support further exploration at a moment when many artists around the world are struggling.
"The organization's significant affirmation of my work's creative value and contribution to the field is especially meaningful during this pandemic," said Mimlitsch-Gray. "Through stress, sorrow and loss, I have struggled to be artistically creative in isolation. But the NYSCA/NYFA Fellowship has shored up my confidence, inspiring me to embrace new directions with renewed spirit."
In their announcement of this year's honorees, NYFA noted some common themes that appeared in the works they reviewed. Many artists grappled with social and political issues including immigration, cultural displacement, climate change, LGBTQIA+ rights and racial and gender equality.
"The NYSCA/NYFA Artist Fellowship recognizes that artists of all disciplines, backgrounds, ages, and career stages are at the heart of our state's powerful creative ecosystem and make vital contributions to the diversity of expression in New York," said Mara Manus, executive director of NYSCA. "As our field faces innumerable challenges, we are proud to continue our partnership with NYFA to provide critical support to artists whose work helps build healthy communities in all regions of the state."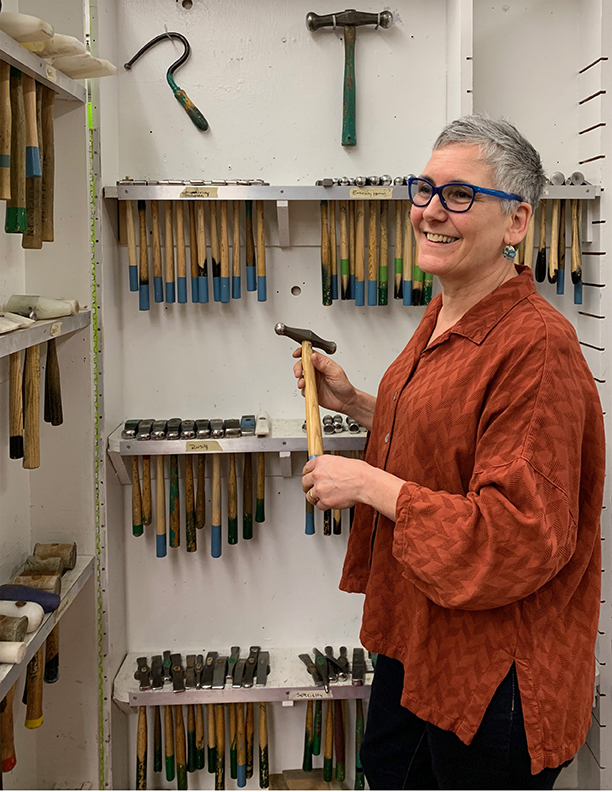 Mimlitsch-Gray is no stranger to high-profile recognition for her artistry and teaching. Just last year, she received the Masters of the Medium Award in Metal from the James Renwick Alliance. In 2016, she received the American Craft Council Award and was inducted into its College of Fellows. Other awards include the United States Artists Fellowship in Craft and Traditional Arts (2012) and individual artist fellowships from the Tiffany Foundation (1995), the National Endowment for the Arts (1994), and the New York Foundation for the Arts (2014, 2005, 1997). In 1998, Mimlitsch-Gray was awarded a Chancellor's Medal for Excellence in Teaching by the State University of New York system.
Follow her on Instagram @mimgray to see more work, and learn more online about the Department of Art's internationally renowned Metal Program.