SUNY announced on Sept. 18 the formation of the first-ever, system-wide Esports league to promote safe competition, connection, and camaraderie among students during the COVID-19 pandemic.
Registration is free, and there is no limit on the number of teams that can sign up.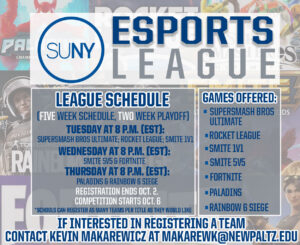 The following titles will be offered during this season of league competition:
Super Smash Bros. Ultimate
Rocket League (3v3)
SMITE (1v1 and 5v5)
Fortnite Duos
Paladins (5v5)
Rainbow 6 Siege (5v5)
New Paltz students who are interested in joining this fall can email your team information (names, contact information, title you want to compete in) to Kevin Makarewicz, assistant director of wellness & recreation, at makarewk@newpaltz.edu.
The new SUNY Esports League builds on the momentum of a three-week tournament offered by SUNY and Extreme Networks in spring 2020. The tournament attracted 46 colleges and nearly 500 student participants, including many from SUNY New Paltz.
The fall season begins Oct. 6, so be sure to get your registration in as soon as you can!