Nearly 1,000 new first-year and 700 new transfer students will join 5,000 continuing undergraduate students and 950 new and continuing graduate students at SUNY New Paltz this fall, creating a near-normal enrollment picture despite uncertainties caused by the pandemic.
Students in the incoming class are exceptionally well-prepared academically and are also a racially diverse cohort, with 46% of new first-year students and 32% of new transfer students coming from traditionally underrepresented racial groups.
"I'm so impressed by the remarkable level of resilience our new and returning students, and their families, have shown in continuing to pursue their educational goals in the wake of disruption caused by this pandemic," said L. David Eaton, vice president for enrollment management. "This generation of college students will represent a truly exemplary group of graduates who persevered under conditions of adversity and succeeded."
With nearly 7,700 students enrolled in business, education, fine and performing arts, liberal arts, science and engineering programs, SUNY New Paltz's total student population for fall 2020 will be nearly identical to where it has been in previous academic years.
Many of these students will be taking partially or fully online course loads this semester, and fewer students will live in on-campus housing than in previous years. Most resident students will move in between Aug. 16 and Aug. 23 (some international students have already arrived). The College will suspend its annual Moving-In Day tradition this year as part of our effort to maintain safe social distancing during the move-in process.
Students have been required to quarantine at home for seven days prior to their arrival to campus, and 14 days if they have travelled internationally or to one of the U.S. states on Governor Cuomo's Travel Advisory.
Details about these and other new realities at the College are outlined in the New Paltz Forward Reopening Plan, which was developed in accordance with state, local and Centers for Disease Control and Prevention (CDC) guidelines, and approved by SUNY and the State of New York, to mitigate the spread of coronavirus and protect our students, faculty, staff and surrounding community.
The reopening plan and accompanying FAQs covers topics including:
Teaching modalities (approximately 75% of courses this semester will be online or hybrid);
Testing and screening (COVID-19 tests will be available to students on campus, and all students and employees must complete a health questionnaire for every day they plan to be on campus);
The modified academic calendar (no in-person classes will be held after Thanksgiving break, to allow students and employees to remain at home following holiday travel);
And much more.
SUNY New Paltz is prepared with a "Pause and Pivot" plan to return to fully remote operations if so directed by the state's Regional Control Room, SUNY, the Department of Health or another body.
Read on for more SUNY New Paltz headlines for the fall 2020 semester.
---
Dismantling Racism and Becoming an Anti-Racist Campus
"We know people are tired, we know there is frustration and even distrust in dialogue without concrete tangible action … We do not pretend that we will get to the right answers immediately and we know that we will not get to durable changes without remaining in dialogue with you and with all who seek reform. Thus, we commit to finding further ways we can make meaningful change that are within our respective and collective power to make."
Those words were shared with the campus community in a letter from campus leaders affirming SUNY New Paltz's commitment to becoming an anti-racist campus.
New Paltz students, alumni and employees this summer joined millions across the United States and around the world in calling for a more just and more equitable society, and an end to policies that disproportionately harm communities of color.
SUNY New Paltz has identified a number of steps the institution has taken or will be taking to make change in our own community, including the establishment of a bias response and support network; the continued diversification of our faculty, student body and academic curriculum; and reflection on the role and responsibilities of University Police on our campus.
All members of the campus community have been invited to lend their voices to this work through the "Dismantling Racism" series of town hall conversations. Over the course of three sessions held via web conference on June 24, July 15 and Aug. 11, campus leadership has heard from hundreds of students, employees, alumni, supporters, neighbors and family members about their experiences of racism and their ideas for continuing to improve our campus culture. These dialogues will continue into the fall 2020 semester.
---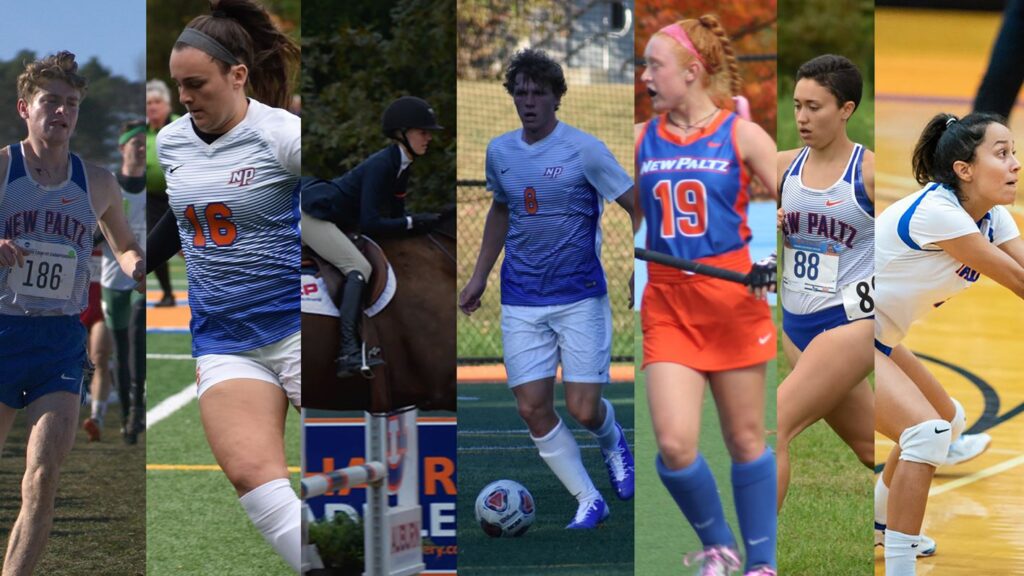 SUNY Athletic Conference Suspends Fall Season of Competition
The State University of New York Athletic Conference (SUNYAC) announced on July 20 that the fall season of competition would be suspended, and that winter conference and non-conference schedules would be delayed until Jan. 1, 2021.
The decision was made by the SUNYAC presidents in consultation with the SUNYAC board of directors, in response to ongoing health and safety concerns related to the COVID-19 pandemic.
Then-SUNY New Paltz Athletics Director Stuart Robinson, who has moved on from his role at the College to take position as assistant vice president and director of athletics, intramurals and recreation at New York University, expressed the disappointment, as well as the necessity, of this news in a letter to student athletes.
"Knowing all of the hard work, dedication and sacrifices that you make for your sport, this decision was not an easy one to make," Robinson said. "To be clear: Our number one concern has always been, and will continue to be, your safety and long-term health. Please know that we considered every possible scenario while trying to come up with a plan that we thought could work. However, given that it is impossible at this point to eliminate risk of exposure to COVID-19 even in situations without the close and sustained contact of intercollegiate athletic play, the decision to cancel fall competition was, in the end, the only one to make."
Robinson also announced that special athletics opportunities, including voluntary small-group practices, would be available to New Paltz student athletes who are local to campus this fall.
---
Theatre Arts Reworks Production Schedule with 10 Staged Readings
The Department of Theatre Arts is responding to the COVID-19 pandemic by replacing its traditional model of four full-scale stage productions with a series of smaller staged readings this fall, allowing students and faculty to gather and perform for audiences while safely adhering to social distancing practices.
The sweeping changes to the Mainstage Production schedule were developed with a twofold mission: To adapt to social distancing guidelines made necessary by the COVID-19 pandemic, and to confront civil unrest related to systemic racism.
"I am prioritizing the health and safety of our community over all, and my commitment to maintaining the most current protocols and practices as suggested by our profession is unwavering," said Department of Theatre Arts Chair and Professor Ken Goldstein. "Even though fewer people will see the work, the work will continue."
This model will allow for more stories to be told than in a typical production year, and will in turn provide meaningful experiential learning opportunities for students. Selected titles will feature underrepresented voices and works from traditionally marginalized populations.
---
Dorsky Museum Will Open with Full Slate of Exhibitions
The Samuel Dorsky Museum of Art at SUNY New Paltz will host four curated exhibitions this fall and will be open to visitors at a reduced capacity and with new health and safety rules in place, beginning Sept. 12.
Though the Dorsky Museum has remained closed to the public through the summer, its work as a leading arts venue in the Hudson Valley has continued uninterrupted.
In April, the Museum launched a successful digital exhibition, Stay Home, Make Art, focused on documenting the various ways regional artists were staying creative during the pandemic. The online-only exhibition ultimately showcased works by more than 250 Hudson Valley artists.
In addition to the ongoing curation of the digital exhibition, Museum staff have been working to prepare for a safe reopening and a full exhibition schedule. Fall exhibitions will present photography rooted in contemporary immigrant and ethnic communities; a Hudson Valley artists showcase exploring craft, community and cultural heritage; and a collection of works spanning 3,000 years of art history, selected to help us represent and understand racial diversity in this moment of cultural and political reckoning.
More information about Dorsky Museum exhibitions, programs, safety regulations and hours of operation will be shared with the public in the coming weeks.
---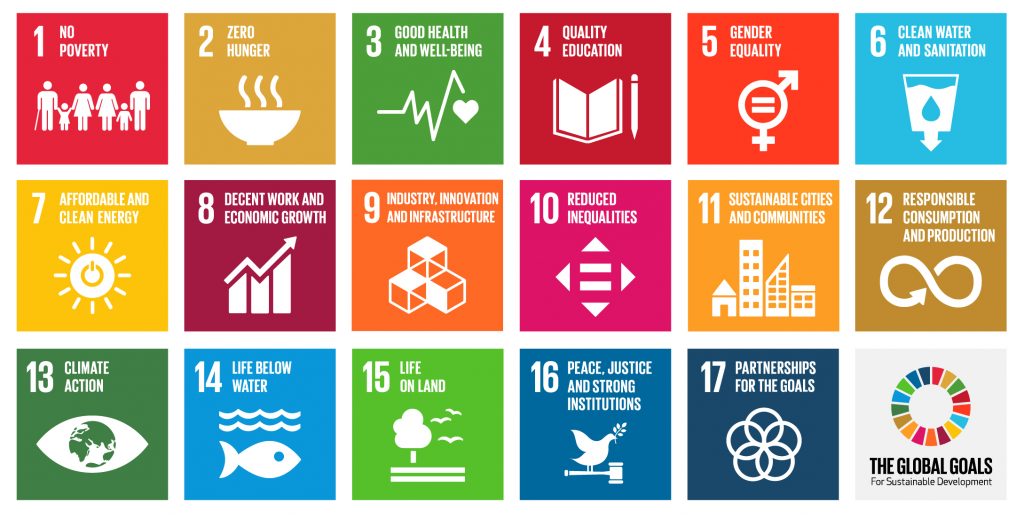 Prioritizing the Global Goals for Sustainable Development
SUNY New Paltz has adopted a new framework for working toward sustainability in all its forms, joining organizations from around the world in signing onto the 17 Global Goals for Sustainable Development.
These Goals challenge us to think about "sustainability" in broad terms, reaching beyond environmental protection to include projects like the end of poverty and hunger, reduced inequality, expanded access to education and consistent economic growth. Together, these goals provide a roadmap for true sustainability: a better world for today and for tomorrow.
New Paltz's commitment to the Global Goals extends from the classroom to campus infrastructure and beyond, focusing attention on everything from LEED-certified campus buildings, to student support programs like our growing Campus Food Pantry, to the protection of our campus habitat for trees, pollinators and other lifeforms, to the community of scholars in our Sustainability Faculty Learning Community.