Many structural improvements to the SUNY New Paltz campus have continued as planned this year, with Facilities Management staff working in tandem with contractors and other partners to safely proceed with campus construction in the era of COVID-19.
These projects are designed to produce more comfortable, attractive areas for community members to enjoy while on campus, while also making structural investments to improve operating efficiency and safety.
Read on for details about major construction projects recently completed and ongoing.
---
Completed: Jacobson Faculty Tower (JFT) Lobby Renovation
The JFT renovation has fully transformed the main entrance of the building that serves as a home to many College of Liberal Arts & Sciences departments.
The redesign includes a stylized campus map, banners, text and other dynamic adornments that highlight liberal arts and sciences programs and their centrality to SUNY New Paltz's academic mission.
"Thanks to a host of partners in Liberal Arts & Sciences, Facilities Management and the Office of Communication & Marketing, the JFT Lobby provides a point of connection for the myriad departments, programs, and events in the College of Liberal Arts & Sciences," said Dean Laura Barrett.
---
Completed: Scholar's Mentorship Program Relocation
A full-scale renovation of Student Union Building (SUB) rooms 35–40 wrapped up in late spring, and the space now serves as home of the Scholar's Mentorship Program (SMP).
The new SMP office – across from the campus bookstore, and right next door to the Educational Opportunity Program – includes a large lounge and reception area, a meeting center outfitted with state-of-the-art digital displays for interactive learning, a student computer center, dedicated offices for the program director and coordinator, new furniture and more.
"To have this new space means the world," said SMP Director Mark Rumnit. "I think that our students will be very pleased. It truly feels like a place that they can call home."
---
Completed: Interior and Exterior LED Lighting Upgrades
The College obtained more than $400,000 in incentives from Central Hudson to support replacement of less efficient fluorescent bulbs with new LED lighting in indoor and outdoor area across campus.
In Old Main, van den Berg Hall and Annex, and the Haggerty Administration Building, about 6,000 bulbs have been replaced and 2,300 fixtures upgraded, achieving an estimated $61,435 in annual energy savings for the campus.
A two-phase project to install energy-efficient LED lighting in exterior parking lots and near campus sidewalks also wrapped up this year, and included the addition of new fixtures to increase lighting and nighttime safety for pedestrians and community members, and the redirection of others to reduce light glare and light pollution.
---
Completed: Interior Corridor Upgrades to Smiley Art Building, Jacobson Faculty Tower and College Theatre
All three of these buildings saw their original floor finishes replaced this spring.
Smiley and College Theatre also received a fresh coat of paint on walls, new ceilings and new LED light fixtures that dramatically brighten up these corridors.
---
Under Construction: Student Union Building Roof Replacement and Fourth Floor Renovation (estimated completion December 2021)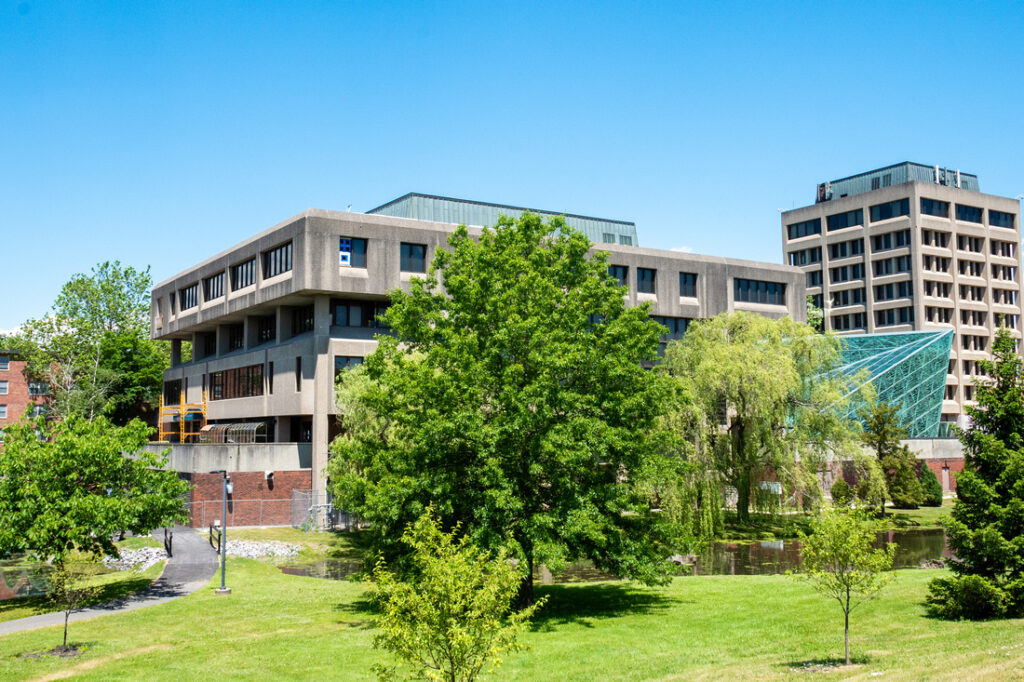 A major project to enhance the central gathering hub for students on the New Paltz campus will continue throughout the 2020-21 academic year, with the fourth floor of the Student Union remaining closed while work proceeds.
The full renovation of the floor will reclaim underused spaces on the east side and create new resources for students, including a shared suite for the Center for Student Media, where the student radio station, TV station and newspaper will be able to work and collaborate in studio settings. These facilities have been temporarily relocated while the work is ongoing.
Also planned are a new multi-purpose dance studio, new meeting rooms with improved acoustic separation,  accessibility improvements to bathrooms, and new locations for the Meditation Room and Mother's Rooms.
---
Under Construction: Vestibule and Window Replacements (estimated completion November 2020)
The main entrance vestibules at the Student Union Building, Haggerty Administration Building and Coykendall Science Building are being redone this fall.
These projects will deliver energy savings via more efficient glazing and doors, and will also improve automatic operators and card access.
At the Elting Gym, the original curtainwall windows near the pool area have been replaced, and new heating registers were installed to provide more consistent temperatures in the pool gallery space.
Historic restoration and repair will take place at van den Berg Annex, where existing wood windows will be upgraded, new interior storm windows will be installed for better energy efficiency, and damaged roof areas will be fixed.
---
Under Construction: Lecture Center Lobbies, Curtainwall and Mechanical Upgrades (estimated completion December 2020 for lobby and curtain wall renovation and December 2021 for mechanical upgrades)

The College's primary lecture hall is undergoing several efficiency and aesthetic improvements this year.
All exterior windows and entrances on the main floor are being replaced, and natural finish aluminum frames are being installed to brighten up the appearance. Interior finishes are being replaced as well.
As in other campus buildings, the College will install more attractive and efficient LED lighting throughout the building, including in the first-floor lobbies and hallway.
Aging mechanical equipment in the building is being replaced with new models that consume less energy, and new furniture and additional power outlets are being installed in public areas to better serve students and campus visitors.
---
Under Construction: Fine Arts Building (FAB) Façade & Window Replacement (estimated completion September 2021)
The ongoing renovation of the FAB exterior continues with the installation of a new metal-paneled rain screen system and the replacement of existing curtainwall and windows.
This work will eliminate failing elements of the brick façade and improve energy efficiency with additional insulation and new glazing.