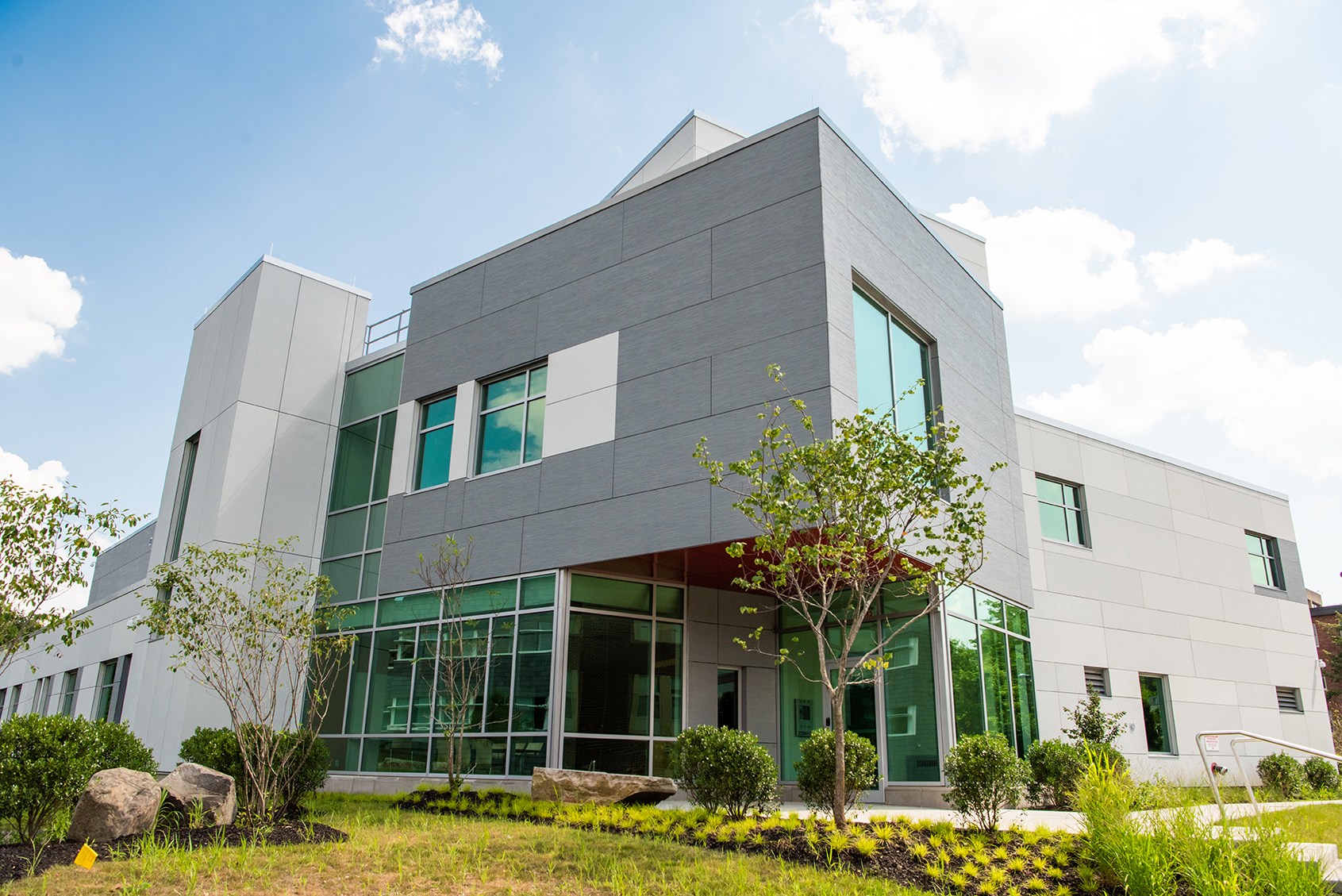 SUNY New Paltz's Engineering Innovation Hub has earned LEED Gold certification from the U.S. Green Buildings Council. LEED is the internationally recognized symbol of sustainable construction and facilities management, which evaluates buildings on metrics like energy and water usage, waste diversion, construction practices and human health factors.
"SUNY New Paltz is always striving to reduce our carbon footprint and to find state-of-the-art approaches to sustainability on campus," said John Shupe, assistant vice president of facilities management. "We are thrilled that this is our fifth LEED Gold building on campus. I'd like to commend our team for all their work in achieving this milestone."
The Engineering Innovation Hub was completed in 2019 and designed and executed with LEED-friendly practices in mind, including:
A site plan maximizing the open green area surrounding the building footprint
Landscaped bioswales directing rainwater into a 45-foot-long retention pond, preventing a rise in hydrostatic pressure that could potentially drive moisture into the building
A bioswale planted with native evergreen shrubs, eco mix seed and grasses that are selected from a drought-resistant northeast native palette of evergreen, deciduous and herbaceous plant types
The building is close to public transportation stops and provides bicycle storage to decrease reliance on private fossil fuel vehicles
Lighting is provided by high efficiency LED fixtures, some featuring a ring like curvilinear configuration and light sensor controls
The Engineering Innovation Hub was made possible by a $10 million NYSUNY2020 grant, awarded by Governor Andrew Cuomo in 2014 as part of an expansive, statewide effort to support academic programs that translate directly into economic development in New York State. The College was also awarded $1 million through the Governor's Mid-Hudson Regional Economic Development Council's annual Consolidated Funding Application.
New York-based Urbahn Architects designed the building to meet LEED sustainability certification requirements. Construction was led by general contractor PC Construction of Poughkeepsie, New York.
"Relying on our team's expertise in LEED certification procedures, we are proud to have delivered a highly sustainable and energy-efficient facility where engineering students can excel for years to come," said Michael Davies, PC Construction project manager.
"Every step of this project, from preliminary design through construction, was made with the goal of achieving the highest LEED rating possible in mind," added Natale V. Barranco, AIA, LEEP AP, Urbahn Architects Principal-in-Charge. "We were able to meet the criteria for Gold certification through a collaborative effort with the entire project team."
The Engineering Innovation Hub supports and diversifies the College's rapidly growing engineering programs and fosters collaboration between New Paltz and local industry. It serves as the home of the Hudson Valley Additive Manufacturing Center (HVAMC) at SUNY New Paltz, home of the College's 3D design and printing program.
The Hub has become the fifth building on the New Paltz campus to earn LEED Gold certification, following the Wooster Hall, Minnewaska Hall, Ashokan Hall and Shawangunk Hall renovations. Old Main and Ridgeview Hall are certified with LEED Silver ratings.
Visit the U.S. Green Building Council online for more information about the LEED certification process.