While the campus bookstore will remain closed for the summer sessions, New Paltz students can still take advantage of its services.
This message includes instructions for returning rented books, selling back textbooks you're done with, and buying new textbooks using the bookstore website.
---
Getting a shipping label to return rented books.
There are two easy ways for New Paltz students to get a return shipping label for rented textbooks.
First, you can simply wait for the rental reminder email that is sent 14 days before your rental due date, and multiple times thereafter. This email will contain a link to generate a free return shipping label and packing slip.
Students who wish to immediately generate a free return shipping label can do so on the website www.sunynewpaltzshop.com by following these instructions:
Click the Sign In link on the top right side of the page to sign into your account.
Enter the email address you provided at the register when you rented. Note: Even if you rented in the store, an account was created using the email you provided at the register. If you don't know your password, you can click Forgot Password link for a temporary password to be emailed to you.
Once you've signed in, click the link "Rentals". You will be navigated to the Rentals page in your account.
On Rentals page, scroll down the page to see the books you rented. Click the link "Return All Rentals by Mail". You can also click the button "Return by Mail". Both open a pop up to select your rentals to ship back.
Follow the steps to generate and print the return label and packing slip. This option is available until your rental due date.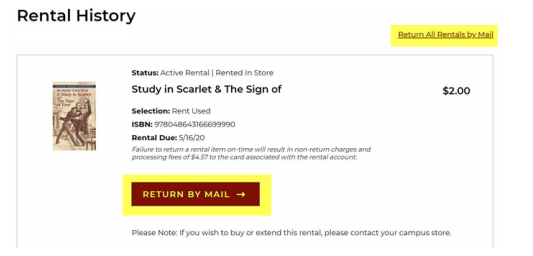 NOTE: While the due date for rented books has not changed, the "non-return charge date" has been extended 15 days past your current return due date to allow extra time for your mailed book to reach the store. To avoid late charges, please have your book in transit by the due date.
---
Selling Back Textbooks (Book Buyback)
Students can also sell back their textbooks online while the campus bookstore is closed.
How to Sell Your Textbooks Online
Click "Sell Your Textbooks" link from the website footer.
On the Sell Your Textbooks page, refer to the Online section and click "Sell Your Textbooks" button.
---
How to Buy your Summer Textbooks
The SUNY New Paltz campus bookstore will remain closed for the summer sessions, but the bookstore website will remain open and operational, with staff members processing online orders daily.
Simply visit  www.sunynewpaltzshop.com to place your order.
Note: The Bookstore accepts Hawk Dollars online! In the payment method, select campus card and use the longer number below your student ID number.