The SUNY New Paltz Distinguished Speaker Series welcomed Arthur O. Sulzberger Jr. '06 HON and James H. Ottaway Jr. '18 HON to campus on March 4, to address some of the most significant challenges faced by reporters and readers in modern journalism.
View photos from the sold out March 4 event. 
The conversation between the two newspaper icons – Sulzberger is the chairman and former publisher of The New York Times, and Ottaway is the retired director and senior vice president of Dow Jones, and former chairman of Ottaway Newspapers – had a clear message: The loss of quality reporting is a threat to our democracy. From fake news to local news deserts, Sulzberger and Ottaway pointed to integrity as the key to transforming and reinvigorating the industry.
"Truth builds trust," Sulzberger said. "Journalism cannot survive without the trust of its readers, which it earns every day through its dogged pursuit of the truth. We live in a time when all three, truth, trust and journalism, are under great and growing pressure, threatening the health of our democracy and shaking the very foundation of a free and informed society."
While international and national news outlets have rebounded and built successful subscription models, local news is still in the midst of a downward turn, as layoffs and shrinking page counts continue to cause newspapers to go out of business.
In many cases, this leaves entire communities without access to local news. Researchers have found these news deserts, combined with a 24-hour news cycle that feeds a culture of yellow journalism, contribute to increased political polarization.
Despite the difficulties the industry faces today, Sulzberger finds reasons to be optimistic. He cited bright and vibrant examples of people and organizations across the country doing the hard, rewarding work of reporting the truth. He maintains that many local newspapers, specifically those that are locally and independently owned, are reinventing themselves as digital-first community outlets.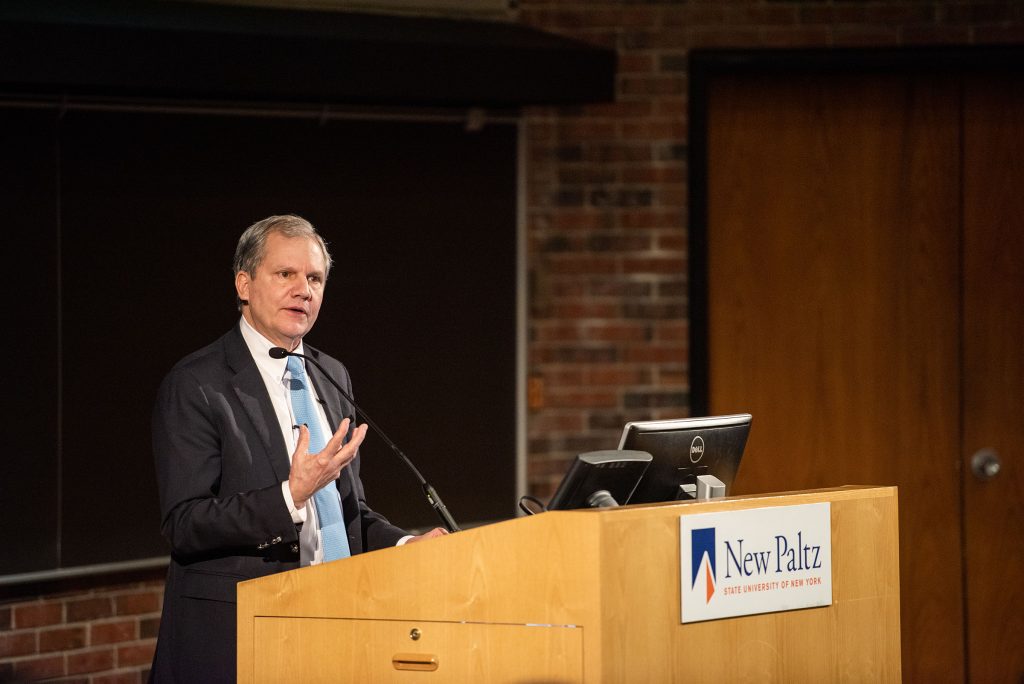 "Local news is critical to our safety, security and knowledge of our communities and is under more stress," said Sulzberger to the sold out crowd of more than 500 people. "Whether it's The New York Times or the New Paltz Times, we can and must enable the expensive work of reporting by buying a subscription."
According to former SUNY New Paltz student and Hudson Valley resident Robin Hayes, supporting local journalism is part obligation, but also brings with it a sense of hope and community.
"Part of what brought me here was this feeling of camaraderie among all of the people who actually care about journalism," she said. "Instead of sitting in our kitchens alone saying 'oh my god!' – just coming together and talking about it felt really good."
Following the talk, Sulzberger responded to questions from Ottaway, a fellow Hudson Valley resident and journalism industry leader.  He is also the creator of the James H. Ottaway Sr. Visiting Professorship of Journalism, the first endowed professorship at SUNY New Paltz.
More information about the SUNY New Paltz Distinguished Speaker Series, including speaker bios and information about past and future events, is available online.
The 2020 Distinguished Speaker Series was made possible by the SUNY New Paltz Foundation, with support from the following sponsors: Buttermilk Falls Inn and Spa, Campus Auxiliary Services, Central Hudson, Henry's at the Farm, M&T Bank, New Paltz Regional Chamber of Commerce, Novella's, Riverside Bank, SUNY Ulster, Sodexo and Ulster County Savings.