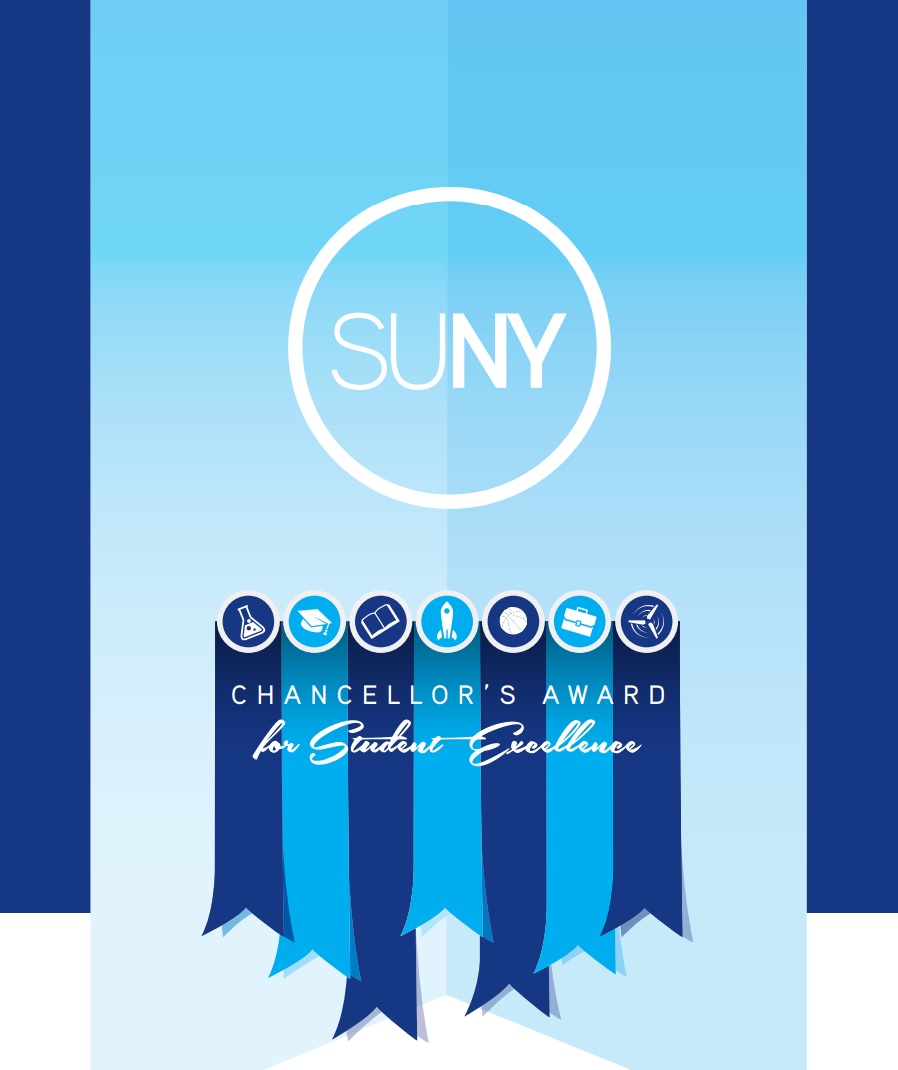 State University of New York Chancellor Kristina M. Johnson named the 2020 SUNY Chancellor's Awards for Student Excellence on Wednesday, April 22, and five SUNY New Paltz students are among the honorees:
Alyson Hummer '20 (Psychology)
Benjamin Jay '20 (Business Analytics; Management; Psychology)
Jeremy Luna '20 (Asian Studies; International Relations)
Majessa Pedrozo '19 (Communication Disorders)
Philesha Teape '20 (Biology)
"This special award honors SUNY students who have successfully integrated academic excellence with leadership, athletics, career achievement, campus involvement, community service and/or creative and performing arts," Chancellor Johnson said.
"This award is the highest honor bestowed on SUNY students," added President Donald P. Christian. "There are more than 400,000 students in the SUNY system, and fewer than 300 receive the award statewide. We are extremely proud of our honorees and their remarkable achievements."
Read more about the College's 2020 Chancellor's Award for Student Excellence awardees below.
---
Alyson Hummer '20 is a student leader in the Department of Music and the co-creator of the Naing Ensemble, the first Burmese American piano percussion ensemble in the United States, with whom she had her professional debut in New York City at the Roulette Intermedium.
Hummer is an Honors Program member and a recipient of multiple awards, including the Presidential Scholarship, the Patrik Music Scholarship, the Honors Program Experiential Scholarship for travel and the Sillins Family Foundation Scholarship. She seized the opportunity afforded by these awards to travel abroad and conduct research in Yangon, Myanmar, and during that trip she collaborated with Associate Professor Lauren Meeker to gather footage for a short ethnographic film, "Growing Rhythm."
On a separate international experience in Guatemala in spring 2018, Hummer volunteered with multiple organizations, including work building houses, serving meals at the Konojel nutrition center, and giving time to the Eanieal women's shelter.
---
Benjamin Jay '20 carefully crafted a triple major in business analytics, management and psychology to prepare himself for a career in human resources. He has demonstrated strong leadership skills on campus and in the School of Business in particular, where he has been an active member of the Beta Gamma Sigma honor society, including by representing the College at the society's International Leadership Conference in 2019.
As part of his Honors Program thesis, Jay is collaborating with the director of the business analytics program to create a chat box for the SUNY New Paltz web site, going beyond the typical course work of the analytics program and applying coding languages to new programs and concepts.
In addition to exemplary academic work, Jay has served as a Welcome Center greeter, resident assistant, student ambassador and Senior Gift Committee member. He has also found time to lay foundation for his future professional goals, securing multiple internships in positions related to analytics and human resources.
---
Jeremy Luna '20 is among the most globally engaged students in recent SUNY New Paltz history. Passionate about intercultural exchange, he spent nearly two years on study abroad experiences in Japan and South Korea. He was the first New Paltz student to receive the Boren Scholarship and is the second to receive the Rangel Fellowship to support his international experiences.
While in Japan, he gained fluency in Japanese through intensive coursework and internships at the United Nations and Sumitomo, and was one of two students named Cultural Ambassador by Kanazawa City Hall. In South Korea, he took a position as an Assistant Language Teacher at Dankook University. Upon his return to the United States, Luna completed two internships with the U.S. Department of State and was subsequently hired as a diplomat in the U.S. Foreign Services.
Luna has been an active community member on the SUNY New Paltz campus as well, volunteering in numerous on- and off-campus service roles, including the Step Up NP bystander intervention workshop. He has worked as a tutor in the Conversation Partner Program, as a peer counselor at the Center for International Programs, as a test proctor for the Disability Resource Center and as a member of the Honors Program Student Advisory Board.
---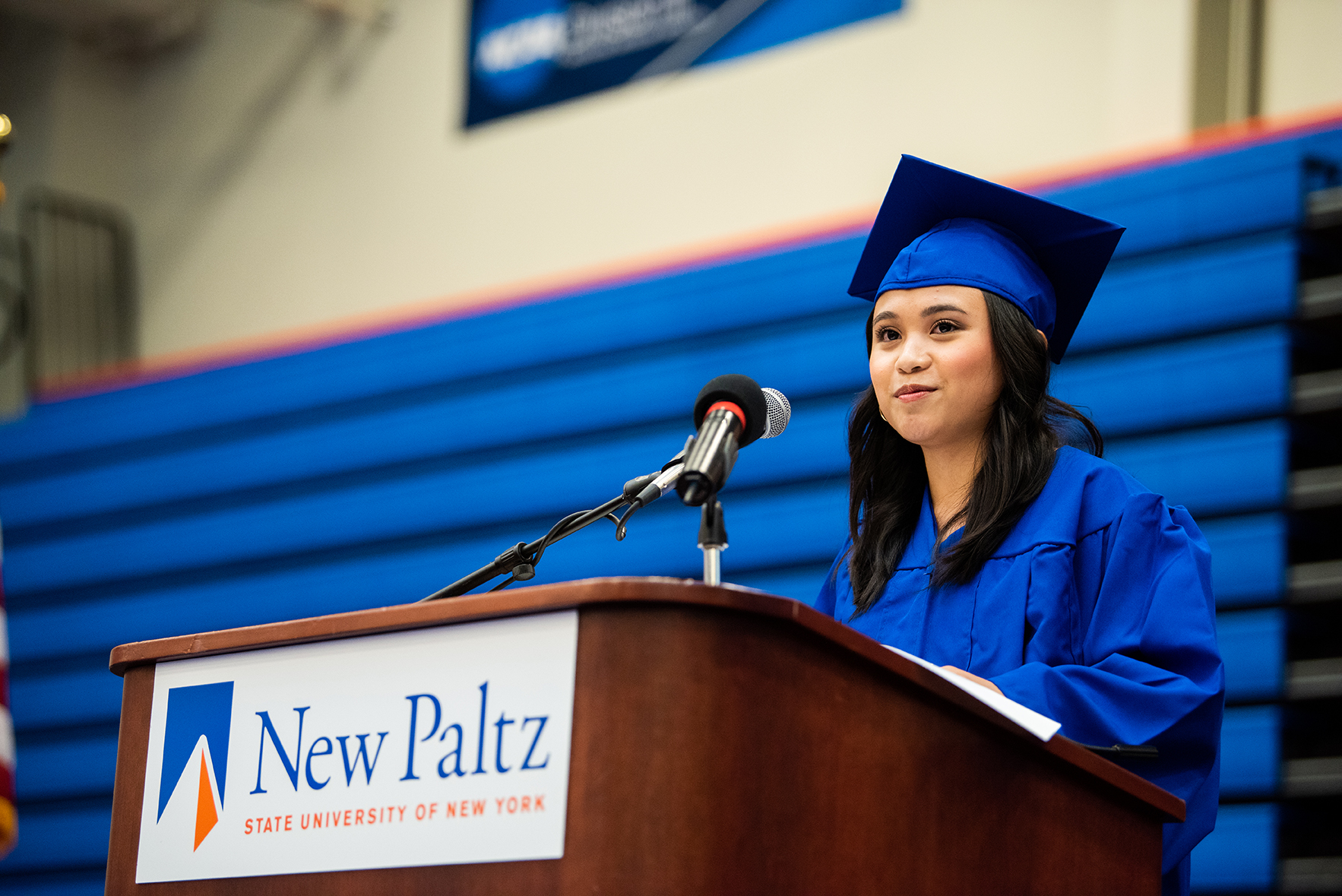 Majessa Pedrozo '19 demonstrated leadership in academics and community engagement while maintaining a 4.0 GPA during her time at New Paltz, and was selected to provide the student address at the 2019 Convocation Ceremony welcoming new students to campus. She has a clear path forward to community service and professional leadership through her planned career in speech-language pathology.
Pedrozo's experience growing up in language-rich environments sparked in her an appreciation for the power of multilingual communication and making connections across cultures, especially in contexts related to health care. She produced an honors thesis examining health disparities among people with low health literacy, and she completed competitive internships at Burke Rehabilitation Hospital and with the NYU Rusk Health Career Opportunity Program.
Within the Department of Communication Disorders, Pedrozo was the driving force behind the creation of a new student-faculty book club, and herself led multiple book discussions to the benefit of her classmates and the department. She served as public relations coordinator and then as president of the New Paltz chapter of the National Student Speech Language and Hearing Association, and as a coordinator and mentor in the Honors Peer Mentorship Program.
---
Philesha Teape '20 boasts one of the most impressive academic and athletic records of any student in the history of the College. A core member of the Women's Basketball team, Teape and her fellow Hawks won the SUNY Athletic Conference championship in three of her four years at New Paltz, and her senior class finished their athletic career with more wins than any other players in SUNY New Paltz Women's Basketball history.
Teape's leadership and overall excellence extend well beyond the court. She led an effort to create a support group for fellow student athletes of color at the College, and has also served as a mentor and role model in the AC2 Program, a member of the African Women's Alliance, and a volunteer in health care settings.
She has also taken advantage of undergraduate research opportunities in the Department of Biology, collaborating with faculty mentors on projects ranging from lake water acidification to ridgeback canine DNA. Teape enjoyed an international research experience in the summer of 2019, traveling to the Netherlands to practice laboratory techniques and contribute to a neuroscience team studying Alzheimer's disease.
---
About the Chancellor's Awards for Student Excellence
The Chancellor's Award for Student Excellence was created in 1997 to recognize students who have best demonstrated, and have been recognized for, the integration of academic excellence with accomplishments in the areas of leadership, athletics, community service, creative and performing arts, campus involvement, or career achievement.
Each year, SUNY campus presidents establish selection committees to review the accomplishments of exemplary students. Nominees are then forwarded to the Chancellor's Office for a second round of review. Finalists are then recommended to the Chancellor to become recipients of the award. Each recipient receives a framed certificate and medallion, which is traditionally worn at commencement.