Themes of mentorship and gratitude permeated this year's 100 Days to Commencement Senior Celebration, an annual event that marks the College's countdown to commencement and brings clarity, focus and excitement to the New Paltz experience.
"Our time as students at New Paltz often goes too quickly," said Alumni Engagement Coordinator Elizabeth Diuguid '07 (English). "We want to ensure our upcoming graduates are prepared, supported and excited for what's to come. It is always a great pleasure of mine to see what students take away from this event and how excited so many of them are to be recognized at this milestone."
View this link for photos from the event.
Sponsored by the Office of Development & Alumni Relations and the SUNY New Paltz Foundation, the 100 Days event provides information on the spring Undergraduate Commencement ceremonies, Career Services, Senior Toast and Alumni Relations programs and services. This year, students had the opportunity to have a professional headshot taken for their LinkedIn profile and were asked to participate in the creation of a video time capsule that may be shared at a future reunion celebration.
Attendees were also invited to participate in an appreciation exercise that resulted in more than 600 notes of gratitude collected. Each handwritten note honored faculty and staff across campus who have served as mentors and inspiration for upcoming graduates.
"The written exercise is a new way for students to emotionally prepare for their graduation ceremony in addition to the logistical elements we typically cover," said Director of Alumni Relations Shana Circe '02 (Art Education) '08g (Visual Arts Education). "It builds a sense of belongingness and community here at the College that they can reflect on and appreciate for years to come."
All seniors were encouraged to take part in the "Ask an Alumni" corner where they could sit down with alumni and ask for professional advice and discuss strategies for finding work-life balance. Valerie (Turco) Tremblay '05 (Communication and Media) '10g (Humanistic Multicultural Education), Felix Muzza '75 (Secondary Education; Social Studies), John McCormick '72 (Secondary Education; Social Studies) and Jason Valentino '07 (Marketing) served on the panel and were eager to share their individual success stories.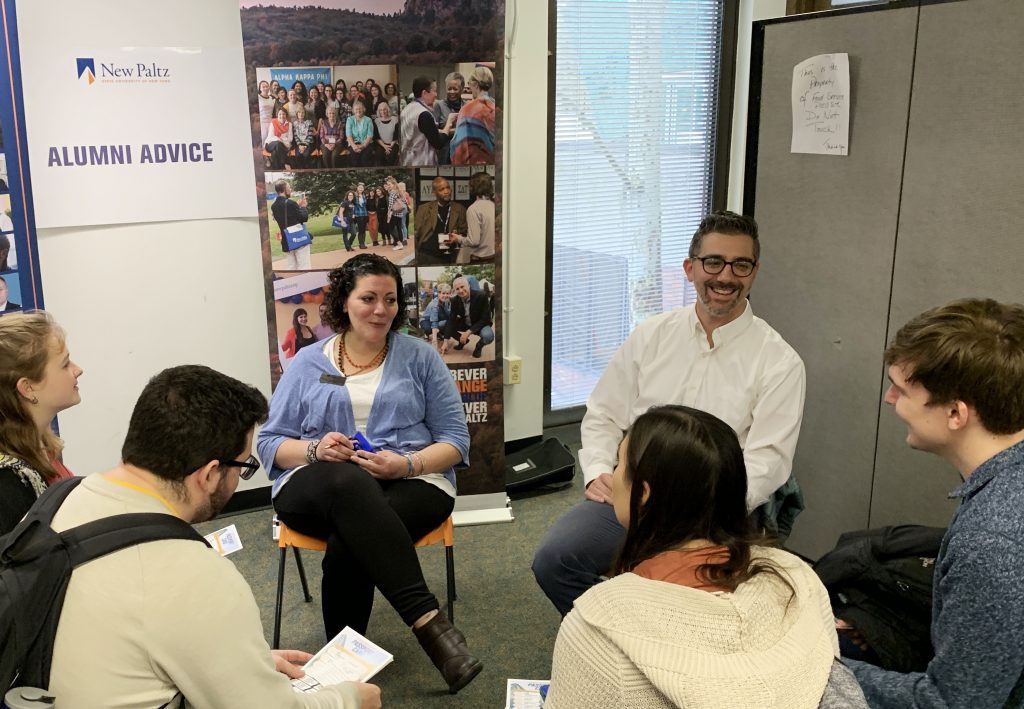 "I encouraged upcoming graduates to be open-minded and try to learn something from every experience, and to think often about their vision and goals for the future," said Valentino, a financial planning specialist for Gravatt Financial in Poughkeepsie, New York. "If students attempt this, the chances of ending up 'where they belong' is a sure bet."
The event also officially launched the College's Senior Gift program. For a gift of $20.20 graduating seniors receive philanthropy cords to wear at commencement that symbolize their participation in the senior gift. This year's contributions put the class of 2020 well on their way to the largest Senior Gift total with more than 149 gifts, a record for launch day.
The 100 Days Senior Celebration was held on Feb. 7, in the Student Union Multipurpose Room on the New Paltz campus. Contact the Office of Alumni Relations at 845-257-3230 or alumni@newpaltz.edu for more information.