SUNY New Paltz congratulates faculty and staff on their recent awards, honors and publications.
Do you have news to share with friends and colleagues? Please use this link to tell us about your accomplishments and be included in a future publication of faculty achievements!
---
Dante Cantú, Jessica Delaney and Maria Richards (Center for Student Success, Office of Academic Advising) each presented an educational session at the SUNY-wide Collaborating for Student Success 2019: Advising, Applied Learning and Student Success Summit, from Oct. 28-30, in Albany, New York.
Nearly 400 higher education professionals attended this landmark summit, including Chancellor Kristina M. Johnson and Senior Vice Chancellor and Provost Tod A. Laursen.
Cantú's presentation, "Advising Redesign – Where to Start? A Practical, Assessment-based Framework for Success," sought to provide fellow practitioners with a framework for assessing academic advising programs using an adaptable mixed-methods approach.
Delaney's presentation, "Aligning Reality with Opportunity: Adaptive Program Development for Learning, Engagement, and Completion," outlined the intentional redesign of the College's academic support services, which are grounded in the College's ongoing strategic planning process.
Richards' presentation, "Leveraging Advising Technology, Strengthening Partnerships, and Building Capacity Toward a Holistic Culture of Student Success," outlined the process used to improve the College's Academic Success Program, which is facilitated by Starfish and is designed to provide individualized support to students in academic jeopardy.
Visit the Center for Student Success online for more info about these and other programs and initiatives.
---
Tom Eickelberg (Athletics & Wellness) won the 2019 Survival of the Shawangunks triathlon on Sept. 8.
The Survival of the Shawangunks (SOS) has been run annually since 1983. It is an eight-stage event consistently ranked among the best adventure triathlons in the world, with fewer than 200 athletes competing each year.
Eickelberg, the College's aquatics director and swim coach, finished a full five minutes ahead of the next-fastest competitor, with his strong time driven, naturally, by exceptional performance in the race's three swim legs.
---
Sarah Elia (English as a Second Language) was cited for her use of local history in teaching English to international students in a new book that addresses the opportunities and challenges of public history organizations.
"An American Association for State and Local History Guide to Making Public History," edited by Bob Beatty, founder and president of the Lyndhurst Group, and published Rowman & Littlefield Publishers, includes an essay by Beatty, "The Power of Possibility," which refers to the example Elia sets in her classrooms.
"Teaching English through local history is not simply a means of learning a new language (though that is one of the chief goals of my programs and teaching)," Elia's quote reads. "We are instead creating a host of skills and outcomes that make the students' experiences productive and memorable, those that develop skills of participation, partnership and friendship with local communities."
---
Matthew Friday and Jill Parisi (Art) were featured in a Boscobel House and Gardens exhibition, "Cross-pollination: An Evolution in Foliate Forms," including works on paper inspired by the Hudson Valley's ongoing, dynamic exchange between design, history, and nature.
"Foliate forms such as leaves and flowers are fundamental units of design, seen in every kind of object at Boscobel. Cross-pollination showcases that ongoing tradition with contemporary art," says Boscobel Executive Director Jennifer Carlquist.
"In a year when Boscobel is reimagining and enlivening our own gardens and grounds, we are thrilled to highlight the role of nature in art and life in the Hudson Valley in this way."
"Cross-pollination" was on view at the Boscobel House and Gardens from Sept. 7 – Nov. 3. The venue is a Historic House Museum, restored from a Neoclassical mansion originally built in the early 19th century in Garrison, New York.
---
Glenn Geher (Psychology) and Nicole Wedberg '16 (Psychology) are co-authors of a new book from Oxford University Press titled "Positive Evolutionary Psychology: Darwin's Guide to Living a Richer Life."
This collaborative effort between the Geher, the founding director of the Evolutionary Studies program, and Wedberg, a former student and supervisor for the College's evolutionary psychology lab, shares examples across a broad spectrum of phenomena in terms of how evolution can be applied to everyday human functioning.
Geher was also the recipient of a National Academic Advising Association (NACADA) award for Outstanding Academic Advising at the organization's annual conference in Louisville, Kentucky. The award recognizes faculty who demonstrate mastery of institutional regulations, policies and procedures, while also being available and in frequent contact with their advisees.
---
Howie Good (Digital Media & Journalism) is the author of a new collection of prose poems, "Stick Figure Opera," published by Cajun Mutt Press.
The book features 99 100-word poems from the prolific author, whose recognitions include the 2015 Press Americana Prize for Poetry.
Read samples of Good's work at Split Lip Magazine, and keep up with his writing and activities with the Apocalypse Mambo blog.
---
Shuguang Liu, Kevin Caskey and Chris Napolitano (Business) are leading a Project Management Class for the Pathways Academy, a new Ulster BOCES initiative that uses a six-year structure to enable high school-aged students to earn an associate's degree in a variety of in-demand fields.
Through partnership with SUNY Ulster, this innovative program makes college-level coursework accessible for students who might otherwise be at risk of ineligibility for college admission.
---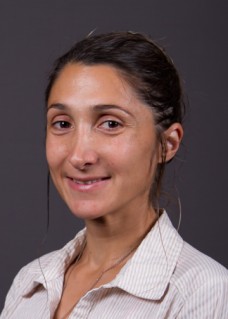 Anca Rădulescu (Mathematics) and Steven Lundgren '19 (Mechanical Engineering) are co-authors of a new paper published in Scientific Reports, an open-access, peer-reviewed journal published by the science weekly Nature.
Their paper, "A pharmacokinetic model of lead absorption and calcium competitive dynamics," draws on research begun when Lundgren was a SUNY New Paltz student.
His work with Rădulescu was initially supported by the Research, Scholarship and Creative Activities Academic Year Undergraduate Research Experience program, and received further funding from the College's Sustainability Seed Fund and a Simons Foundation Collaborative Grant for Mathematicians.
---
Anne Roschelle (Sociology, Women's, Gender & Sexuality Studies) has published "Struggling in the Land of Plenty: Race, Class, and Gender in the Lives of Homeless Families," a new book based on a four-year ethnography in San Francisco.
It examines how socially structured race, class and gender inequality contributed to the rise in family homelessness, and the devastating consequences this has created for parents and their children. "Struggling in the Land of Plenty" analyzes the appalling conditions under which homeless women and children live, the violence endemic to their lives, the role of the welfare state in perpetrating poverty, and their never-ending struggle for survival.
Roschelle will be presenting research from the book at the University of San Francisco in November and at the University of Georgia in April 2020.