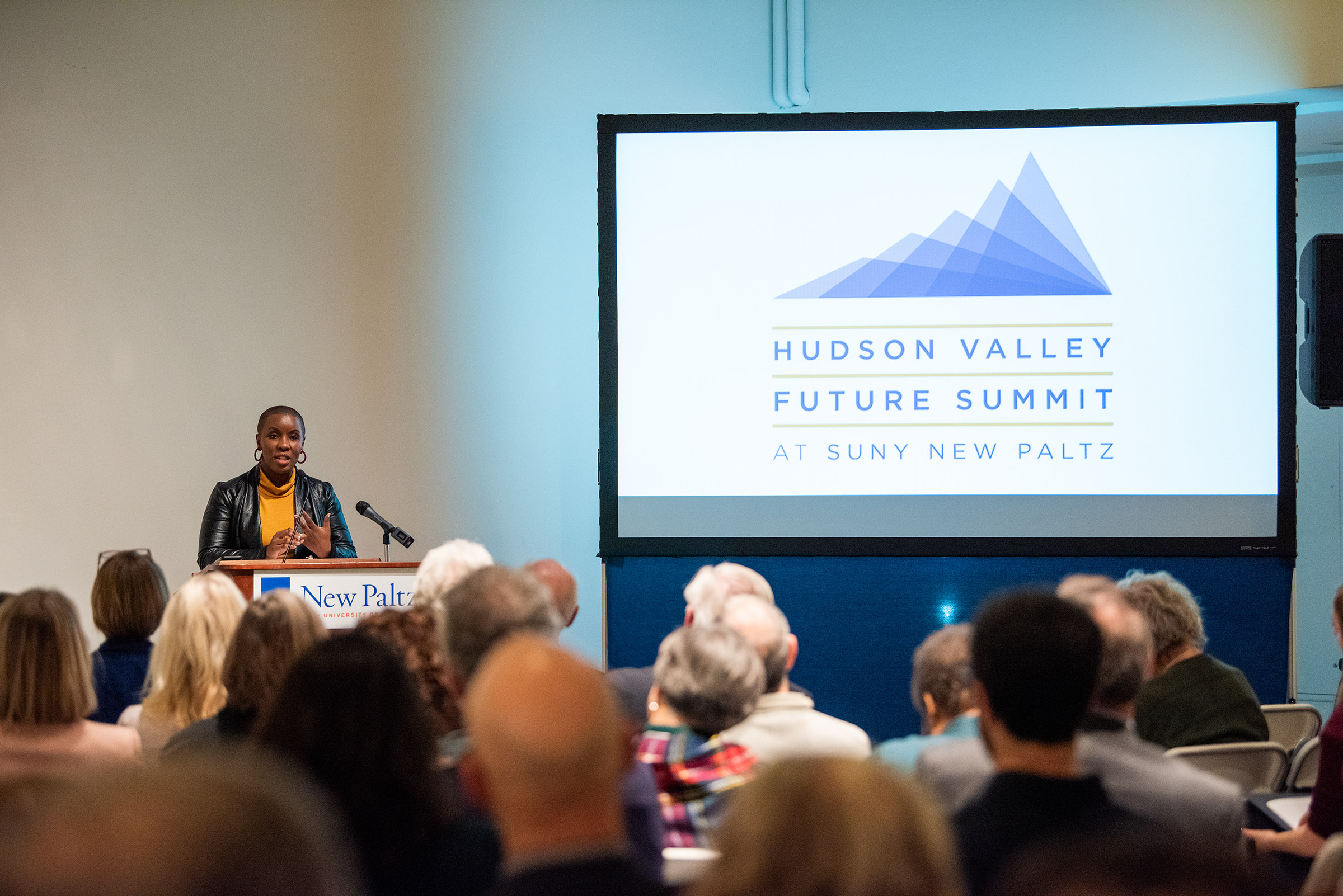 SUNY New Paltz welcomed regional leaders for the fourth annual Hudson Valley Future Summit on Nov. 18. The event demonstrates the College's role as a cultural hub in the Hudson Valley, generating conversation and new ideas for promoting sustainable growth and prosperity in the region. Local executives, entrepreneurs and artists were invited to lead discussions with SUNY New Paltz students, faculty, staff and alumni, in hopes of creating opportunities for new collaborations.
This year's theme "Creating equity in the Hudson Valley" included a series of conversations focused on the arts, climate change, criminal justice, education, food insecurity, housing, innovation and entrepreneurship.
View more photos from the Hudson Valley Future Summit 
"Creating equity is central to our core mission as a public university. As an organization, we wrestle with the same issues of equity facing the broader world and our students contend with many of the same challenges that other citizens do," said President Donald P. Christian. "Inclusion is top of mind as we work to advance equity. We are proud at New Paltz of the diversity of our student body, and we are working hard to be sure that all students are welcomed, included and treated equitably so that they have every chance of success."
The Summit included keynote speakers Jenna Flanagan, journalist and host of "MetroFocus and MetroFocus Podcast" and Evelyn Wright, economist for the Commonwealth Hudson Valley. The endnote was given by Dr. Eric Jay Rosser, superintendent of Poughkeepsie City School District, who further addressed equity in education.
"When we look at education through the lens of equity, it requires us to consider certain questions," said Rosser. "What can schools do? We can address equity in education by growing greater access, opportunity and equality across our districts. This means providing all students with the individual academic, social, emotional and wellness support they need to reach and exceed a common standard. It is important to establish and maintain this culture of high expectation for each and every student."
This Future Summit supports larger institutional goals of Diversity, Equity and Inclusion and fosters meaningful community partnerships. The day's events are dedicated to the increasingly enriching, productive and strategic interplay between the College and the many civic, educational, business and creative interests in the Hudson Valley.
Following the morning and afternoon dialogues, guests reconvened at the MPR Pre-Function space in the Student Union Building on the New Paltz campus to further discuss conversation outcomes and enjoy local wines. Kevin Zraly '74 (Elementary Education) arranged donations from Benmarl Winery, Millbrook Vineyards & Winery, Robibero Winery and Whitecliff Vineyard & Winery.
The 2019 Hudson Valley Future Summit was made possible by the SUNY New Paltz Foundation, with support from the following lead sponsors and in-kind donors: Advance Building Solutions, Bread Alone Bakery, Corporate Building Services, Lola's Café and Catering, the Woodstock Chimes Fund, Ulster Savings Bank, M&T Bank and Kevin Zraly's Wine School.