A collective of about 20 SUNY New Paltz students produced dozens of videos of interviews with actors and directors, panels and gala events at the 2019 Woodstock Film Festival, for publication on the Festival's YouTube page.
The Woodstock Film Festival has established itself as one of the premier cinematic events on the east coast, featuring screenings of exceptional films and attracting numerous industry professionals to the Hudson Valley every fall.
New Paltz's Department of Digital Media & Journalism has enjoyed a mutually beneficial relationship with the Festival for more than half of its two decades of existence. Working this event challenges students to adapt to a rapid cycle of preparing for interviews, capturing raw film and then refining it into publishable content.
"We produced, we edited and we uploaded to YouTube within the day, to help promote the festival as it was happening," said Erin Wolcott '20 (Digital Media Production) of Altamont, New York.
It's a fast-paced process that demands a professional, comprehensive approach to coverage. Students are tasked with getting interviews in "red carpet" environments, filming panels and other events, and filling in gaps with crowd reactions and other B-roll they can use in editing down a final product.
"My eyes were opened more than they ever had been before," Wolcott said. "I feel like I learned more during that week in Woodstock than I have at any point in my career so far. It was a non-stop, hands-on experience, and we were pushed to do as much as we possibly could."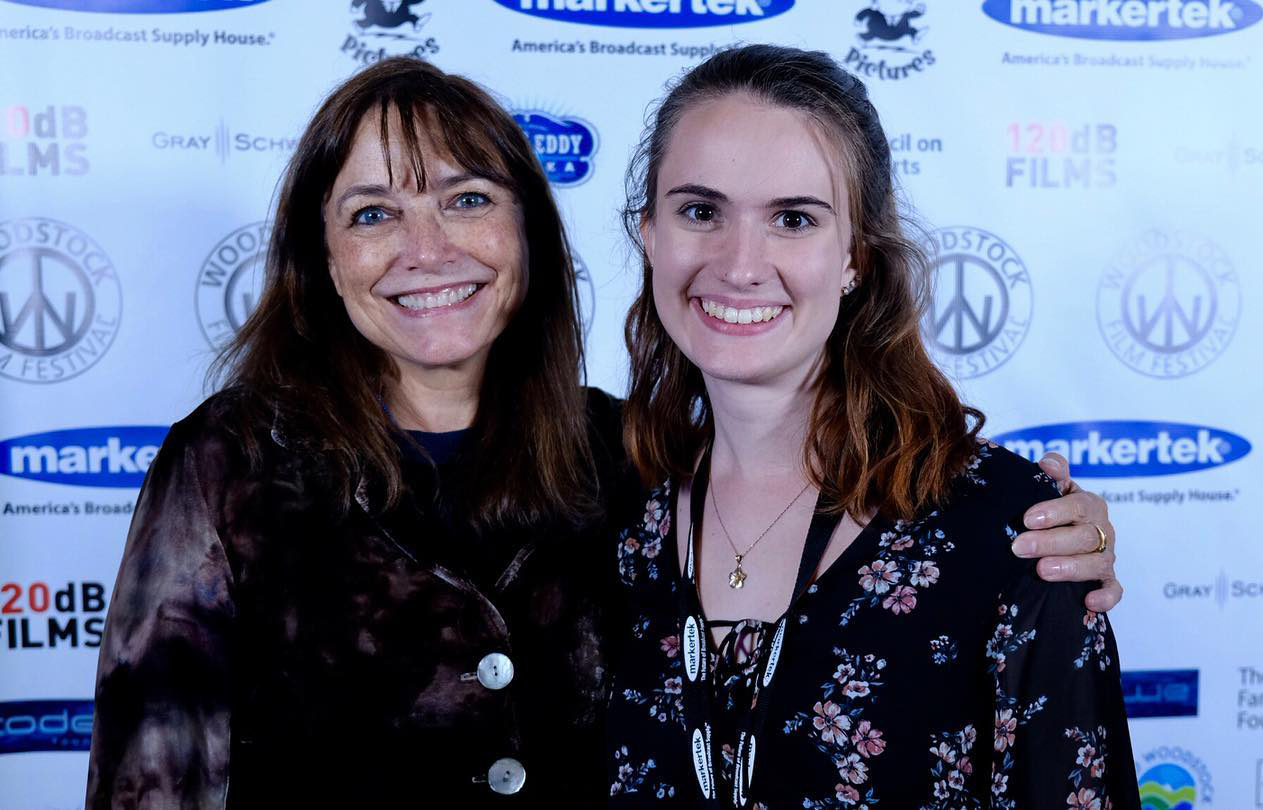 Working the Festival also helps students develop another important film-industry skill: becoming comfortable collaborating with actors and directors whose work they admire.
"I realized that you can't think of them as someone to look up to when you're working with them," said Jen Bianco '20 (Digital Media Production) of Plainedge, New York. "You have to figure out how to get people to want to be part of what you're doing, because you need them for a specific shot."
Hundreds of New Paltz students have practiced these skills at the Woodstock Film Festival over the years. It's a formative professional experience through which they hone their production talents and make contacts with industry professionals that lead to opportunities in the field.
"From their interns, operations staff, volunteers, photographers and videographers, you'll find many SUNY New Paltz students and alumni working in offices and on location at the Festival and sister organization, the Hudson Valley Film Commission," Bray said.
Use this link to see New Paltz student-produced videos on the Woodstock Film Festival's YouTube page, and visit the Department of Digital Media & Journalism for more info about this and other programs.