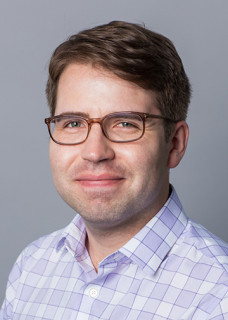 Assistant Professor Stephen DiDomenico appeared on the July 12 edition of WAMC's nationally-syndicated program "The Academic Minute" to share fascinating new research into how people communicate when their mobile phones are also bidding for their attention.
DiDomenico, whose research focuses on qualitative communication inquiry and the dynamics of everyday talk, discusses his study of video recordings of naturally occurring conversations that included some mobile phone use.
He and his collaborators applied conversation analysis techniques to examine how the participants' devices summoned their attention and how they reacted, and pose new questions about what ubiquitous portable technology might mean for interpersonal communication.
"Our research findings extend scholarly understandings of how technologies can be implicated in the interactional management of attention and multi-tasking, more specifically how devices like mobile phones can be used as a resource to support and facilitate the 'communicative juggling' that can occur when we have to manage both in-person and technologically-mediated interactions in real time," DiDomenico said.
"It also serves as a more general reminder that, regardless of the positive or negative impacts they might have, the use of portable technologies has become ubiquitous and, through communication, can become seamlessly woven into the fabric of our interpersonal lives."
DiDomenico has been published in top scholarly journals across a diverse range of fields including Communication Studies (e.g., Communication Research, Research on Language & Social Interaction), Sociolinguistics (Language in Society), and Linguistic Anthropology (Language & Communication). His work has also been published in the edited volumes Discourse 2.0: Language and New Media (2013) and the Handbook of Verbal Communication (2016).
Use this link to access the complete recording and transcript DiDomenico's "Academic Minute" broadcast.
About "The Academic Minute"
"The Academic Minute" is an educationally focused radio segment produced by WAMC in Albany, N.Y., a National Public Radio member station. The show features an array of faculty from colleges and universities across the country discussing the unique, high-impact aspects of their research. The program airs every weekday and is run multiple times during the day on about 50 different member stations across the National Public Radio spectrum. For more information, visit http://academicminute.org/.