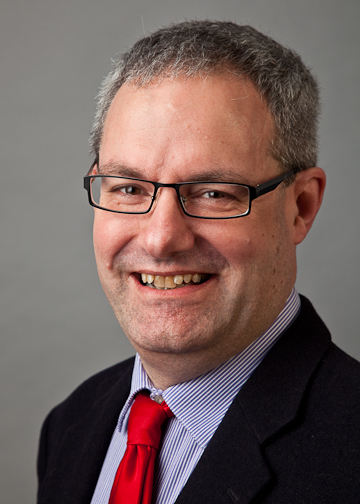 Louis Roper, professor of history at SUNY New Paltz, has become the 15th New Paltz faculty member to earn the title of SUNY Distinguished Professor, the highest academic rank in the State University system.
The Distinguished Professorship is conferred solely by the State University Board of Trustees as a means of honoring individuals who have achieved national or international prominence and a distinguished reputation within a chosen field.
"I would certainly like to thank SUNY for this great honor, which, I hope, recognizes our campus collectively as well myself particularly," Roper said. "'I couldn't have done it without …' often comes off as a cliché, but I want to convey my profound gratitude to my colleagues, particularly those who undertook my nomination, and to my students whose perennial enthusiasm for learning keeps the work fresh."
Colleagues and campus administrators recommended Roper for the Distinguished Professorship in recognition of his exceptional and innovative scholarship of early Atlantic history.
"The external reviewers, all leading experts in early American history and colonization, uniformly praise the breadth, depth and originality of Roper's scholarly work," said President Donald P. Christian. "He has been instrumental in creating new and influential venues for scholarship in his area, by editing collections in which rising scholars in his field can publish, reviewing manuscripts, and organizing conferences with a global scope that benefit his colleagues as well as his students."
Roper is the author or editor of seven books and numerous peer-reviewed publications and invited presentations. He is co-founder and editor of a prominent journal, "The Journal of Early American History," a Fellow of the New York Academy of History and Yale's Beinecke Library, and a 2015 recipient of the SUNY Chancellor's Award for Excellence in Scholarship and Creative Activities.
"Since joining the New Paltz faculty as Assistant Professor in 1995, Professor Roper has earned a reputation as a passionate educator and generous colleague," President Christian said.
Roper regularly draws on connections with regional historic sites to create research and internship opportunities for students, and his professional service includes stints as chair of the Department of History, chair of the College's Central Committee on Reappointment, Tenure, and Promotion, and member of numerous search committees.
"Professor Roper's stature in his field is impressive for any scholar, but it is particularly noteworthy for someone working in a comprehensive public institution whose primary role is as a teacher with a robust service commitment," said Laura Barrett, dean of the College of Liberal Arts & Sciences. "His distinguished scholarship has enhanced his discipline and the institution in which he serves."
Roper holds a J.D. degree from SUNY Buffalo and a Ph.D. from the University of Rochester. His mother, Carol, is a former Town of New Paltz Supervisor, and his father, Don, preceded him as a history professor at SUNY New Paltz.
He is the first SUNY New Paltz faculty member to attain the rank of Distinguished Professor since 2009, and the 15th overall.
The rank of SUNY Distinguished Professor was created by the SUNY Board of Trustees in 1963. Since then, 1,130 faculty have been honored in one of four specific categories: Distinguished Professorship, Distinguished Teaching Professorship, Distinguished Service Professorship, and Distinguished Librarian.
As members of the Distinguished Academy, these exceptional faculty function as role models and devote appropriate service to University-wide activities, both ceremonial and professional, such as offering lectures and seminars, informing curricular reform, improving the overall academic experience of students, mentoring junior faculty, and leading inquiry into issues of importance to SUNY and society.
Visit https://www.suny.edu/distinguished-academy/ for more information.