The Samuel Dorsky Museum of Art at SUNY New Paltz is pleased to invite community members to a public reception on Saturday, Sept. 15, from 5 – 7 p.m., to celebrate the opening of two new exhibitions:
In addition, The Dorsky will re-open "The Dorsky Collects: Selections from the Permanent Collection," a continuing exhibition of historical and contemporary art, and "Alive and Yelling: Trans Zines and Radical Subcultures," a student-curated exhibition in the Seminar Room Gallery.
Together, these exhibitions promise visitors unparalleled exposure to historical undercurrents and modern trends in regional, national and international art.
---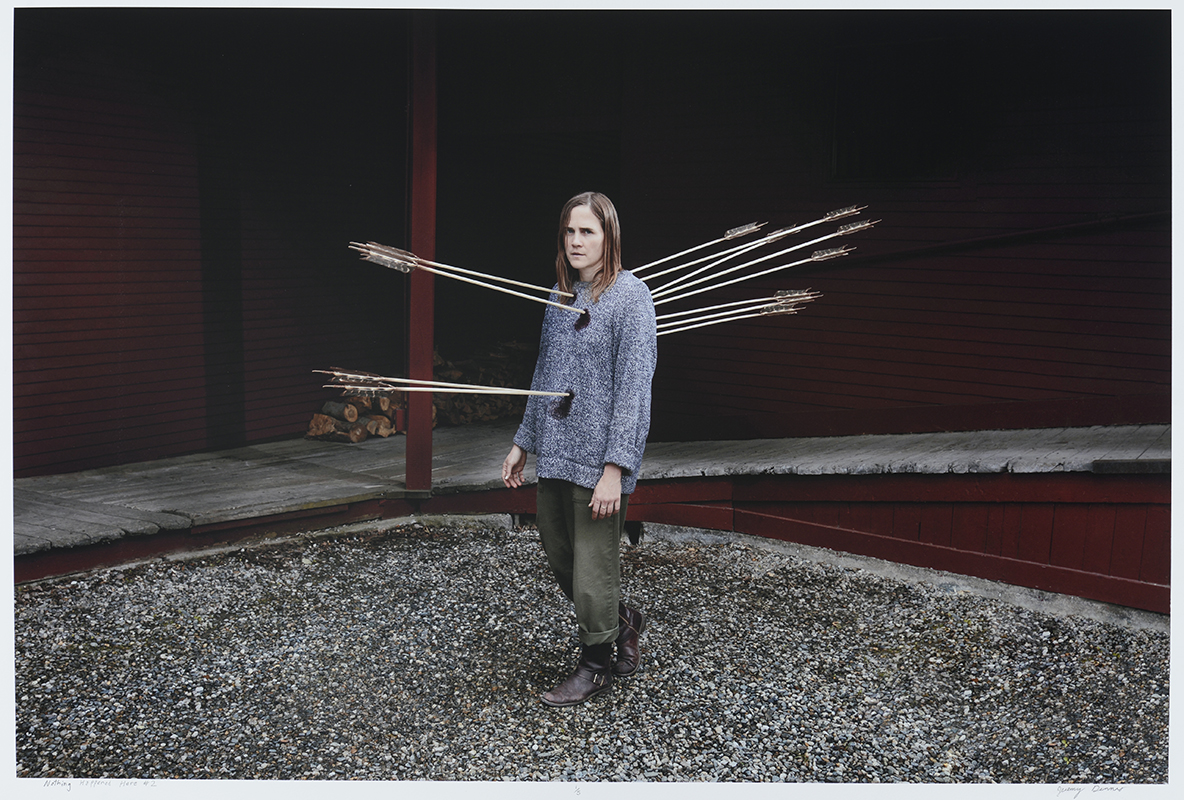 "Community and Continuity: Native American Art of New York"
Curated by Gwendolyn Saul and John Hart
Aug. 29 – Dec. 9, 2018
Sara Bedrick Gallery
Website: https://www.newpaltz.edu/museum/exhibitions/native-american-art/
"Community and Continuity" is the product of a partnership between the Dorsky Museum and the New York State Museum (NYSM) consisting of approximately 50 pieces of contemporary art, curated to showcase the diversity of Native American creative output and exemplify the state's thriving, vibrant and continuous Indigenous presence.
On view at The Dorsky will be contemporary art that incorporates subject matter based on the epic narrative of the Creation Story, Algonquian histories and commentary on what it means to be Indigenous today, expressed through a variety of mediums including photography, painting, sculpture, beadwork and basketry.
Complementing the contemporary artworks will be a selection of archaeological artifacts of fired clay, bone and shell from the NYSM collection and from Historic Huguenot Street. These pieces are included to provide a glimpse into the prolific artistic traditions of Indigenous peoples from the 15th – 17th centuries, and deepen the exhibition's exploration of the theme of continuity.
---
"Timothy Greenfield-Sanders: The Trans List"
Curated by Anastasia James
Aug. 29 – Dec. 9, 2018
Morgan Anderson Gallery and Howard Greenberg Gallery
Website: https://www.newpaltz.edu/museum/exhibitions/timothy-greenfield-sanders/
Greenfield-Sanders's "The Trans List" consists of a documentary film and portrait series exploring the range of experiences lived by Americans who identify as transgender.
The documentary, directed and produced by Greenfield-Sanders, features Trans journalist and author Janet Mock conducting interviews with noteworthy figures including Caitlyn Jenner and Laverne Cox. The film was first broadcast on HBO in December 2016.
Through the film and the accompanying portraits, Greenfield-Sanders provides a platform for a diverse group of individuals to tell their stories of identity, family, career, love, struggle and accomplishment.
"Timothy Greenfield Sanders: The Trans List" is accompanied by richly illustrated catalogue presenting new scholarship and biographical information, distributed by SUNY Press and available for purchase in the museum and online at www.sunypress.edu.
In conjunction with its presentation of "Timothy Greenfield-Sanders: The Trans List," The Dorsky Museum will open a related student-curated exhibition in its Seminar Room Gallery titled "Alive and Yelling: Trans Zines and Radical Subcultures."
---
Information about exhibition-related programs and other museum education and outreach programs can be found on the museum's website at http://www.newpaltz.edu/museum/programs/public_programs.html.
Funding for The Dorsky's exhibitions and programs is provided by the Friends of the Samuel Dorsky Museum of Art and SUNY New Paltz. Additional funding for The Trans List has been provided by the Howard Greenberg Endowment.
---
About the Dorsky Museum
Through its collections, exhibitions and public programs, the Samuel Dorsky Museum of Art at SUNY New Paltz supports and enriches the academic programs at the College, presents a broad range of world art for study and enjoyment, and serves as a center for Hudson Valley arts and culture. With more than 9,000 square feet of exhibition space distributed over six galleries, The Dorsky Museum is one of the largest museums within the SUNY system.
The Dorsky has presented more than 300 exhibitions since its official dedication on Oct. 20, 2001, including in-depth studies of Hudson Valley luminaries Judy Pfaff, Carolee Schneemann, Russel Wright and Dick Polich; historic Hudson River School and Woodstock artists Jervis McEntee and Bradley Walker Tomlin; contemporary masters Mary Reid Kelley and Sara Greenberger Rafferty; and work by artists from Africa, Southeast Asia and the Middle East, spanning from ancient to modern times. The Dorsky also maintains a permanent collection of art, which has grown to include more than 6,000 objects from cultures around the world.
Museum Hours:
Wednesday – Sunday, 11 a.m. – 5 p.m.
Closed Mondays, Tuesdays, and national and university holidays
For more information about The Dorsky Museum, visit https://www.newpaltz.edu/museum/ or call (845) 257-3844.