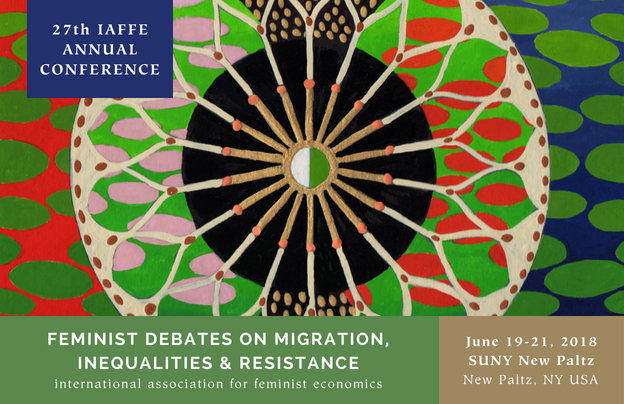 The Economics Department and the Women's, Gender and Sexuality Studies Department will co-host the 27th annual conference of the International Association for Feminist Economics (IAFFE), June 19-21 on the SUNY New Paltz campus.
Roughly 300 participants from around the globe will come to New Paltz to present their papers, chair sessions and run workshops on gender and economic issues. It is an opportunity for economists and non-economists alike to develop new knowledge, join new conversations and network with leaders in the field.
This year's program will be organized around the theme of "Inequality, Immigration and Resistance."
IAFFE is the leading organization for the diverse community of academics, activists, policy theorists and practitioners working in the relatively new field of feminist economics. Members and affiliates generally share a feminist perspective, fueling exploration of new questions concerning gender, race, class, sexuality and intersectionality, leading to the development of new economic concepts, theories and research methods.
Members of the public interested in learning more about this discipline are invited to the opening and closing plenaries of the conference, on June 19 and June 21, respectively. There is a $5 admission fee for non-conference participants; students will be admitted free of charge.
The opening plenary will take place from 9:00 – 10:30 a.m. on June 19 in Lecture Center 100. It will feature three leading feminist scholars: Gita Sen, of the Harvard School of Public Health; Rhacel Parreñas, of the University of Southern California; and Randy Albelda, of the University of Massachusetts, Boston. They will share their perspectives on the conference theme and respond to questions from the audience. The session will be chaired by current IAFFE president and Argentinian Ministry of Economics official, Silvia Berger.
The closing plenary will take place on June 21 from 11:00 a.m. – 12:50 p.m., also in Lecture Center 100. This session focuses on human rights as a productive framework for feminist economists, and will feature Shahra Razavi, of UN Women; Radhika Balakrishnan, of Rutgers University; and Julianna Roosevelt, of the Eleanor Roosevelt Center at Val-Kill. The session will be chaired by Naila Kabeer, of the London School of Economics, who is also the incoming IAFFE president.
More information on the conference, including the final program, transportation and lodging info, is available at http://www.iaffe.org/annual-conferences/2018-annual-conference/.
On-site registration for the IAFFE Conference and tickets for plenary sessions will be available at the door, before the start of the event.
Attendees who may wish to make use of sign language services are asked to contact kuipere@newpaltz.edu or 845-257-2378 by June 12.