[With the end of the 2017-18 academic year comes the end of some of the most distinguished SUNY New Paltz careers. Throughout the summer we'll share brief profiles of these retirees.]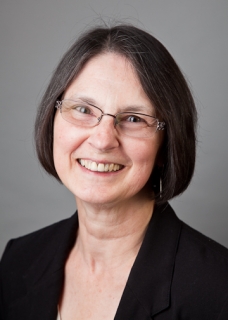 As an alumna and employee whose relationship with SUNY New Paltz extends back nearly five decades, Mary Kastner '71 (Art Education) has earned a deep understanding of the history and culture of the College, and has been unwaveringly faithful in leveraging that knowledge for the benefit of students, colleagues and campus leadership.
Kastner graduated from New Paltz in 1971 and was hired as a full-time professional staff member in 1980. She served as a graphic designer for seven years before assuming a role as Director of Publications, and later expanded to hold the title of Director of Design, Print & Mail Services. At the time of her retirement in May 2018, she oversaw 12 staff members and budgets for design, print and mail.
As Kastner's role at the College evolved from designing to helping steward a host of diverse campus publications, her talents for integrated marketing communications came to the fore. She has been central to the College's branding efforts, working tirelessly to help establish a cohesive campus style, visually and in text, across multiple platforms, and helping educate colleagues on the value of consistency in these media.
In 2015, Kastner's career was recognized with a SUNY Chancellor's Award for Excellence in Professional Service, and in 2016, she received the College's Heritage Award, which honors alumni whose devotion to the ideals of the College serve as extraordinary examples to the entire New Paltz community.
Though Kastner will be "retiring" from her full-time role as Director of Design, Print and Mail, she will return to the Office of Communication & Marketing in July 2018 part-time as Special Projects Associate.
In her free time, Kastner looks forward to making frequent use of a newly-renovated pottery studio space at her New Paltz home. When she's not working in clay, Mary hopes to find time to enjoy art exhibitions, dance performances, music concerts and reading.