The newest alumni of the SUNY New Paltz Schools of Business, Education, Fine & Performing Arts and Science & Engineering were recognized before an audience of families, friends, faculty mentors and professional colleagues at the Sunday Undergraduate Commencement Ceremony, on May 20, 2018.
[Click here to view full photo gallery from the Sunday Commencement Ceremony]
The Sunday Ceremony put an exclamation mark on a rainy, but still joyous, Commencement weekend at New Paltz. Approximately 725 members of the Class of 2018 participated on Sunday, joined by thousands of family members and friends who celebrated the diverse paths taken to arrive at this moment, and an array of bright futures awaiting them in the years ahead.
"As you go forth to take up the responsibilities of graduate or professional school, employment, family and community, your college is proud of your accomplishments so far, and eagerly anticipates what you will achieve in your future," said President Donald P. Christian. "Wherever you go and whatever you do from this time forward, you will always be part of New Paltz, and New Paltz will always be part of you."
The day's honorees earned their degrees through years of preparation for careers or further study as teachers, engineers, visual and performing artists, researchers, entrepreneurs, and a host of other rewarding occupations.
---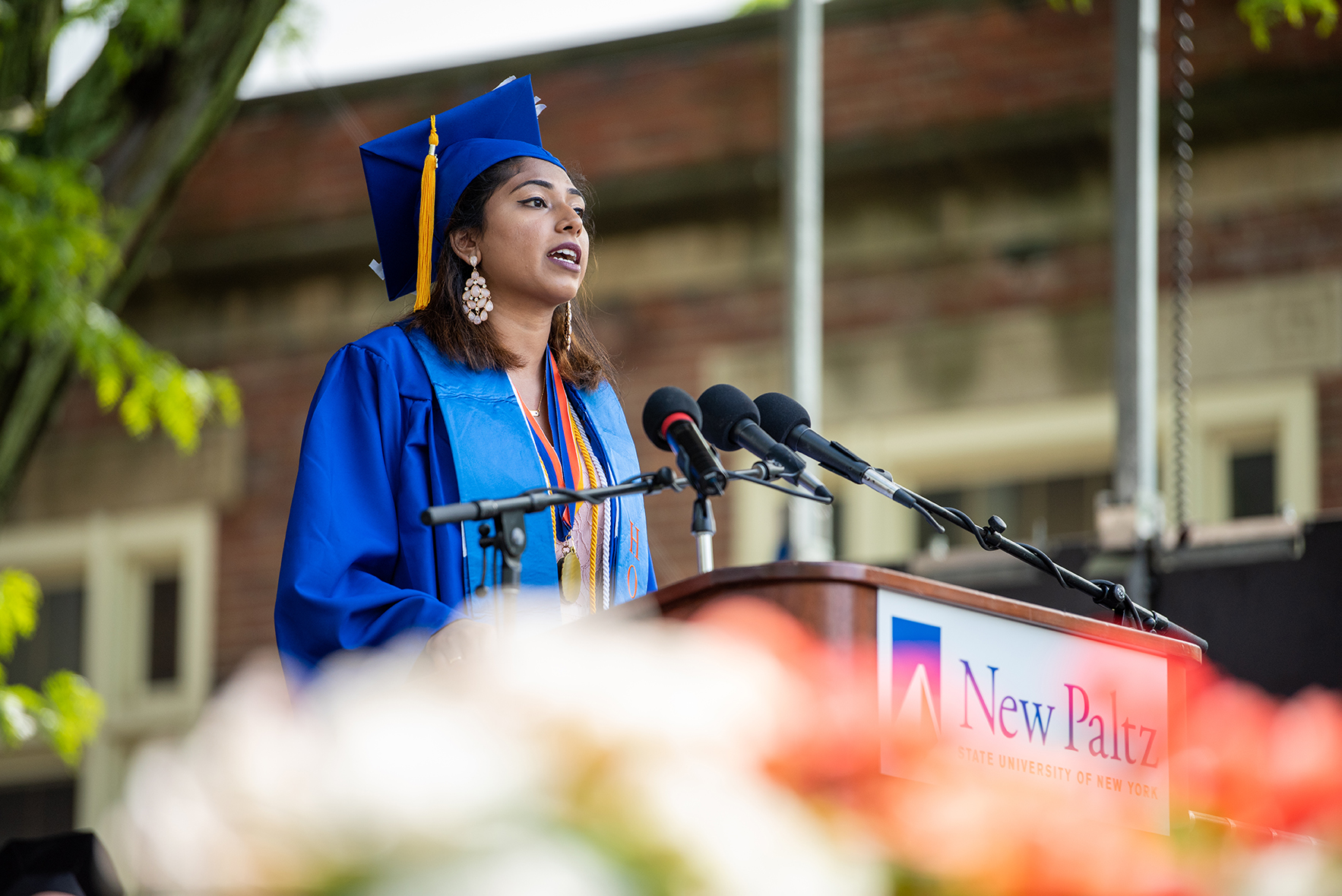 "If there is one thing that SUNY New Paltz has taught me, it is to never let anyone tell you that you can't. Class of 2018, I know that we can, and we will, change the world one day." – Reem Ahmed '18 (Accounting), Valedictorian

---
The Commencement Address at the Sunday Ceremony was delivered by James H. Ottaway Jr., a distinguished journalist, editor, publisher, newspaper executive and philanthropist, who was also presented with an honorary doctor of humane letters degree from the State University of New York.
Ottaway is a longtime friend of SUNY New Paltz who has made numerous contributions to the College and surrounding community, including the James H. Ottaway Sr. Visiting Professorship of Journalism, the College's first endowed professorship, which has provided hundreds of New Paltz students with rare opportunities to study and work alongside some of the most decorated journalists in the industry.
He called the graduating class to reinforce and live by the bedrock principles of the journalism industry to which he has devoted much of his own thought and work.
"You have the special privilege of graduating from this distinguished university, and that gives you a special civic responsibility," Ottaway said. "As educated citizens of our free society, we all have the responsibility and the skills to seek the truth and research the facts on public issues in debate…Be activists for the truth, for provable facts…and contribute to policy debates by speaking out in public, speaking truth to power…I celebrate you today for your hard-earned degrees and wish you success in your life's work, starting tomorrow."
---
"New Paltz was a great experience. I would recommend it to anybody, because it's for everybody. I'm excited and ready to jump into the real world." – Greg Miller '18 (Finance)
---
Class of 2018 Valedictorian Reem Ahmed '18 (Accounting) of Queens, N.Y., delivered a Valedictory that focused on lessons she learned outside the classroom during her time in New Paltz.
"Once I opened my mind to the amazing opportunities available at New Paltz, it didn't take me long to fall in love with this school and its community," Ahmed said. "It is here that I connected with people who are passionate about leaving their mark on the world; it is here that I realized my true potential, and witnessed others do the same; here, I learned that the moments that really matter are when life tells you no, and you still choose to persevere.
"Most of all, if there is one thing that SUNY New Paltz has taught me, it is to never let anyone tell you that you can't. Class of 2018, I know that we can, and we will, change the world one day."
As they prepared to walk the stage and receive their degrees, a few students took a moment to look back on how far they've come, and look forward to what's next.
---
"Some of my best friends in the world have come from this program. It's such a tight-knit community; we're doing work that basically requires us to be together 24/7, and it turns into this kind of bonding experience and this support system that you wouldn't necessarily expect in any other program." – Ciarra Fragale '17 (Theatre Arts)
---
"It's a program where you learn how important it is to fail gracefully, and rebound to finish the job. Especially as just starting out in theatre, we have to know we will face rejection, and still get back on our feet. I learned that here." – Emma Philipbar '18 (Theatre Arts)
"There were good takeaways from each class, and I had some great professors who really spoke out to me and had a big influence over what I'd like to do." Marc Piliero '18 (Marketing)
---
"As teachers, the biggest thing is that we're always learning. I'm starting the master's program on Wednesday, and I have an assignment due Friday, so I don't even feel like I'm graduating; I'm not sure it will hit me until they say my name and I walk across the stage. But it was a rigorous program, and I'm proud to be moving to the next step." – DeSean Morrow '18 (Literacy Education: B – 6)
---
The Sunday Undergraduate Commencement Ceremony was part of a weekend-long celebration of New Paltz students' academic achievement, as more than 2,500 graduate and undergraduate degree recipients representing the graduating classes of August 2017, December 2017 and January 2018, and candidates for May 2018 and August 2018, were honored at Commencement ceremonies held on May 18, 19 and 20.
Complete coverage of SUNY New Paltz Commencement activities is available at https://sites.newpaltz.edu/news/category/commencement/.