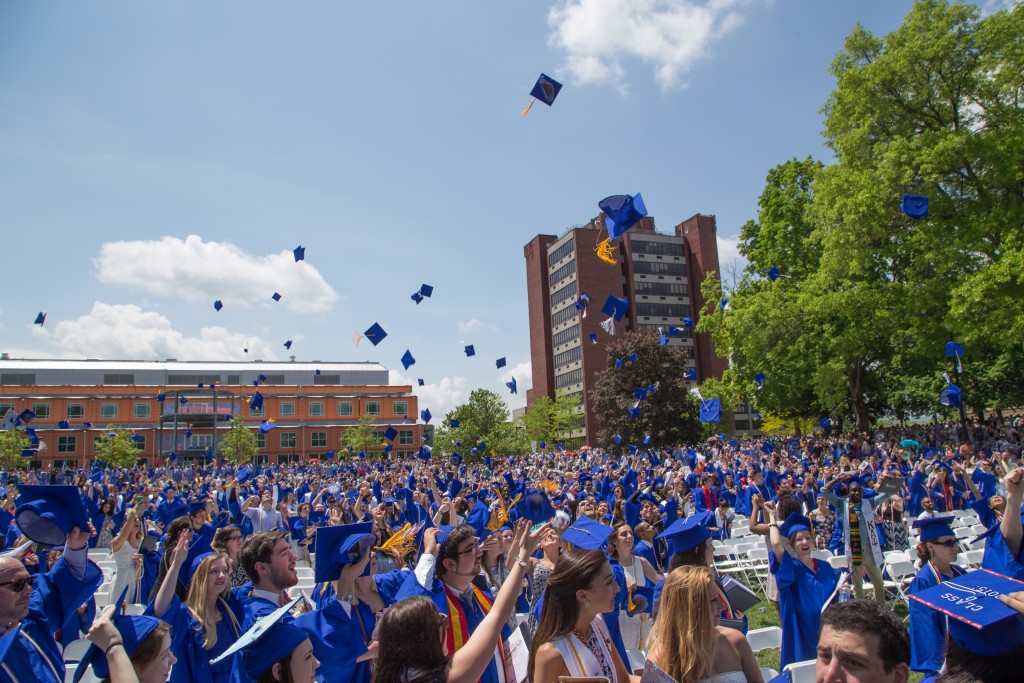 The class of 2018 will celebrate the countdown to their graduation at the 100 Days to Commencement Senior Celebration, Feb. 8, in the Student Union Multipurpose Room on the New Paltz campus.
"I don't remember there being an event like this during my time as a student 10 years ago, so it fills me with so much joy to have the opportunity to bring this to our current students and future alumni," said the College's newly appointed Alumni Engagement Coordinator, Elizabeth Reyes '07 (English). "It's an exciting and sometimes stressful time but with the support of the campus and alumni community, our students will continue to flourish and we want to make sure they are ready for their next chapter."
Sponsored by the Office of Development and Alumni Relations and the SUNY New Paltz Foundation, the event will provide information on the spring Undergraduate Commencement ceremonies, Career Services, Senior Toast, and Alumni Relations programs and services. It is also an official opportunity to mark the last 100 days on campus. Alumni Council representatives and other alumni will be in attendance to answer any questions students might have. Light refreshments and appetizers will be provided, as well as music and giveaways.
"We want seniors to know the Alumni Relations office will be here for them after graduation," said Director of Alumni Relations Shana Circe '02 '08g. "There are many programs and services that we hope are of interest to our young alumni cohort. This event allows us to begin a conversation with our future alums, even before they receive their degrees from New Paltz."
Information will also be provided about the College's Senior Gift program. Seniors can choose to make a gift of at least $20.18 in support of student programs through the Fund for New Paltz. To acknowledge their gift, these future alumni will receive orange and blue philanthropy cords to wear at 2018 Commencement.
For more information about the 100 Days Senior Celebration, contact the Office of Alumni Relations at 845-257-3230 or alumni@newpaltz.edu.
Learn more about the Senior Gift program.