Classified staff from across campus gathered to break bread in good company at the 32nd annual Appreciation & Recognition Holiday Luncheon on Dec. 15.
The meal is a long-standing tradition at SUNY New Paltz, a way of recognizing the many and varied contributions staff make to the College's core purpose of educating the next generation of citizens.
It's also a great excuse for friends and colleagues to don their best ugly sweaters and enjoy a brief respite from the busy end of the semester with colleagues and close friends.
[Click here to view full gallery and download photos]
"This is a campus that works well and serves well the people who depend on us, and who we depend on – even as we continue to find ways to get even better," said President Donald P. Christian. "Your work and your commitment make a great difference in our success. Thank you!"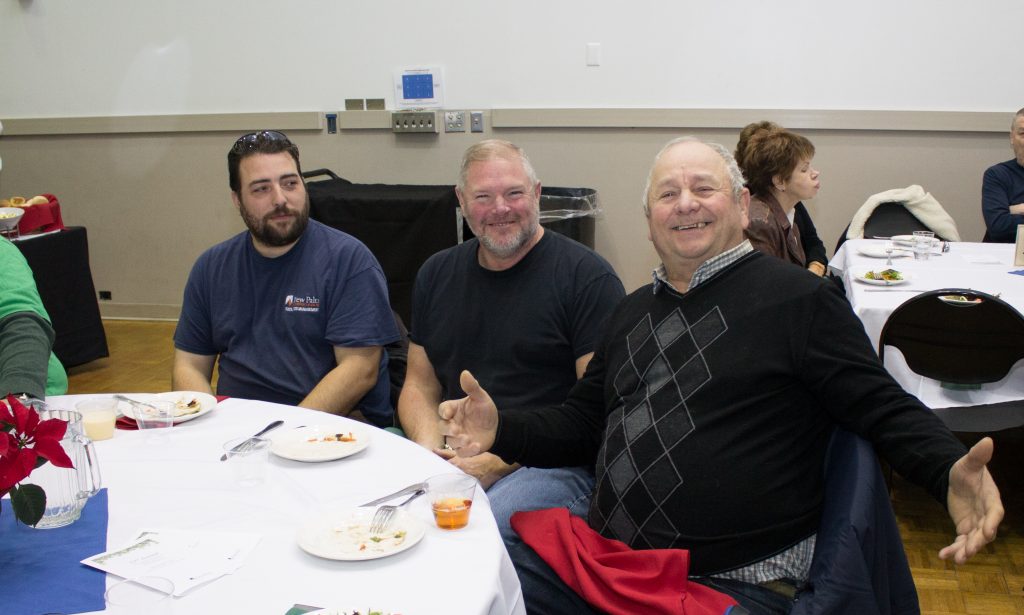 In a new wrinkle at this year's Luncheon, Anne Balant, presiding officer of the faculty, debuted the "I noticed…" campaign, which encouraged faculty to share anecdotes of CSEA members' positive impact on the campus environment. Some examples:
"I noticed the nicely shoveled walkway to my building during the snowy weather last winter"
"I noticed how every single one of my events has gone smoothly thanks to the facilities and catering staff."
"I noticed how staff at the college are so skilled and adept at quickly reducing the long line of students during busy times of the academic year."
"I noticed how our secretary is always upbeat, uber-competent, multi-talented, and willing to go the extra 100 miles to help both faculty and students."
"I notice the way my plant perks up whenever our custodian walks into my office, since she keeps this precious plant watered for me!"
"I noticed how personable and caring our building custodian is no matter how busy she is…and she has a great sense of humor, which is just what I need some days."
And as in years past, President Christian led a recognition of employees who this year reached significant milestones in their careers with the College:
---
20 Years
Denise Aldrich (Facilities)
Guido Avitabile (Facilities)
Margaret Betaudier (Sociology)
Rita Cancelliere (Records & Registration)
Christine Hall (Facilities)
William Secor (Facilities)
Mitchell Vincent (Auto Shop)
---
25 Years
Richard Drosdowich (Grounds)
Gary Oliver (Sojourner Truth Library)
---
30 Years
Mary Panchyshyn (Science & Engineering)
Jeanne Quenzer (Athletics & Wellness Center)
---
35 Years
Toni Rizzo (School of Business)
---
45 Years
Barbara Eckert (Information Technology Services)
---
Recent Retirees
Mary Ackert (Sojourner Truth Library)
Georgia Bruck (Facilities)
Sharon Burrough (Development & Alumni Relations)
Jannette Carcich (College of Liberal Arts & Sciences)
Linda Cardona (Athletics & Wellness Center)
Jeffrey Charifson (Facilities)
Robert Crolius (Information Technology Services)
Diana Cunningham (School of Education)
Brusce Fischetti (Facilities)
Margaret Gaffney (Procurement)
Gae Gundersen-Barry (Vice President – Student Affairs)
Gerald Kaleja (University Police)
Kevin Keplinger (Facilities)
Lorna Platt (Design Services)
Candida Ramirez (Facilities)
Carlos Ramirez (Facilities)
Tim Schuster (Facilities)
Gwen Smith (Facilities)
Diana Turner (Graduate & Extended Learning)
Russell Warren (Facilities)