The Samuel Dorsky Museum of Art at SUNY New Paltz is pleased to present "Marking Time: Andy Warhol's Vision of Celebrations, Commemorations, and Anniversaries," an exhibition that takes a fresh approach to Warhol by focusing on his insights into the social and personal significances of special occasions.
"Andy Warhol was highly attuned to our social practice of using celebrations to mark anniversaries, whether of births, deaths or centennials, and whether of people, places or things," said exhibition curator and Professor of Art History Reva Wolf.
"Marking Time" will be on view at the Dorsky Museum from Feb. 10 through July 15, 2018, in The Dorsky's Sara Bedrick Gallery. A public opening reception will be held on Saturday, Feb. 10, from 5 – 7 p.m.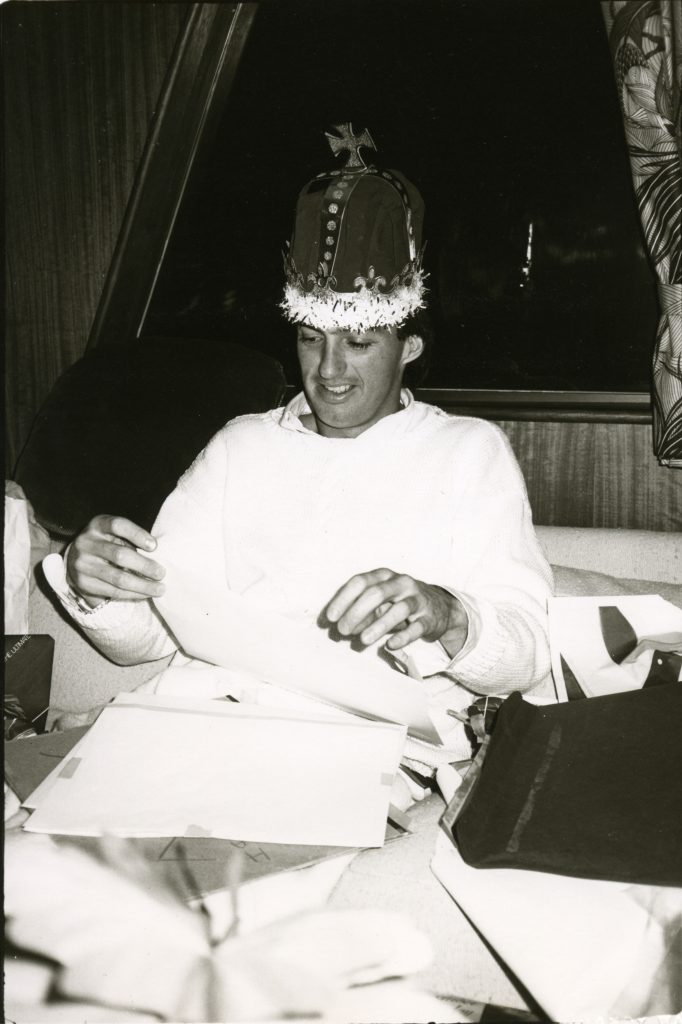 "Marking Time" is part of the project "Warhol x 5," a significant retrospective of Andy Warhol's life and work featuring five overlapping exhibitions that will be on view at collegiate museums throughout the Hudson Valley in 2018. Each exhibition considers a different theme of Warhol's art:
The Dorsky Museum exhibition, "Marking Time," focuses on the significance of commemorations and anniversaries;
"People are Beautiful," at the Frances Lehman Loeb Art Center, Vassar College from Jan 26 – April 15, focuses on ideas of beauty in portraits;
"Warhol: Unidentified," at the Center for Curatorial Studies, Bard College from April 8 – May 27, focuses on images of unidentified people;
"Younger Than Today," at the University at Albany Art Museum from June 29 – Sept. 15, focuses on images of childhood;
"Andy Warhol: Subject and Seriality," at the Neuberger Museum of Art, Purchase College from July 22 until Nov. 18, focuses on series and seriality.
The five exhibiting institutions are collaborating by borrowing works from each other's collections, enabling them to present thematically cohesive exhibitions and providing joint programming and curriculum opportunities for each of the participating campuses. The exhibitions also feature works donated by the Andy Warhol Foundation for the Visual Arts.
As part of the "Warhol x 5" project, SUNY New Paltz will co-host a symposium focusing on the history and significance of approaches to exhibiting Andy Warhol's work, and featuring a roster of distinguished art historians and curators.
"Displaying Warhol:  Exhibition as Interpretation," opens on April 12 with a keynote lecture from Warhol biographer Blake Gopnik, at the Frances Lehman Loeb Art Center, Vassar College.
The Symposium will continue on April 13 at SUNY New Paltz, with two panel discussions featuring exhibition curators and other experts on the history and presentation of Warhol's art.
For more information about "Warhol x 5" visit: https://blog.suny.edu/2017/12/the-works-of-andy-warhol-come-to-campus/
About "Marking Time"
This Dorsky Museum exhibition is divided into sections emphasizing Andy Warhol's images of Holidays, Commemorations of Things, Commemorations of People, Anniversaries of Deaths, and Birthdays and Other Celebrations.
Featured in the holiday section are Polaroid photographs of poinsettias and of a heart-shaped candy box, used by Warhol to make prints to give as gifts on Christmas and Valentine's Day.
The section on commemorating things includes images made on the centennial of the Brooklyn Bridge and on the centennial of the completion of the Cologne Cathedral.
Among the people commemorated are Leo Castelli, whose fabled art gallery's 10th anniversary in 1967 occasioned the unique and vibrant three-dimensional work in plastic, "Portraits of the Artists," and feminist politician and activist Bella Abzug, whose portrait Warhol created in 1977 to mark her candidacy for mayor of New York.
A focal point of the exhibition is "Flash—November 22, 1963," a series of screenprints marking the five-year anniversary of President John F. Kennedy's assassination, and reminding us, through its TV imagery, newsprint, and other mediated scenes, of our indirect yet intense experience of this profound historical event.
Birthdays and other celebrations, often featuring cakes, are the subject of several black-and-white photographs in the exhibition.
"Marking Time" will be supported by an exhibition catalogue, published by SUNY Press and including essays authored by SUNY New Paltz students. These essays were the culmination of a course taught by curator Reva Wolf. Wolf is a noted historian of Warhol and the author of "Andy Warhol, Poetry, and Gossip in the 1960s" (University of Chicago Press, 1997).
"Marking Time" is supported by the Friends of the Samuel Dorsky Museum of Art and the Howard Greenberg Family Endowment.
For more information about the exhibition visit:  https://www.newpaltz.edu/museum/exhibitions/markingtime/MarkingTime.
About the Dorsky Museum
Through its collections, exhibitions and public programs, the Samuel Dorsky Museum of Art at SUNY New Paltz supports and enriches the academic programs at the College, presents a broad range of world art for study and enjoyment and serves as a center for Hudson Valley arts and culture. The museum is widely recognized as the premier public showplace for exhibition, education and cultural scholarship about the Hudson Valley region's art and artists from yesterday and today. With more than 9,000 square feet of exhibition space distributed over six galleries, The Dorsky Museum is one of the largest museums in the SUNY system. Since its official dedication on Oct. 20, 2001, The Dorsky has presented more than 100 exhibitions, including commissions, collection-based projects and in-depth studies of contemporary artists including Robert Morris, Alice Neel, Judy Pfaff, Carolee Schneemann and Ushio Shinohara.
Museum Hours:
Wednesday–Sunday, 11 a.m. – 5 p.m.
Closed Mondays, Tuesdays, Holidays and Intersessions
For more information about The Dorsky Museum and its programs, visit http://www.newpaltz.edu/museum or call (845) 257-3844.