Approximately 150 guests were in attendance at the fourth annual SUNY New Paltz Veterans Day Dining In ceremony, as more students, faculty, staff and alumni than ever before came out to honor and break bread with the College's growing population of military service members, veterans and dependents.
"Today we gather as a campus community to honor our veteran and service members, past and present, for their service to this great country and the sacrifice each and every one of them has made," said Jason Gilliland, coordinator of veteran and military services.
The evening included keynote remarks offered by three distinguished speakers, as well as performances of the National Anthem and "God Bless America" by renowned lyricist, Army Master Sgt. Mary Kay Messenger, who is also daughter-in-law of professor emeritus James Halpern, retired founding director of the College's Institute for Disaster Mental Health.
In her student keynote, Army National Guard Corporal Amanda Giusto '18 (Adolescent Education / Black Studies) drew a direct line between the expansion of the College's military community and the dedication of the Office of Veteran & Military Services staff.
"Jason, Dot, Niza and everyone else who spends time in this office have done so much and made me so proud to attend this school, and I guarantee you will not find greater levels of hard work, compassion and dedication to military students at any other institution," Giusto said.
Another address was given by U.S. Navy veteran Peter Olympia, who serves on the College's School of Business Advisory Council and on the Board of Directors of the National Purple Heart Hall of Honor, and who is married to SUNY New Paltz Foundation Board Director Barbara Scherr.
"Today as I reflect on my service – its highlights, the friends that I've made, some of whom paid the ultimate price, the incredible responsibility I was entrusted with as a young man, the comradeship that only a service member or veteran can know and appreciate – I thank my nation for granting me the opportunity to serve our greatest generation, and thank you all for your service," Olympia said.
Halpern spoke as well, offering his perspective as a first responder (including at Ground Zero following 9/11), and as a counselor and educator helping New Paltz students and health care professionals prepare to work with military members and their families upon their return to civilian life.
"People sometimes ask me what the most significant impact of 9/11 was, and for me the answer is quite clear: we have been at war ever since then, and our military has continued to be on duty and available to respond," Halpern said. "A number of years ago the Institute for Disaster Mental Health began working to offer training to civilian clinicians to ensure that if a veteran, service member or member of their family seeks help, they get culturally competent, evidence-based assistance."
SUNY New Paltz was privileged to welcome some distinguished guests from the Hudson Valley military community at this year's Veterans Day Dining In. Notable attendees included New Paltz alumnus Colonel Joseph Davidson '90 (Political Science), Deputy Commandant at the U.S. Military Academy; Colonel Wilbur C. Biggin III, Vice Wing Commander the 105th Military Airlift Wing at Stewart Air National Guard Base; and Howard Cohen, New Paltz professor emeritus and World War II veteran.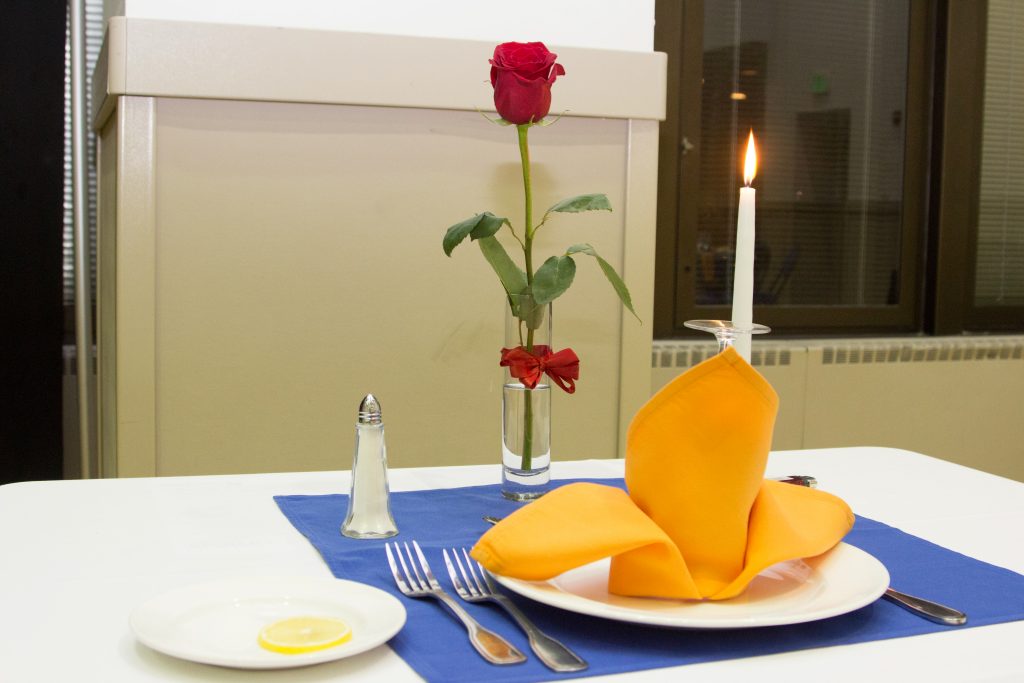 Learn more about SUNY New Paltz's military and veteran community at http://www.newpaltz.edu/veterans/.
Jason Gilliland will join Peter Olympia on the Board of Directors of National Purple Heart Hall of Honor, a database of Purple Heart recipients and their stories and effects, with a historical center in New Windsor, N.Y. More information available online.