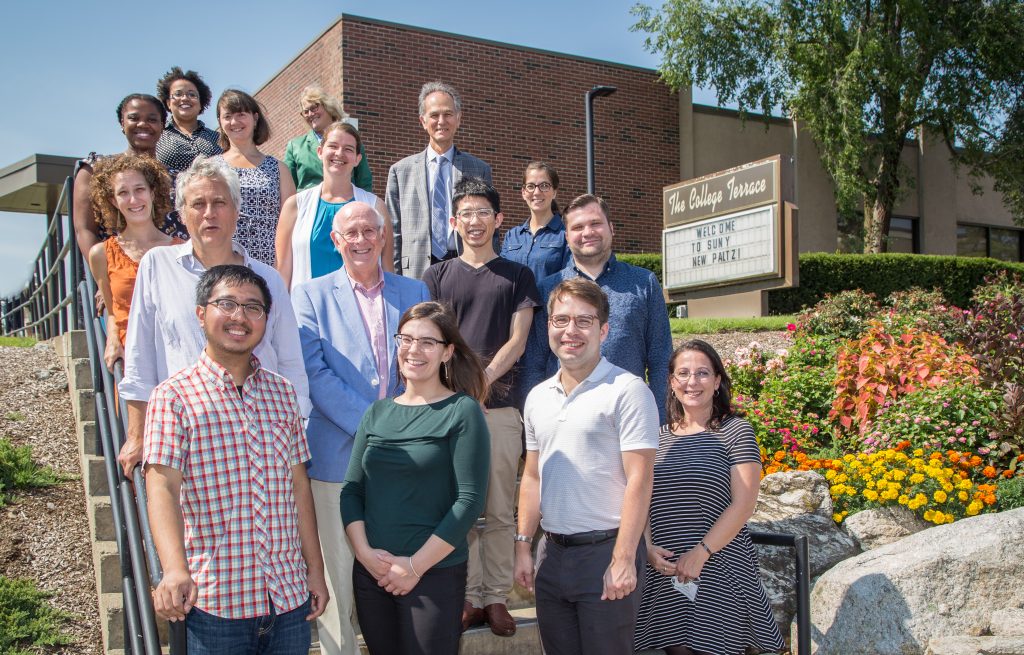 SUNY New Paltz is pleased to announce the appointment of new full-time faculty in advance of the fall 2017 semester.
Please join us in welcoming these distinguished educators and scholars to the campus community:
---
Michael Asbill (MFA, University of California, San Diego) comes to the Sculpture program at New Paltz from SUNY Ulster, where he taught art history. Asbill is an installation and public artist, curator and community organizer. His current research and exhibition projects consider the collapse of the North American ash forest. He recently returned to the United States after attending the SUNY Collaborative Online International Learning academy at the American University of Technology in Byblos, Lebanon.
---
Yi Chung Chen (Ph.D., Electrical and Computer Engineering, University of Pittsburgh) is an assistant professor in the Division of Engineering Programs. Before joining SUNY New Paltz, he was a research associate in the School of Computer Science at the University of Manchester, U.K. His teaching and research interests are hardware and software design of computer systems. He is a Manchester United fan.
---
Emma Clausen (M.S., Library and Information Science, University of Illinois at Urbana-Champaign) joined the Sojourner Truth Library faculty in February 2017, having previously served as a Reference and Instruction Librarian at Pierce College in Washington State. Emma enjoys being in the classroom and at the reference desk and is passionate about telling the story of how the library contributes to student success and retention. She has extensive experience working with open education.
---
Tanner Cooke (Ph.D., Pennsylvania State University) is a visiting assistant professor in the Department of Digital Media & Journalism. He teaches and researches in the area of media and cultural studies and has expertise in globalization, sport, advertising and television.
---
Stephen DiDomenico (Ph.D., Communication Studies, Rutgers University) is an assistant professor in the Department of Communication. He previously served as an assistant professor at SUNY Plattsburgh and a visiting professor at Syracuse University. His research and teaching focus on the dynamics of social interaction in everyday life. His most recent project examines recordings of interactions on crisis help lines, with a goal of better understanding how people communicate when they are seeking or providing help for mental-health issues.
---
Crystal Donkor (Ph.D., Afro-American Studies, University of Massachusetts-Amherst) is joining the Department of English as an assistant professor. While completing her degree, she taught in the Humanities program at Hampshire College. Crystal's research interests include 19th– and early 20th-century Black women's literature, post-emancipation fiction, African American print culture, queer theory and Black feminist theory.
---
Yuanyuan Gao (Ph.D. Information Systems, David Eccles School of Business, University of Utah) joins the School of Business as a lecturer. She is a business analyst and data analyst by training, and she teaches data mining and computer essential courses. Her research interests include studying cost-sensitive learning methods in reducing medical decision-making costs, proposing effective data mining algorithms for improving prediction performance, and analyzing social relations among medications from text and reviews for medication prescription ranking forecasting. Her research has been accepted by top conferences, including the International Conference on Information Systems, and journals, including Decision Support Systems. In her spare time, she enjoys traveling, hiking and cooking.
---
Arthur Gould (Certificate of Advanced Study and M.S., School District Administration, SUNY New Paltz) retired in 2007 from Ellenville (N.Y.) Central School District, where he was the assistant superintendent for curriculum and instruction. He had previously served Ellenville students for 29 years as a high school math, science and computer science teacher. Gould has also taught part-time at several colleges, including SUNY New Paltz, the College of New Rochelle and Iona College, focusing on elementary and secondary education methods courses. Additionally, Gould is co-founder of the Mid-Hudson Teacher Center, a coalition of over 40 school districts and 15 colleges and businesses focused on teacher professional development, and served for many years as Chair of the MHTC Policy Board. His interests include cooking, photography and model railroading.
---
Martine Kei Green-Rogers (Ph.D., Theatre, University of Wisconsin-Madison) is an assistant professor in the Theatre Arts Department, a freelance dramaturg, and the President-Elect of the Literary Managers and Dramaturgs of the Americas. Her dramaturgical credits include productions with the Louisville Orchestra, the Pioneer Theatre Company, the Classical Theatre Company, the Oregon Shakespeare Festival and the Great Plains Theatre Conference. She has published in the Routledge Companion to Dramaturgy and has publications forthcoming in Theatre History Studies and with Southern Illinois University Press.
---
Elizabeth Hirshorn (Ph.D., Brain and Cognitive Sciences, University of Rochester) is an Assistant Professor in the Department of Psychology, focusing on Cognitive Psychology and Neuroscience of Language. She received her Ph.D. in 2011 and was later awarded postdoctoral fellowships at the Learning Research and Development Center at the University of Pittsburgh. Her research focuses on atypical approaches to reading, and her teaching interests include psychology of language, psychology of memory and thinking, research methods, neuroplasticity and cognition. Hirshorn enjoys spending time with her husband and 10-month-old son, playing fiddle, gardening and exploring the beautiful scenery in the Hudson Valley.
---
JoDee LaCasse (Ph. D., Leadership, University of St. Thomas, Minneapolis, Minn.) will be teaching leadership and organizational studies in the School of Business MBA program and at the undergraduate level. Her research interests are in organizational culture.
---
Rachel Lilly (M.S., Mathematics Education, Towson University) is a Lecturer in the Department of Mathematics, where she has taught as an adjunct instructor since 2012. She previously taught high school math for eight years. When not teaching, Rachel enjoys volunteer work and travel.
---
Katherine Raynor '08 (Sociology – Human Services) (M.S., Social Work, Adelphi University) is a recently returned Peace Corps Volunteer who spent the past two years living and working in El Salvador and Malawi. She returns to New Paltz to begin teaching in the Department of Sociology's Concentration in Human Services (CHS), of which she is an alumna. Katherine has worked in the Hudson Valley doing domestic violence prevention, education and counseling with Family Services in Poughkeepsie. She's excited about sharing her local and international experience with the next generation of human services workers. Katherine is interested in travel, games, social justice, and trying to rediscover her volleyball skills from her younger days.
---
Christiana Reader (DMA, Eastman School of Music) is joining the Department of Music, where she will teach violin and viola and conduct the orchestra. She previously held a teaching position at Illinois State University, where she also served as the Assistant Principal Viola of the Illinois Symphony Orchestra, and mentored music education majors for ISU's String Project (an after-school string orchestra program) and Heartland Head Start, a preschool program that used the violin to help students from under-served populations develop skills in kindergarten readiness and literacy. Her research interests broadly look at music as a tool for social change. Reader has performed regularly with the Minnesota and Cincinnati Symphony Orchestras and an outreach string quartet through the Illinois Symphony. She enjoys photography and drawing, Shakespeare plays, visiting libraries and art museums, exploring the outdoors, cooking, running, biking and yoga.
---
Katya Stanislavskaya (MFA, New York University) is assistant professor of musical theatre in the Theatre Arts Department. She is an award-winning composer and lyricist for musical theater and a music director and educator. Her musical Resident Alien, a story about Soviet immigrants in the early 1990s, won the Weston New Musical Award, was chosen for a master class taught by veteran composer Alan Menken, and was featured in the 2017 Good-To-Go Festival, a platform that features plays, musicals and songs written by women.
---
Adam Stephens (Ph.D., Counselor Education and Supervision, University of Tennessee at Knoxville) joins the Psychology Department as an assistant professor with primary teaching responsibilities in the graduate mental health and school counseling programs. He previously taught as a visiting lecturer in the counseling programs at Austin Peay State University in Clarksville, Tenn. His research centers on burnout experiences of new professional counselors, and family therapy practices with nontraditional family structures. In his free time he enjoys outdoor activities, traveling and cruising the Caribbean.
---
Lynne Telesca (Ph.D., Communication Disorders, Language and Literacy Track, University of Central Florida) is an assistant professor in the Department of Communication Disorders. She has taught undergraduate and graduate students in Speech-Language Pathology at both the University of Central Florida and at Stockton University in New Jersey. Her research interests are in syntax, writing, reading and inter-professional practice. She is passionate about literacy for all school-aged children, especially in writing.
---
Antonio Templanza (Ph.D., Yale University) is a visiting assistant professor in the English Department. He previously worked as a lecturer in composition at Yale. Antonio's professional research is focused on early modern science and the history of philosophy, and his teaching highlights intersections between writing and the philosophy of science.
---
Steven Wasser (MBA, Harvard Business School) is a lecturer in the School of Business and will teach courses related to entrepreneurship and leadership. Wasser will also serve as a liaison to the business community, a responsibility for which he is well prepared by his 20 years of experience in CEO groups and his 30 years as owner and manager of Verne Q. Powell Flutes – the Stradivarius of flutes. Wasser previously taught at Hult International Business School in Boston.
---
Miles Wilklow-Marnell '11 (Chemistry) (Ph.D., Inorganic Chemistry, University of Rochester) joins the Chemistry Department as assistant professor. Wilklow-Marnell taught Organic Chemistry labs after graduation and conducted research on organometallic complexes for extreme-ultraviolet photolithographic applications in the laboratory of Professor (now Dean) Daniel Freedman. His subsequent graduate studies focused on the manipulation of carbon-element bonds by organometallic complexes of iridium and oxidation reactions promoted by metal-oxide nanoparticles. Wilklow-Marnell enjoys hiking, camping, cooking, amateur archaeology, woodworking, brewing, vinting, gardening, skating, snowboarding, making music and art, and doing all of these with his family as often as possible.