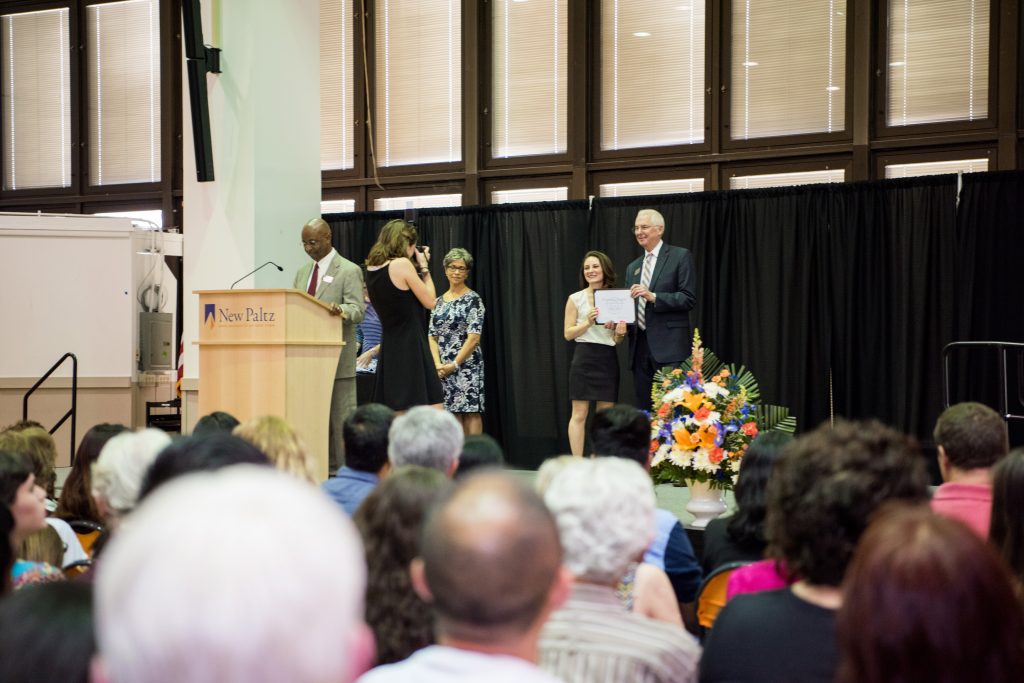 It is a SUNY New Paltz tradition at the close of each semester to honor the efforts of distinguished graduates-to-be who have earned places atop their academic programs through excellent work in and out of the classroom.
[Click here to view full gallery and purchase photos]
The spring 2017 Outstanding Graduate Ceremony, held on May 19, brought family, friends and faculty together to recognize the dedication of a select group of undergraduate and graduate students who made exemplary contributions to the College's living and learning community during their time at New Paltz.
"We're here today to celebrate all the ways that you, our outstanding seniors, have succeeded in the classroom, laboratory, performance hall, studio, athletics field, the campus and local community, and study abroad programs throughout the world," said President Donald P. Christian.
"As Outstanding Graduates, you embody the value we place on hard work and achievement. During your time here, you've helped your fellow students with their successes, and elevated the caliber of our intellectual environment. Many of you have served New Paltz and the community in significant ways, demonstrating your commitment to causes bigger than yourselves. I want to offer my best wishes for happy, healthy and successful futures for each and every one of you."
Students representing all five of New Paltz's schools – the School of Business, School of Education, School of Fine and Performing Arts, College of Liberal Arts and Sciences and the School of Science and Engineering – as well as the Honors Program, were named Outstanding Graduates this semester.
They were selected by a faculty nomination process that alludes to the instrumental role New Paltz instructors play in accommodating students' intellectual ambitions and helping channel their ardent creativity.
"Today's honorees have been chosen to represent the best of each of their academic departments," said Interim Vice President for Student Affairs W. Wayne Brumfield. "As I draw attention to the ways our graduates have enriched our campus, I also want to acknowledge the role that our excellent and dedicated faculty have played in mentoring and coaching today's honorees. They've shared their enthusiasm for learning, collaborated with them on research projects, and cheered them on in their participation in co-curricular activities. Because they've shepherded and nurtured your development, some faculty may like you to remain here a little longer. However, they know they must send you off to further your academic growth and begin your careers."