Financial journalist and editorial entrepreneur Rob Cox, SUNY New Paltz's 2017 James H. Ottaway Sr. Visiting Professor of Journalism, addressed an audience of students, faculty, staff and community members with an April 4 talk titled "Slicing the Benefits of Free Trade with a GE Appliance."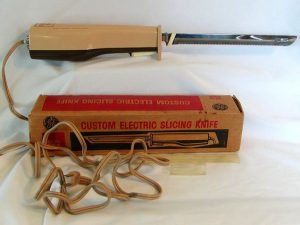 Inspired by his discovery of a 1960s-era General Electric carving knife in his grandfather's home, Cox offered insights about the complex effects of globalization on the U.S. economy, and their presence in contemporary political dialogues.
"Understanding how free and fair trade works to benefit the majority of Americans is a nuanced affair," Cox said. "The narrative we've heard from those who oppose free trade goes something like this: homegrown workers have been displaces; good jobs have vanished; ordinary people's wages have been stagnant; so blame cheap foreign labor, trade, or, in many cases, illegal immigrants."
"With so few political leaders speaking up for the free movement of goods and people, I thought my humble knife might do the part. All told, about 8,500 GE workers, 3,500 in the U.S. and the rest abroad, were affected when GE sold this line to Black and Decker in 1983. But, today you can get this knife for $15.99 – $4.00 cheaper than the one my grandfather bought. Adjust for inflation the $19.99 he paid some 50 years ago, and it comes out to about $120 in today's terms – enough to buy seven electric carving knives today. A big driver of those reduced consumer costs has been the reduced friction in the flow of manufactured goods, services, materials and labor across borders."
As Ottaway Visiting Professor, Rob Cox has been working with journalism students to develop the ability to comprehend the intricacies of international finance in an upper-level course called "Financial Journalism and the Business of Media.
Cox is the global editor of Reuters Breakingviews, the financial commentary division of Thomson Reuters, and has spent many years as a foreign correspondent focusing on economic journalism.
---
For long-time followers of the Ottaway Visiting Professorship, the evening bore a bittersweet significance. As the final public event in the 2017 cycle, it is also the last to be organized by Ottaway Coordinator and Assistant Professor of Journalism Lisa Phillips, who is moving on after seven years in the role.
"I would like to say what a pleasure and an honor it's been to run the professorship, with a special thank you to Jim and Mary Ottaway, whose generosity and vision make the program possible," said Phillips.
President Donald P. Christian offered a few words of tribute in advance of Cox's talk.
"Lisa has done such a phenomenal job leading this program," he said. "She's consistently recruited accomplished and renowned journalists on the cutting edge of their field, and we're grateful for her thoughtful and visionary efforts in shepherding a program that's become a highlight for so many of our students and community members."
---
About the Ottaway Visiting Professorship
The James H. Ottaway Sr. Visiting Professorship, SUNY New Paltz's only endowed professorship, is named for the founder of Ottaway Newspapers Inc., now the Local Media Group, which operates print and online community media franchises in seven states. The flagship newspaper of the chain is the Times Herald-Record in Middletown, N.Y.
Fifteen well-known journalists have preceded Cox as Ottaway professors, including four Pulitzer Prize winners.
More information about the Ottaway Visiting Professorship is available online.