Though it often happens "behind the scenes," the work of assessment and accreditation is vital to helping the College maintain its degree-granting status, reflect and improve upon the services and support we provide to students, faculty and staff, and demonstrate to prospective students, their parents, and the broader community the caliber of education SUNY New Paltz provides.
New Paltz established an Assessment Award in 2007, to reward faculty and staff who make outstanding contributions to these important internal and third-party assessment and accreditation processes.
At a spring 2017 meeting of the faculty, Provost Lorin Basden Arnold and Associate Provost Laurel M. Garrick Duhaney presented the award for the 2016-17 academic year to Sunny Duerr, assistant dean of assessment and accreditation for the School of Education, and Linda Eaton, associate vice president for student affairs.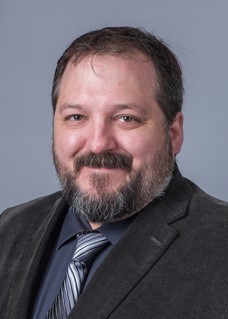 Sunny Duerr played an instrumental role in securing the College's reaccreditation with the National Council for Accreditation of Teacher Education (NCATE), in late 2015. The NCATE accreditation cycle is an intensive, seven-year process that requires all teacher preparation programs on campus to meet rigorous standards and adhere to best practices set forth by the professional education community.
Duerr led this effort to earn NCATE reaccreditation, and in so during earned high praise from faculty and administrators in the School of Education.
"Sunny applies his vast knowledge of research design and statistical analysis to a range of topics and activities that are central to our School of Education's efforts of continuous improvement and on-going accreditation," said School of Education Dean Michael Rosenberg. "More importantly, he maintains a welcoming and friendly spirit of cooperation and collaboration, serving as a resource to many on campus who need consultation on technical issues related to research and evaluation. His receipt of this award is well-deserved."
Linda Eaton has been a tireless advocate for assessment within the Division of Student Affairs, coordinating the creation of assessment plans for all units in the division and cataloguing these documents in an open database for SUNY New Paltz community members. She has dedicated particular effort to finding ways of improving the experiences of new transfer students on campus
Eaton has also kept pace with industry practices by regularly attending the annual conference of the Middle States Commission on Higher Education, bringing new ideas back to campus and helping ensure the College-wide reaccreditation Middle States conferred in 2016.
"Through Linda's leadership, the culture of assessment in Student Affairs has become an experience to be valued and integrated into everyday practices, to improve the student experience outside the classroom," said Provost Arnold. "We are very pleased by the way Student Affairs has progressed in the area of assessment during the past two years and look forward to Linda's continued guidance and inspiration to the division."
Visit us online to learn more about SUNY New Paltz's assessment and accreditation processes.