The Samuel Dorsky Museum of Art at SUNY New Paltz presents Text/ures of Iraq: Contemporary Art from the Collection of Oded Halahmy, an exploration of the art and culture of contemporary Iraq.
Organized by independent curator Murtaza Vali, Text/ures of Iraq will be on display at the Dorsky Museum from Feb. 4 – May 21 in the Howard Greenberg Family Gallery.
A public opening reception will be held Saturday, Feb. 4, from 5-7 p.m.
This exhibition, drawn from the personal collection of New York-based sculptor Oded Halahmy, a Jewish native of Baghdad, presents Halahmy's work alongside that of eight contemporary artists from Iraq: Hayder Ali, Amal Alwan, Mohammed al Hamadany, Ismail Khayat, Hanaa Malallah, Hassan Massoudy, Naziha Rashid and Qasim Sabti.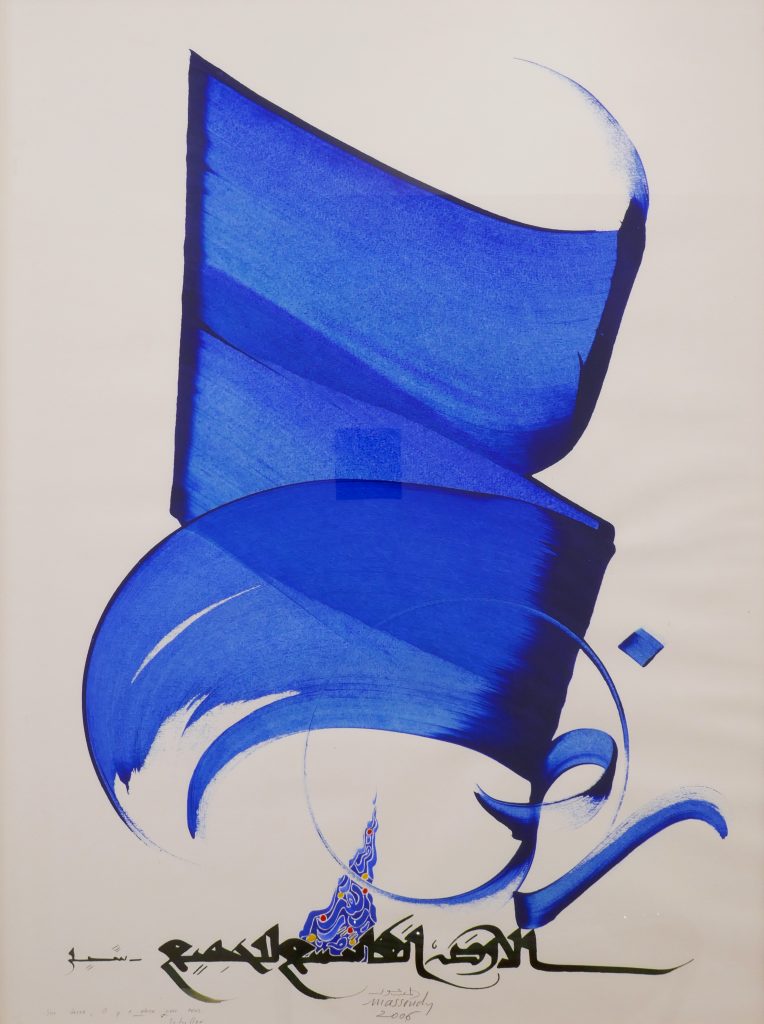 Throughout its history, the cultures of the territory now known as Iraq have been decidedly literary, full of letters, words, books and language. Ancient civilizations there developed cuneiform, one of the earliest systems of writing, and produced landmark historical texts like the Epic of Gilgamesh and the Code of Hammurabi. Following the advent of Islam, Baghdad emerged as a global center of knowledge and learning, and was home to the dar al hikma (House of Wisdom), the largest and most famous library in the world at the time of its destruction by invading Mongol armies in the 13th century.
This exhibition gathers works that reference Iraq's literary past in an effort to better understand the region's present. The layered and abraded surfaces of some of the pieces speak to the persistence of violence, while the picturesqueness of others captures the powerful affective textures of nostalgia and exile. Text/ures of Iraq finds its constituent artists celebrating their country as a pastoral idyll, where people of different beliefs, cultures and ethnicities peacefully coexisted for centuries, while also mourning the gradual, more recent fraying of Iraqi culture.
The exhibition also features examples of modern Arabic and Hebrew calligraphy, including some variants of this form that evoke hurufiyah, an influential modern Arab variant of Lettrism that uses the swoops and curves of the Arabic alphabet as painterly gestures. From abstract collages constructed out of the remains of destroyed books to the Hebrew calligraphy seen in Halahmy's art, these works demonstrate the importance of the literary in Iraqi society, culture and visual arts of the past and the present day.
Text/ures of Iraq is accompanied by a fully illustrated catalogue, which will be available for purchase at the Dorsky or online at SUNY Press.
Funding for Text/ures of Iraq is provided by the Friends of the Samuel Dorsky Museum of Art and SUNY New Paltz. Additional funding has been provided by the Dorsky Museum Contemporary Art Program Fund.
ABOUT THE CURATOR
Murtaza Vali is a critic and curator based in Sharjah, UAE and Brooklyn, USA. A recipient of a 2011 Creative Capital | Warhol Foundation Arts Writers Grant for Short-Form Writing, he regularly publishes in various international art periodicals and has contributed to publications for both commercial galleries and non-profit institutions around the world. His past curatorial projects include: Thresholds: Mouteea Murad (Ayyam Gallery, Dubai, 2016), Between Structure and Matter: Other Minimal Futures (Aicon Gallery, New York, 2016), Formal Relations (Taymour Grahne Gallery, New York, 2015), Accented (Maraya Art Centre, Sharjah, 2015), Geometries of Difference: New Approaches to Abstraction and Ornament (Samuel Dorsky Museum of Art, New Paltz, 2015), PTSD: Shahpour Pouyan (Lawrie Shabibi Gallery, Dubai, 2014), extra|ordinary: The Abraaj Group Art Prize 2013 (Art Dubai, 2013), Brute Ornament (Green Art Gallery, Dubai, 2012) and Accented (BRIC Rotunda Gallery, Brooklyn, 2010). He is a Visiting Instructor at Pratt Institute and a Lead Tutor of Campus Art Dubai 5.0.
ABOUT THE MUSEUM
Through its collections, exhibitions and public programs, the Samuel Dorsky Museum of Art at SUNY New Paltz supports and enriches the academic programs at the College, presents a broad range of world art for study and enjoyment and serves as a center for Hudson Valley arts and culture. The museum is widely recognized as the premier public showplace for exhibition, education and cultural scholarship about the Hudson Valley region's art and artists from yesterday and today. With more than 9,000 square feet of exhibition space distributed over six galleries, The Dorsky Museum is one of the largest museums in the SUNY system. Since its official dedication on Oct. 20, 2001, The Dorsky has presented more than 100 exhibitions, including commissions, collection-based projects and in-depth studies of contemporary artists including Robert Morris, Alice Neel, Judy Pfaff, Carolee Schneemann and Ushio Shinohara.
Museum Hours: Wednesday–Sunday, 11 a.m. – 5 p.m.
Closed Mondays, Tuesdays, Holidays and Intersessions.
For more information about The Dorsky Museum and its programs, visit http://www.newpaltz.edu/museum or call (845) 257-3844.