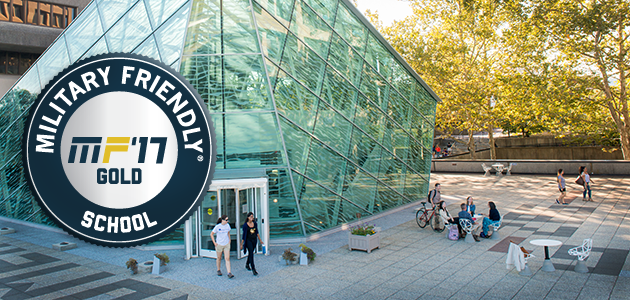 SUNY New Paltz has been awarded Military Friendly® Gold Status by G.I. Jobs, a new recognition of the College's dedicated efforts to better serve students affiliated with the military.
The news follows on the November announcement of the publication's 2017 list of Military Friendly® institutions. New Paltz was included on that list for the second consecutive year, but this marks the first time the College has merited a Gold Status award.
[Click here to visit the Office of Veteran & Military Services online]
Victory Media, publisher of G.I. Jobs, evaluated more than 1,200 post-secondary schools in forming its 2017 list, with less than half earning the Military Friendly® honor. Its assessment is rooted in a scoring system that provides the basis for the award level status system.
SUNY New Paltz earned Military Friendly® Gold Status by virtue of scoring within 20 percent of the highest-ranked institutions on the G.I. Jobs list.
Some of the specific veteran and military student services that contributed to this recognition include:
Helping students and families navigate the application processes for GI Bill and other benefits they earned through their service
Providing access to scholarships for veteran and military students
Creating a Veteran, Military and Dependent Mentoringprogram, which connects military students with faculty, staff and student peers to help ease the transition to the life and responsibilities of a student
Cultivating a resource center and social gathering space at the Office of Veteran & Military Services
Free parking permits
Early course registration
To learn more about resources available to veteran and military students at SUNY New Paltz, please visit us online.
About the Military Friendly® Schools list
G.I. Jobs, published by Victory Media, selects schools for Military Friendly® designation based on a variety of data points. Their survey examines performance on benchmarks including support available to military students on campus, graduation and employment outcomes and policies regarding spouses and family members of military personnel and veterans. Click here for more details about methodology.