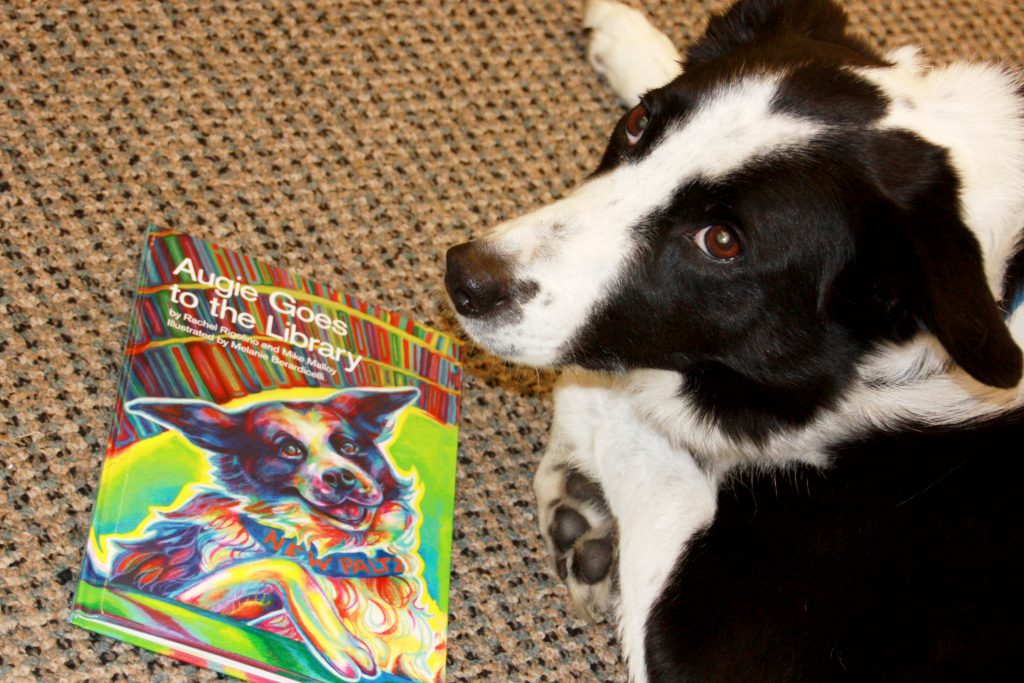 Spend enough time on the SUNY New Paltz campus and you're sure to meet Augie, the College's full-time Canadian geese chaser.
New Paltz's furriest employee is a celebrity on campus, with a legion of fans whose numbers grew exponentially with the 2014 publication of "Augie Goes to College." The thoughtfully-illustrated children's book, authored by alumna and Instructor of English Rachel Rigolino '93, introduced many young community members to the Border Collie's exploits.
Augie's literary adventures are continuing with the publication of "Augie Goes to the Library," a new book for young readers in which the eponymous doggie pays a visit to Elting Memorial Library in the Village of New Paltz.
Rigolino returned to author the new book with help from Mike Malloy, Augie's bestie and the College's director of Environmental Health and Safety, and Linda Wells, board president at Elting Library, who established the library's kid-friendly "Read to a Dog" program, now in its fifth year.
The book's illustrations were created by Melanie Berardicelli '17 (Painting), who was selected from among a number of student candidates for a for-credit fieldwork experience providing illustrations for Augie's new tale.
[Read more about Melanie's story here]
The creators of the Augie literary series are planning a number of readings and other events to celebrate the publication of "Augie Goes to the Library," at venues including the New Paltz Literacy Center, the Children's Center and Elting Library.
---
An official book launch will be held at noon on Dec. 7 at the Campus Bookstore in the Student Union.
Augie will be there signing paw-tographs and taking pictures with fans, and his friends with the student club Epic Glee will come by to sign some favorite dog-related tunes.
All community members, young readers and fledgling goose chasers are invited to attend!
---
"Augie Goes to the Library" will be available for purchase at the Campus Bookstore and other locations around campus by Dec. 6.
All proceeds from sales of "Augie Goes to the Library" go to the SUNY New Paltz Foundation, which supports programs and activities that enrich the quality of academic life at the College.
---
For a limited time, friends of Augie can pick up a Spicy Chocolate Latte and a Chocolate Croissant Twist, now and forever known as "The Augie," for just $4.99 at Element 93 (Wooster Hall) and Truth Café (Sojourner Truth Library).