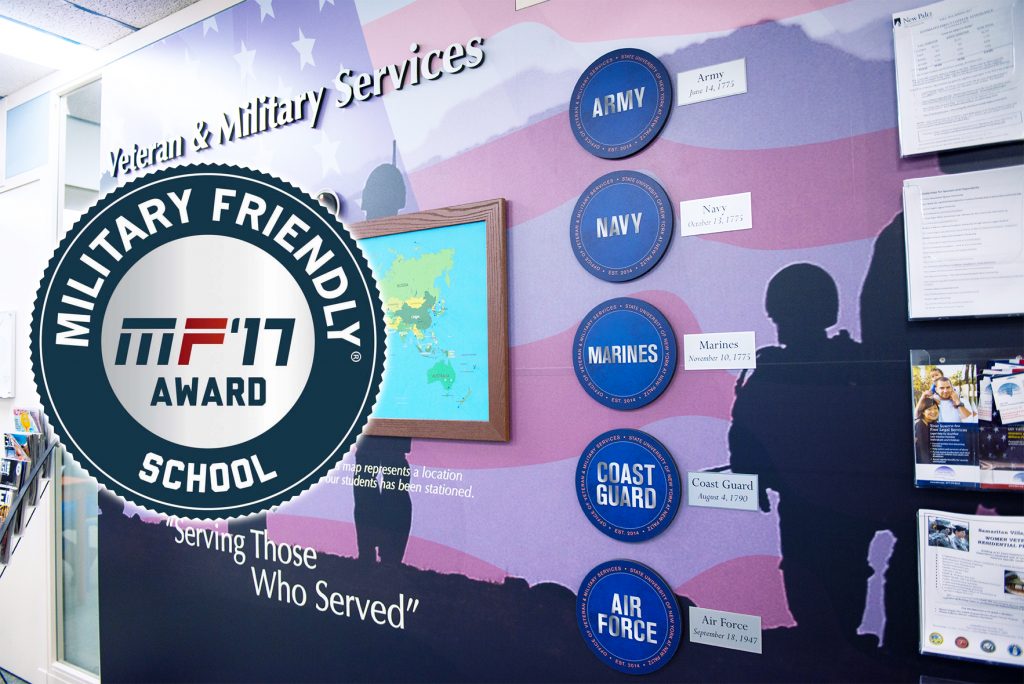 G.I. Jobs, the leading publication and resource for U.S. service members entering the civilian workforce, has again named SUNY New Paltz a Military Friendly® School, an important honor that helps veterans, service members and their families identify colleges and universities that go the distance to support their pursuit of higher education and successful careers.
[Click here to learn more about Veteran & Military Services at SUNY New Paltz]
"Our inclusion in the G.I. Jobs Military Friendly® survey shows that we care enough about this population to change our campus culture to meet the needs of these students," said Jason Gilliland, coordinator of Veteran and Military Services. "It's what they teach us to do in the military – constantly try to improve oneself, one's team and one's position – and that is why we keep striving to provide the highest quality services possible to every student veteran, service member and dependent at SUNY New Paltz."
In recent years the number of military-affiliated New Paltz students has grown significantly, from 76 in the 2013-14 academic year to 330 during the 2015-16 academic year.
While Gilliland and his team in the Office of Veteran & Military Services have led the charge to expand and sustain military and dependent student populations at the College, the success of military-affiliated students at New Paltz owes to a campus-wide movement to create a culture that honors and aids students who have served our country.
Some of the specific services provided to SUNY New Paltz veteran and military students include:
Helping students and families navigate the application processes for GI Bill and other benefits they earned through their service
Providing access to scholarships for veteran and military students
Creating a Veteran, Military and Dependent Mentoringprogram, which connects military students with faculty, staff and student peers to help ease the transition to the life and responsibilities of a student
Cultivating a resource center and social gathering space at the Office of Veteran & Military Services
Free parking permits
Early course registration
To learn more about resources available to veteran and military students at SUNY New Paltz, please visit us online.
About the Military Friendly® Schools list
G.I. Jobs, published by Victory Media, selects schools for Military Friendly® designation based on a variety of data points. Their survey examines performance on benchmarks including support available to military students on campus, graduation and employment outcomes and policies regarding spouses and family members of military personnel and veterans. Click here for more details about methodology.