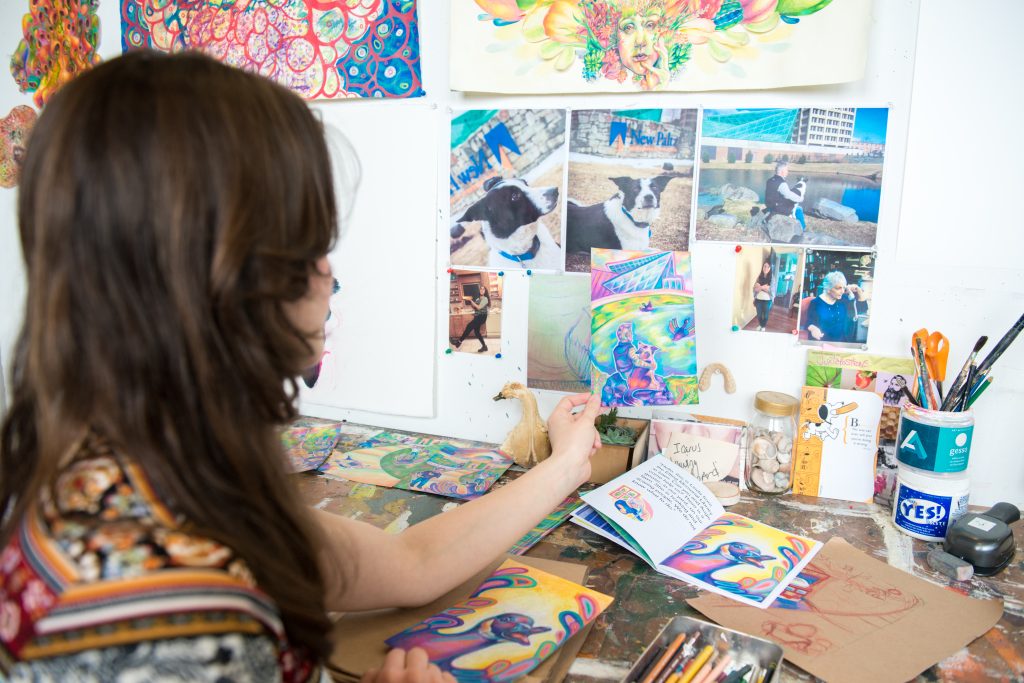 When SUNY New Paltz student Melanie Berardicelli '17 (Painting) learned that one student would be chosen to help create the art for the new children's book about Augie, the campus's geese herding doggie, she knew it could be a perfect fit.
"I remember when I was a little kid, spending hours just looking at the illustrations of children's books," she said. "My dream is to become an illustrator for children's books, so I knew this would be a great first step for me!"
Berardicelli was selected from among the many student candidates for the for-credit experiential learning project developing illustrations for Augie's latest adventure, "Augie Goes to the Library."
The story is authored by alumna and Instructor of English Rachel Rigolino '93, with help from Mike Malloy, Augie's bestie and the College's director of Environmental Health and Safety. The sequel to 2014's "Augie Goes to College," this new tale finds the eponymous pup making friends and helping out at Elting Memorial Library in the Village of New Paltz.
The story is brought to dynamic life by Berardicelli's evocative, original illustrations. She worked tirelessly with Rigolino, Malloy, Art Department faculty Robin Arnold and Anne Galperin, Designer Colleen Cody and President of Elting Memorial Library Linda Welles, to produce lavish drawings and help early readers visualize Augie's journey.
The book's development team ultimately chose a "colorful, fun, energetic" look, which "conveys the spirit and liveliness of New Paltz, showing what a cool community it is," said Berardicelli.
Working closely with Arnold and Cody, Berardicelli developed 22 unique illustrations, as well as a number of small vignettes peppered through the text pages. Throughout the process she focused on creating an uplifting world for young readers to connect with.
"For me, picture books always incited such wonder and imagination, and my goal is for this book to do the same for young readers who find it," she said. "It's such a rewarding experience working with children, to see their confidence build, see their skill level build, and to know that you played a part in that."
While the illustration fieldwork experience put Berardicelli in a position to communicate directly with Augie's legion of fans, she says as she nears graduation that the opportunity to collaborate with design professionals has been invaluable.
"I've learned about some of the practical challenges of book design, but the teamwork aspect feels even more important," Berardicelli said. "Collaborating with others, there's a lot of compromise, considering the opinions of the people around me, but it all goes into making the finished product the best it can be. It's been a challenge, but it's also been a great joy, and I believe my work has been better for it.
"This project has been the opportunity of a lifetime, and I am grateful to have been given the chance to work with such a great team!"
Having seen the process of publication through concept to print, Berardicelli is now preparing to go "on tour" with Augie. They'll take part in a book reading for young children on Thursday, Dec. 1 at the Sojourner Truth Library, and a book release celebration (get your copy signed by Augie himself!) on Wednesday, Dec. 7 at the Campus Bookstore.
Though all the hard work leading up to and beyond publication, though, Berardicelli hasn't lost sight of who the real star of the show is.
"I'm excited to participate in the marketing of the book, especially because it means I get to keep working with Augie. He's so sweet!"
–
"Augie Goes to the Library" will be available for purchase on-campus at the Campus Bookstore in the Student Union, Element 93 in Wooster Hall, and other locations.
All proceeds from sales of "Augie Goes to the Library" go to the SUNY New Paltz Foundation, which supports programs and activities that enrich the quality of academic life at the College.